Cycling down the Danube
| Day 1 | Day 2 | Day 3 | Day 4 | Day 5 | Day 6 | Day 7 | Day 8 | Day 9 | Day 10 | Day 11 | Day 12 | Day 13 | Day 14 | Day 15 | Day 16 | Day 17 | Day 18 | Day 19 | Day 20 | Day 21 |
Day 9, 9th September 2008
Regensburg - Tegernheim - Donaustauf - Walhalla - Demling - Pondorf - Pittrich - Koessnach - Straubing - Reibersdorf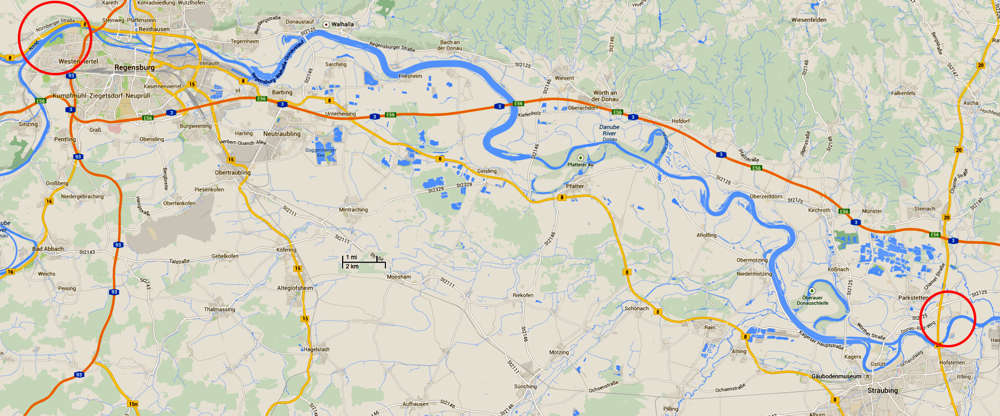 From Regensburg to Reibersdorf 62 km (493 km from start)

Photo: Google maps



View of the Donau from the steps of Walhalla.

Photo: Don & Maria Hitchcock 9th September 2008
From Maria's Diary:
It was a very cold night in the tent but we managed to stay warm in our sleeping bags. My self-inflating mattress is excellent. It gives me some insulation from the ground but is small enough to fit into the bottom of my rucksack. Every morning we had a ritual when camping. Don would get up first as he went to bed fully clothed and would make a coffee for himself and a cup of tea for me. While he was enjoying his coffee I would get dressed in the tent then pack up my sleeping bag and mattress and organise my things at the front of the tent, while sipping my tea. Then I would get up and we would have a simple breakfast if we had food. If not we would pack up and leave and get something for breakfast along the way. My supply of muesli bars and Don's biscuits usually kept us going until we could find a Baeckerei.

We rode back towards Regensburg and then over the bridge to the other side where we found a small supermarket and bought supplies for the day. We picked up the Radweg again after hunting around for a while and set off on the left bank through an industrial area and then along the river bank to Tegernheim. We stopped for breakfast along the way when we found a parkbench.

I had trouble with my bike - it was hard to pedal in top gear and I started to get tired from the strain. Something was wrong. We continued to Donaustauf and then a bit further on we saw the Valhalla monument, a classical Roman temple built by King Ludwig I between 1830 -42. Don climbed up to inspect it while I looked after the bikes. I decided to clean and oil the chain to see if that would improve my bike's performance. Don took some excellent aerial shots of the river from up above.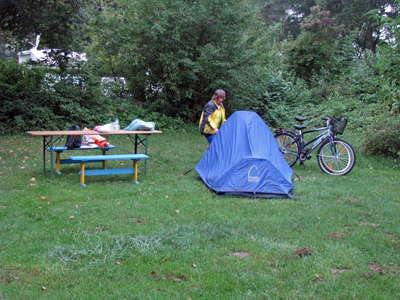 Packing up on the morning of Day 9.

The tent performed flawlessly. It is easy to put up, take down and put away, it is waterproof, insect proof, dry and comfortable, and weighs only 1800 gm, which is light for a commercial two man tent. I have added permanently attached carbon fibre pegs, which keeps the weight down, and have re-waterproofed it with silicone spray occasionally.

Photo: Don & Maria Hitchcock 9th September 2008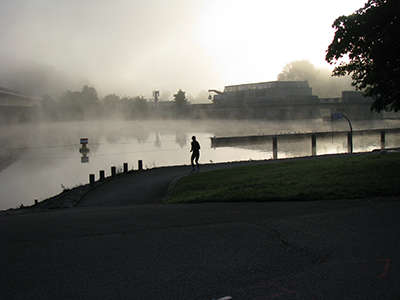 Early morning jogger beside the Donau, with a mist rising from the water.

Photo: Don & Maria Hitchcock 9th September 2008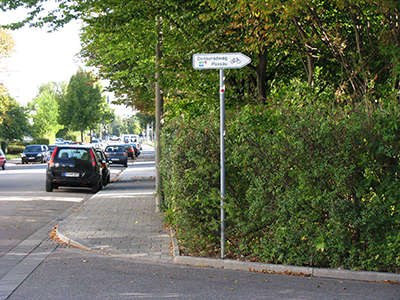 We were always glad to see another Donauradweg sign.

There are actually a few Donauradwegs - usually at least two, with one on each bank.

Photo: Don & Maria Hitchcock 9th September 2008


Bridge panorama, leaving Regensburg.

Photo: Don & Maria Hitchcock 9th September 2008

The Walhalla is a hall of fame that honors laudable and distinguished people, famous personalities in German history – politicians, sovereigns, scientists and artists of the German tongue. The hall is housed in a neo-classical building above the Danube River, east of Regensburg, in Bavaria, Germany.

The Walhalla is named for Valhalla of Norse mythology. It was conceived in 1807 by Crown Prince Ludwig, who built it upon ascending the throne of Bavaria as King Ludwig I. Construction took place between 1830 and 1842, under the supervision of architect Leo von Klenze.

The memorial displays some 65 plaques and 130 busts of persons, covering 2 000 years of history - the earliest person honoured is Arminius, victor at the Battle of the Teutoburg Forest (9 AD).

Photo: Don & Maria Hitchcock 9th September 2008
Text: Wikipedia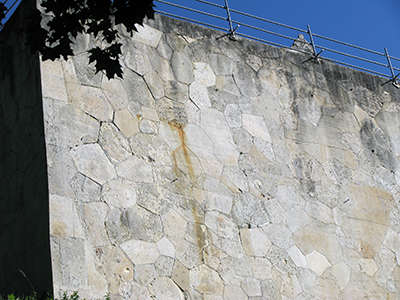 The facing stone of these walls has been beautifully done, with every stone carefully shaped to fill the space available. However, steel or iron rods were used to hold them in place, and this is starting to rust in some places, necessitating restoration work.

If you look carefully at the zoomed image, you will see the little round pieces of stone covering each of the rods, which was done in an effort to prevent corrosion. This worked for a long time, but now it needs to be repaired.

Photo: Don & Maria Hitchcock 9th September 2008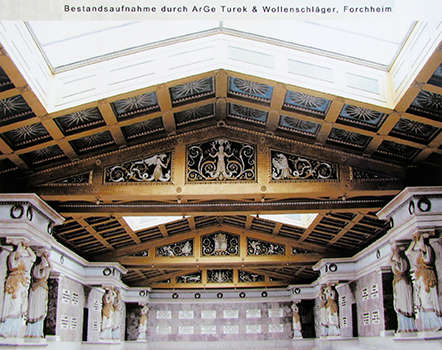 Because of the restoration works, it was not possible to visit the interior of the building, but the signage was excellent.

Photo: Don & Maria Hitchcock 9th September 2008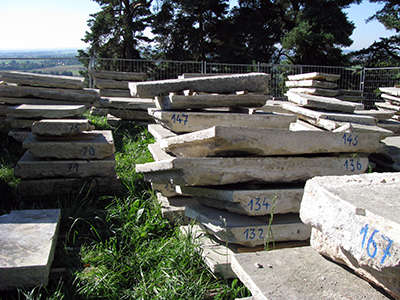 The slabs that have been removed as part of the restoration have been mapped and numbered so that they can be fitted back in place accurately.

Photo: Don & Maria Hitchcock 9th September 2008
Text: Wikipedia


View of the Donau from the steps of Walhalla. Note the Schrebergarten in the left foreground beside the Donau.

Photo: Don & Maria Hitchcock 9th September 2008
The Schrebergarten phenomenon is not a new one. Dr. Daniel Gottlieb Moritz Schreber, a 19th century naturopath, wanted to create more athletic fields for the children in his home city of Leipzig. He died in 1861 before the plan could be realized, but his son-in-law got the ball rolling in 1864 and before long, small vegetable plots were planted in the fields as well to teach the children the basics of gardening.

The idea quickly took off. But it was during World War I and World War II that the gardens rapidly rose in importance as sources of otherwise hard-to-get fresh fruit and vegetables. Furthermore, after World War II ended, a lack of housing across the country resulted in the common practice of erecting small structures on the plots so that families could find shelter.

The result today are thousands of garden colonies on the outskirts of big cities in Germany, Austria and Switzerland that look more like miniature housing developments than peaceful nature retreats. For the most part, the colonies are no longer residential, but in the summertime, they are packed with families enjoying the sunshine, crammed onto their tiny plots grilling, eating and relaxing. A perfectly idyllic scene on the shores of Walden Pond -- at least until the next ICE rockets by.
Text above: http://www.spiegel.de/international/rent-a-plot-germany-s-garden-ghettos-a-410799.html
We packed up, and headed off again towards Demling then along a good riverside track to Frengkofen.

Pfatter town and the tower of the Church of the Assumption of Mary were visible across the river.

Photo: Don & Maria Hitchcock 9th September 2008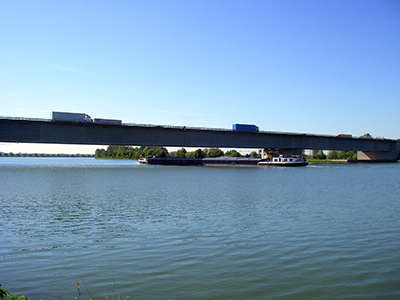 The Donau was becoming noticeably wider. This is a bridge carrying the Autobahn E56.

Photo: Don & Maria Hitchcock 9th September 2008
From Maria's Diary:
The day was warm and we were fairly conscious of sunburn so had to keep applying suncream which we had brought with us from Australia. The track now stays away from the river and goes across country to Koessnach. By that stage we were ready for a cold drink.

From Koessnach we decided not to go into Straubing but to take a link road before the main bridge. Interestingly there was a sign for an alternative Donauweg at the start of our shortcut. Unfortunately there were trackworks which meant that we had to detour up to Parkstetten and approach Reibersdorf from an alternative route.

Along the way we realized that my back brake had shifted and was locked on to the back wheel. That was the problem with the bike. Once we released the brake the bike was fine. What a pain. It was a hard day.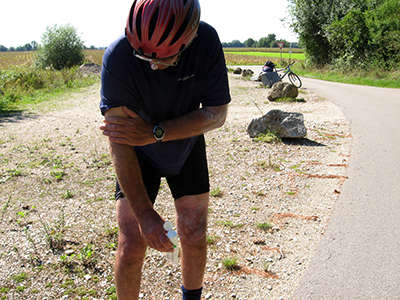 It started to get hot, and as the sun got higher we had to slather ourselves with sunscreen.

Photo: Don & Maria Hitchcock 9th September 2008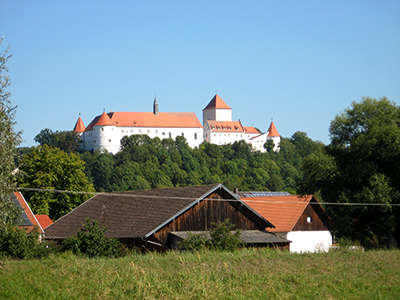 Schloss Wörth an der Donau on the skyline.

Photo: Don & Maria Hitchcock 9th September 2008
It was a good idea of Maria's to photograph the signs as we entered towns and districts - it makes organising photos so much easier when you get home.

The corn was usually welcome unless it was very hot, since it cut the wind, which, as cyclists know, is always a headwind!

Photo: Don & Maria Hitchcock 9th September 2008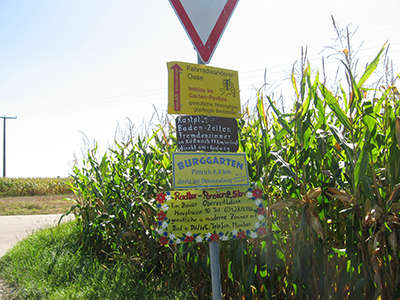 This Giveway sign with lots of advertisements added was at a very confusing junction. We finally worked out where we were and the direction to take after consulting the map.

Photo: Don & Maria Hitchcock 9th September 2008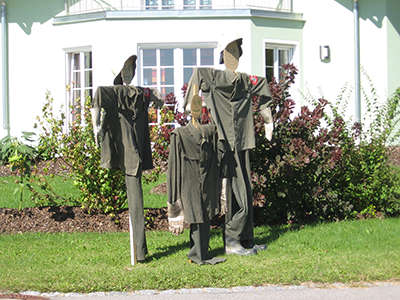 I have no idea what these 'scarecrows' are for, or why they are dressed in drab khaki uniforms!

Photo: Don & Maria Hitchcock 9th September 2008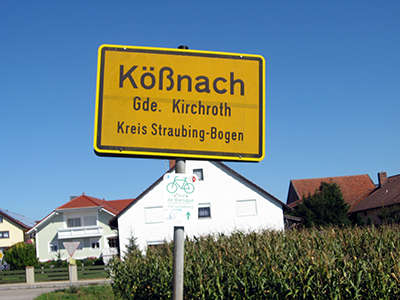 Entering Kößnach, on the way to Parkstetten and Reibersdorf.

Photo: Don & Maria Hitchcock 9th September 2008
Agnes-Bernauer-Brücke

This bridge had a horse and rider crossing it!

The Gasthaus we stayed at in Reibersdorf is only about half an hour's ride past this bridge.

Photo: Don & Maria Hitchcock 9th September 2008
From Maria's diary:

At Reibersdorf we found a Gasthaus with a campsite at the back. We were the only campers and had the place to ourselves although there were guests staying at the Gashaus including a whole lot of tradesmen who must have been working on a big project. They had identical vans parked across the road out the front.

Photo: Don & Maria Hitchcock 9th September 2008
From Maria's diary:

The facilities were excellent and after showering and setting up we washed clothes and put them out to dry draped across garden furniture. Then it was time to go round the front to have our first beer for the day. This gradually morphed into the evening meal. The food was good and as usual there was too much of it. We slept soundly that night.

Photo: Don & Maria Hitchcock 9th September 2008
Cycling down the Danube
| Day 1 | Day 2 | Day 3 | Day 4 | Day 5 | Day 6 | Day 7 | Day 8 | Day 9 | Day 10 | Day 11 | Day 12 | Day 13 | Day 14 | Day 15 | Day 16 | Day 17 | Day 18 | Day 19 | Day 20 | Day 21 |
Day 9, 9th September 2008
Regensburg - Tegernheim - Donaustauf - Walhalla - Demling - Pondorf - Pittrich - Koessnach - Straubing - Reibersdorf