Back to Archaeological Sites
Baume-Latrone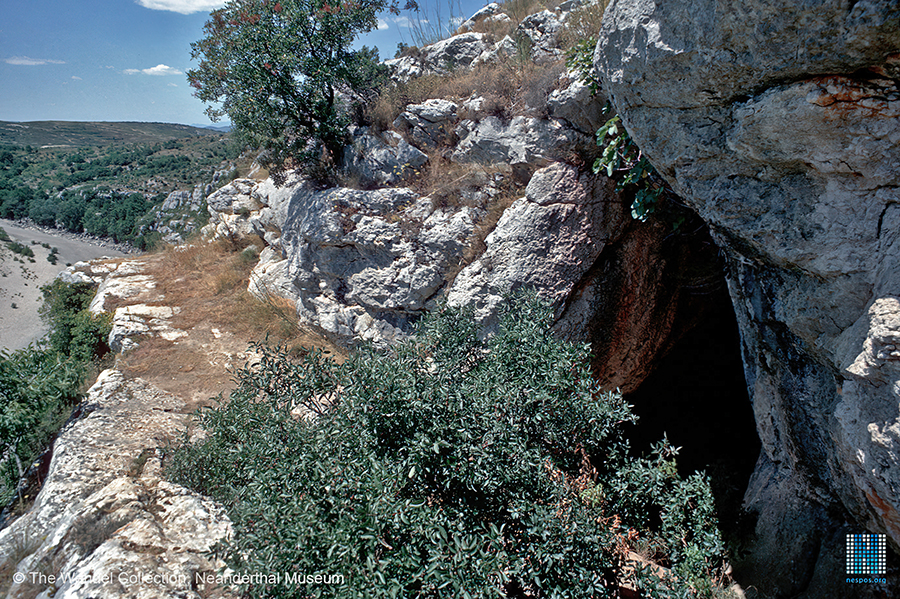 Latrone Cave

Photo: Heinrich Wendel (© The Wendel Collection, Neanderthal Museum)
The Latrone Cave (Baume) has long been known by archaeologists. At the end of the 19th century, it was the subject of excavations of the entrance porch. Exclusively Neolithic levels were brought to light there. In 1940, following the removal of an obstruction, drawings from the Upper Palaeolithic were discovered in a deep network 240 metres from the entrance.
The paintings occupy a unique style in Palaeolithic art It has been attributed to the Aurignacian, the Gravettian, or the Solutrean, but based on stylistic clues (the representation of mammoth tusks moving away from either side of the trunk, for example) it has now been attributed to the Aurignacian culture.
In 2012 a piece of charcoal collected at the foot of the drawings was dated to 37 464 BP (cal). This provides additional evidence for the art's attribution to the Aurignacian, as at Chauvet Cave.
The drawings were made by the so-called polydigital technique, that is to say with the tips of the fingers coated with wet clay, a technique unique in Palaeolithic cave art . The artists used 2 to 4 fingers to produce a more or less thick line using a brown clay.
According to the researchers, the scene evokes the attack on a group of mammoths by a feline. The highly stylised drawing of the figures also attests to the originality of this art.
Some mammoths are only evoked by their general horseshoe-shaped silhouette, completed by an appendix depicting the trunk. One of the figures considered to be a horse with an arc of a circle at the end of the nostrils is now interpreted as a probable rhinoceros by analogy with the unique way of representing the ears on the rhinoceros in the Chauvet cave and in the Aldene cave.
Other representations complete the set: engraved figures, polydigital traces made on the (originally) wet clay of the wall, as in the Chauvet cave, and positive hand prints made by applying ochres to the wall.
Text above: Wikipedia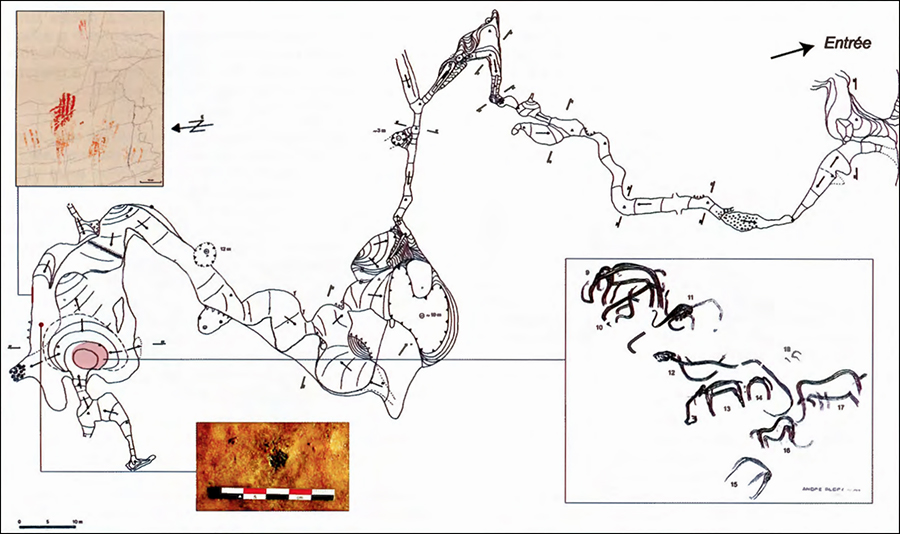 Plan of la grotte de La Baume Latrone.

Drawing: V. Blancart, S. Lebret and R. Rouquette 2000-2001
Panel of hands top left, M. Azéma
Charcoal in context, B. Gély
Grand Plafond, survey A. Glory
Source: Azéma (2012)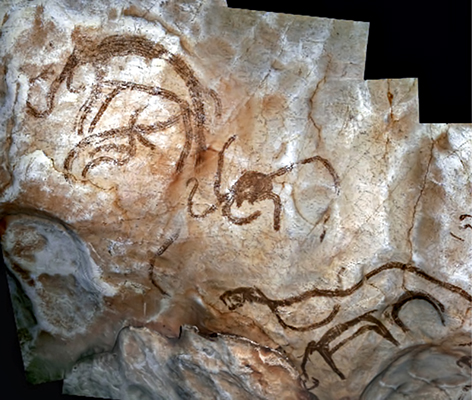 Photomontage of Le Grand Plafond, the large ceiling. There are more than thirty artworks in the cave, 21 animals, at least 6 positive hands, as well as various signs and lines.

The 'Grand Plafond' or painted ceiling represents the most consistent graphic sequence. A large representation of a feline (3 metres) occupies the centre. This is surrounded by a group of mammoths and an animal which was originally thought to be a horse, but is now believed to be a rhinoceros.

The style of these images is quite unique, while the profile of the animals is reduced to the essentials, some anatomical details being neglected.

Photo: © A. Dubouloz
Source: Pigeaud (2013)
Permission: With the authorisation of the Town Hall of Russan-Sainte Anastasia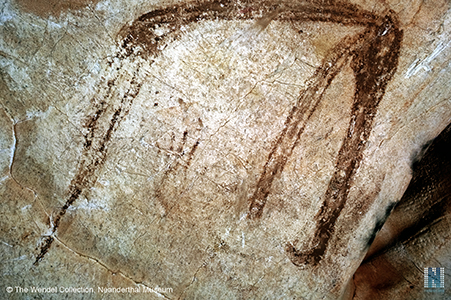 Outline of a mammoth.

Photo: Heinrich Wendel (© The Wendel Collection, Neanderthal Museum)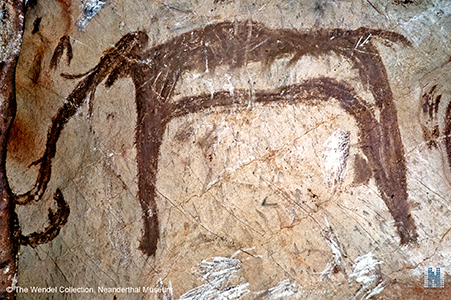 Outline of a mammoth, with more detail

Photo: Heinrich Wendel (© The Wendel Collection, Neanderthal Museum)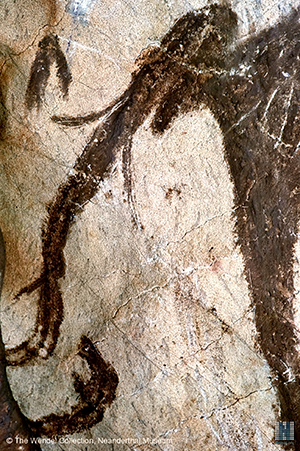 Closeup of the mammoth above, with the tusks shown spread out on either side of the trunk, in the Aurignacian style.

Photo: Heinrich Wendel (© The Wendel Collection, Neanderthal Museum)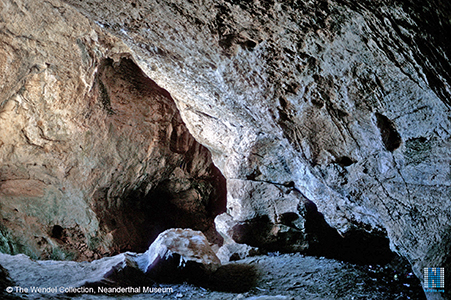 Inside the cave.

Photo: Heinrich Wendel (© The Wendel Collection, Neanderthal Museum)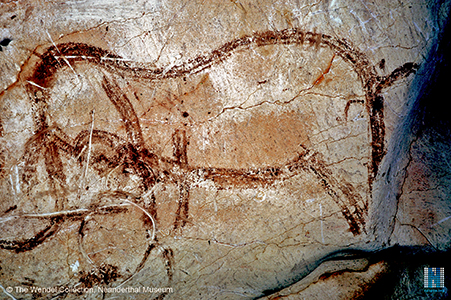 Mammoth.

Photo: Heinrich Wendel (© The Wendel Collection, Neanderthal Museum)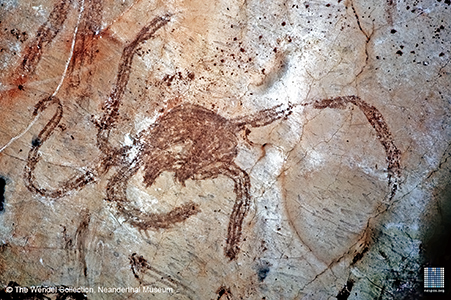 This stylised mammoth has a trunk the same diameter as the splayed tusks, the head coloured in, and the rest of the body barely indicated.

Photo: Heinrich Wendel (© The Wendel Collection, Neanderthal Museum)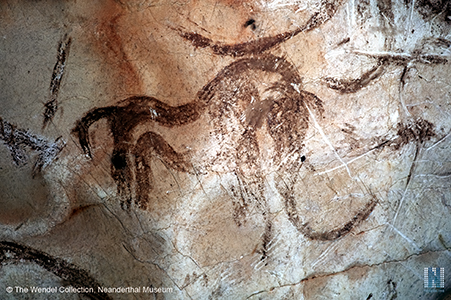 This image was first identified as a horse, but the ears have caused researchers to think it is meant to be a rhinoceros.

The curved line may be from a different image of a mammoth.

Photo: Heinrich Wendel (© The Wendel Collection, Neanderthal Museum)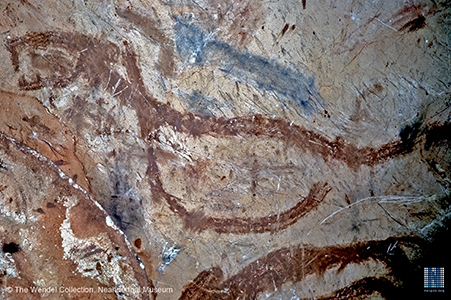 A feline, at first identified as a snake. This is probably because of the apparent long trail from the head, interpreted as a snake's body.

Photo: Heinrich Wendel (© The Wendel Collection, Neanderthal Museum)
Wider views of the Grand Plafond on which many of the images have been placed.

Photo: Heinrich Wendel (© The Wendel Collection, Neanderthal Museum)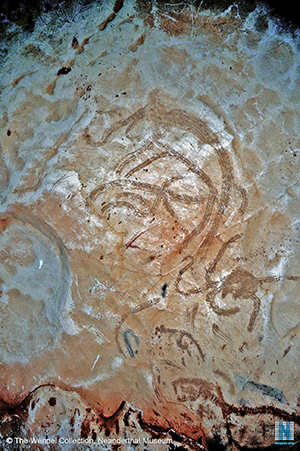 Another part of the Grand Plafond.

Photo: Heinrich Wendel (© The Wendel Collection, Neanderthal Museum)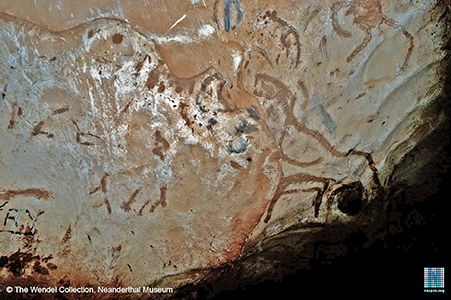 On this part of the Grand Plafond are some enigmatic signs.

Photo: Heinrich Wendel (© The Wendel Collection, Neanderthal Museum)
---
References
Azéma M. et al., 2012: L'Art Paléolithique de la Baume Latrone (France, Gard): Nouveaux éléments de datation, INORA, 2012, No. 64
Pigeaud E., 2013: Grotte de la Baume Latrone, aux racines de l'art préhistorique, https://www.academia.edu/9303786/La_Baume_Latrone_Aux_racines_de_l_art_pr%C3%A9historique
---

Back to Archaeological Sites