Back to Archaeological Sites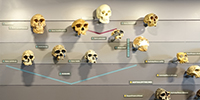 Back to the review of hominins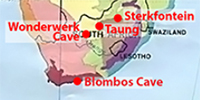 Hominid sites in Africa, including Homo sapiens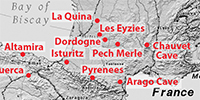 Hominid sites in Europe, including Homo sapiens
Oreopithecus bambolii - the swamp ape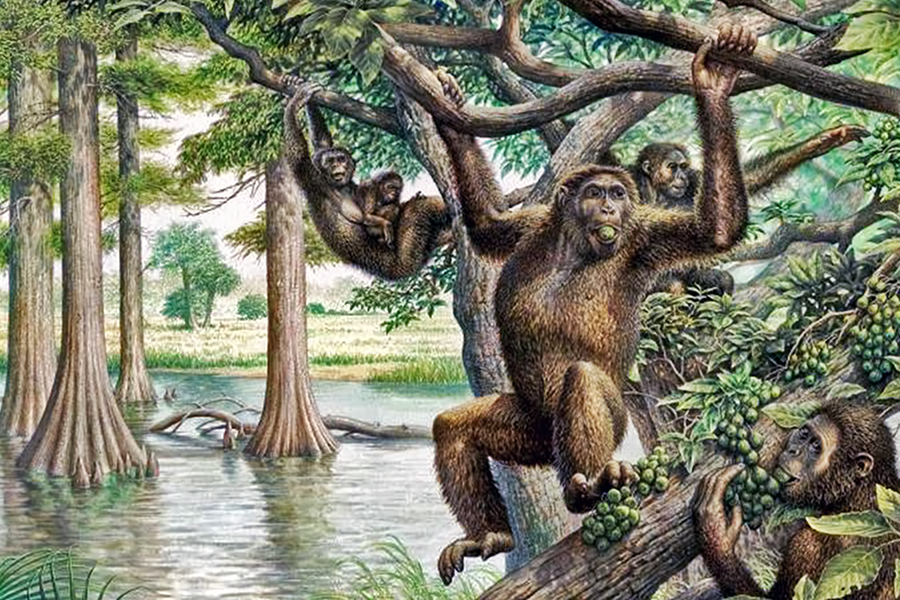 An ape which was 120 cm tall and weighed 30 kg, with a brain capacity of up to 200 cm3 lived in swampy areas of what is now Italy, 10 to 8 million years ago.

The long forelimbs are indicative of tree-dwelling.

Photo: © John Sibbick
Source: www.utoronto.ca
Text: Anthropos Pavilion/Moravian Museum, Brno, Czech Republic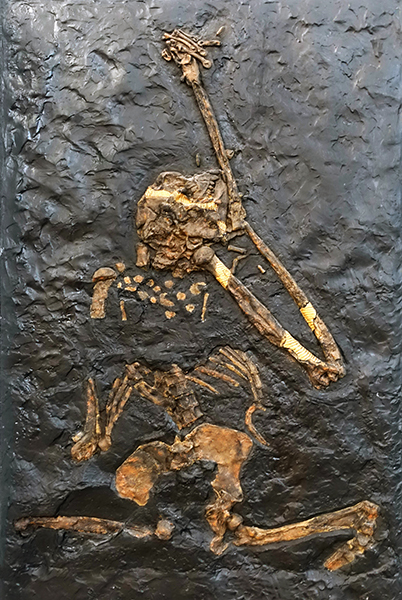 It is now believed that the 'Swamp Ape' walked on all fours rather than having a bipedal stance. When Oreopithecus bambolii was alive, Italy formed a string of islands that were covered with swampy forests and teeming with crocodilians, where Tuscany and Sardinia are now.

The ape went extinct after a land bridge connected their island to the mainland, allowing large saber-toothed cats and other predators to stalk the island.

This extremely flattened, fossilised skeleton of an ancient ape was found embedded in a slab of coal.

Photo: Don Hitchcock 2018
Source: Facsimile, Anthropos Pavilion/Moravian Museum, Brno, Czech Republic
Text: www.nbcnews.com
Montebamboli is a hamlet and locality in the commune of Massa Marittima, Tuscany, Italy.
Montebamboli is also known for its high-quality lignite coal, located along the river Riotorto.
A number of fossil species have been discovered in the lignite beds around Montebamboli, including the first fossils of the hominid species
Oreopithecus bambolii
, and the unusual waterfowl species
Bambolinetta lignitifila
, both of these species named after the settlement.
Text above: Wikipedia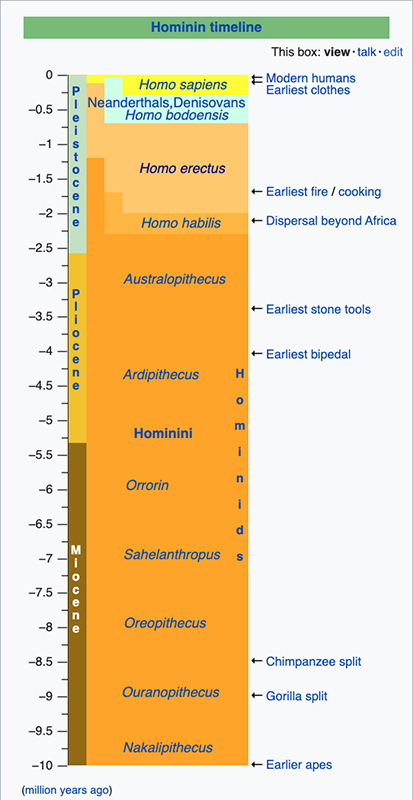 Oreopithecus bambolii on a hominid timeline, predating Sahelanthropus by approximately one million years.

Graphic artist: unrecorded
Source: Wikipedia
Permission: Creative Commons Attribution-ShareAlike License 3.0
References
Gervais P., 1872: Sur un singe fossile, d'espèce non encore décrite, qui a été decouvert au Monte-Bamboli (Italie)", Comptes rendus de l'Académie des sciences, 74: 1217–1223
Köhler M., Moyà-Solà S., 1997: Ape-like or hominid-like? The positional behavior of Oreopithecus bambolii reconsidered, PNAS, Vol. 94 | No. 21, https://doi.org/10.1073/pnas.94.21.11747