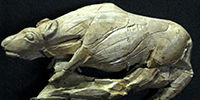 Back to the La Madeleine site
La Madeleine Tools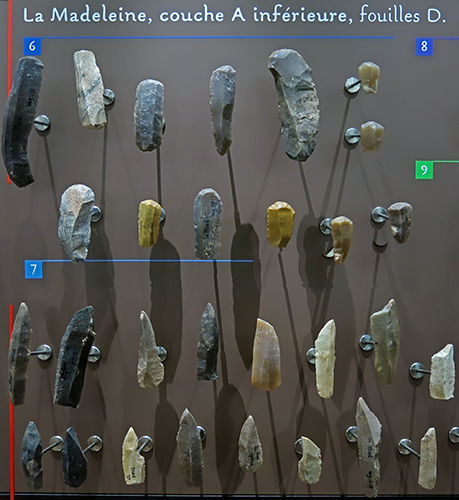 La Madeleine tools, lower layer A, excavations of Denis Peyrony.

Age: circa 14 000 BP

■  6: Grattoirs, scrapers on the end of a blade
■  7: Burins
■  8: Retouched tools
■  9: Perçoirs becs, drills/borers

Photo: Don Hitchcock 2014
Source: Originals, Le Musée National de Préhistoire, Les Eyzies-de-Tayac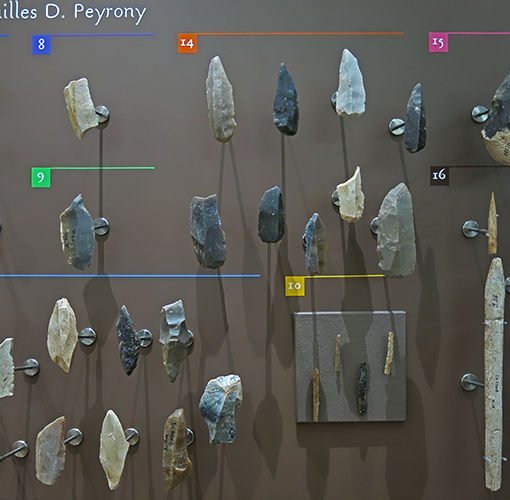 La Madeleine tools, lower layer A, excavations of Denis Peyrony.

Age: circa 14 000 BP

■  7: Burins
■  8: Retouched tools
■  9: Perçoirs becs, drills/borers
■ 10: Microliths
■ 14: Composite tools
■ 15: Special tools
■ 16: Bone industry

Photo: Don Hitchcock 2014
Source: Originals, Le Musée National de Préhistoire, Les Eyzies-de-Tayac

La Madeleine tools, lower layer A, excavations of Denis Peyrony.

Age: circa 14 000 BP

■ 10: Microliths
■ 14: Composite tools
■ 15: Special tools
■ 16: Bone industry

Photo: Don Hitchcock 2014
Source: Originals, Le Musée National de Préhistoire, Les Eyzies-de-Tayac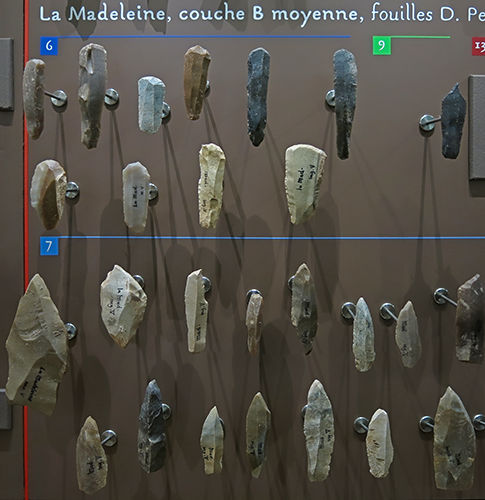 La Madeleine tools, middle layer B, excavations of Denis Peyrony.

Age: circa 13 000 BP

■  6: Grattoirs, scrapers on the end of a blade
■  7: Burins
■  9: Perçoirs becs, drills/borers
■ 13: Armatures, tools

Photo: Don Hitchcock 2014
Source: Originals, Le Musée National de Préhistoire, Les Eyzies-de-Tayac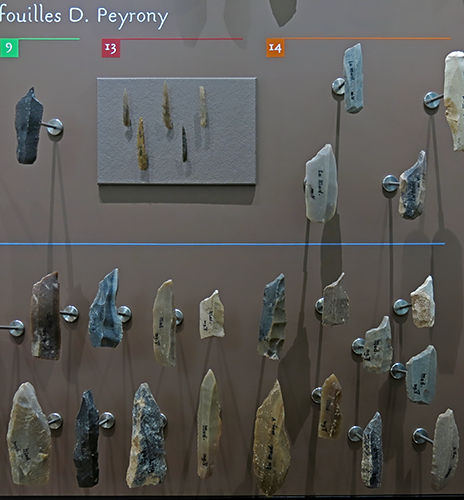 La Madeleine tools, middle layer B, excavations of Denis Peyrony.

Age: circa 13 000 BP

■  7: Burins
■  9: Perçoirs becs, drills/borers
■ 13: Armatures, tools
■ 14: Composite tools

Photo: Don Hitchcock 2014
Source: Originals, Le Musée National de Préhistoire, Les Eyzies-de-Tayac

La Madeleine tools, middle layer B, excavations of Denis Peyrony.

Age: circa 13 000 BP

■  7: Burins
■ 14: Composite tools
■ 15: Special tools
■ 16: Bone industry

Photo: Don Hitchcock 2014
Source: Originals, Le Musée National de Préhistoire, Les Eyzies-de-Tayac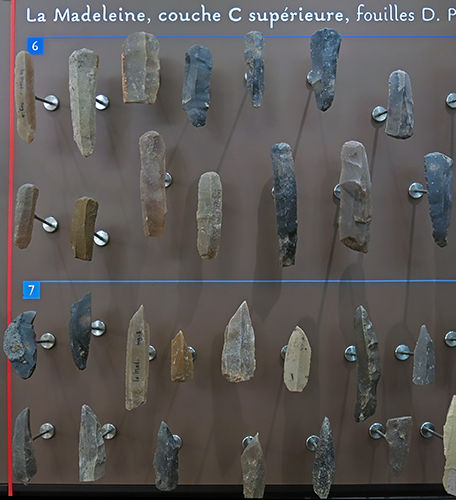 La Madeleine tools, upper layer C, excavations of Denis Peyrony.

Age: circa 12 000 BP

■  6: Grattoirs, scrapers on the end of a blade
■  7: Burins

Photo: Don Hitchcock 2014
Source: Originals, Le Musée National de Préhistoire, Les Eyzies-de-Tayac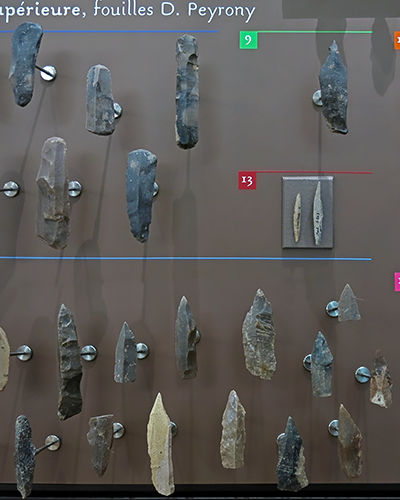 La Madeleine tools, upper layer C, excavations of Denis Peyrony.

Age: circa 12 000 BP

■  6: Grattoirs, scrapers on the end of a blade
■  7: Burins
■  9: Perçoirs becs, drills/borers
■ 13: Armatures, tools

Photo: Don Hitchcock 2014
Source: Originals, Le Musée National de Préhistoire, Les Eyzies-de-Tayac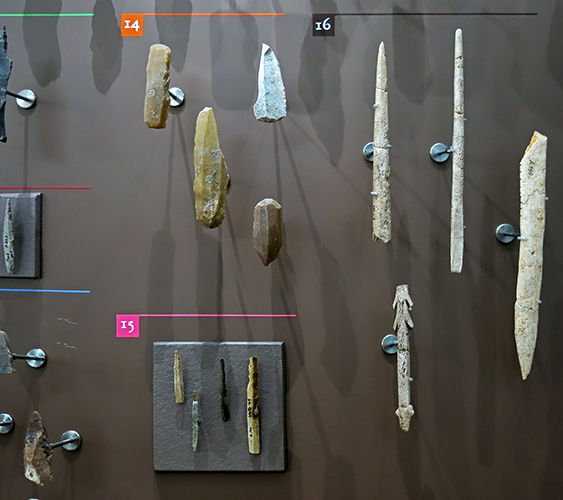 La Madeleine tools, upper layer C, excavations of Denis Peyrony.

Age: circa 12 000 BP

■  7: Burins
■  9: Perçoirs becs, drills/borers
■ 13: Armatures, tools
■ 14: Composite tools
■ 15: Special tools
■ 16: Bone industry

Photo: Don Hitchcock 2014
Source: Originals, Le Musée National de Préhistoire, Les Eyzies-de-Tayac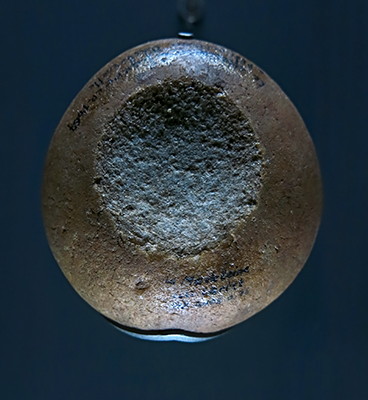 Cupule on a pebble.

La Madeleine.

Photo: Don Hitchcock 2015
Source: Original, Muséum de Toulouse, or Muséum d'Histoire Naturelle de la ville de Toulouse, MHNT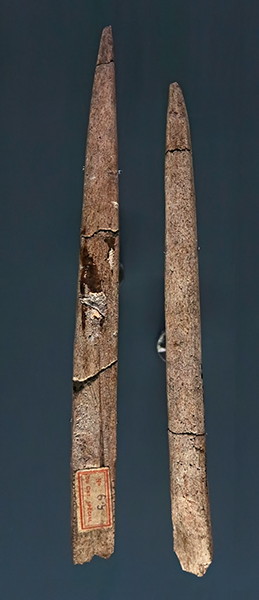 Spear points with a double bevel base.

La Madeleine.

Photo: Don Hitchcock 2015
Source: Original, Muséum de Toulouse, or Muséum d'Histoire Naturelle de la ville de Toulouse, MHNT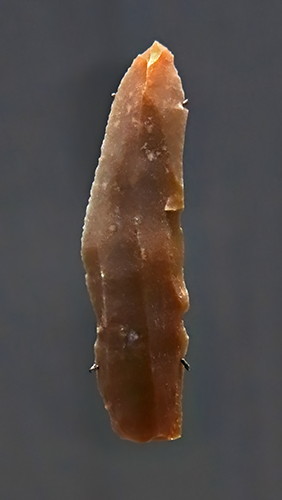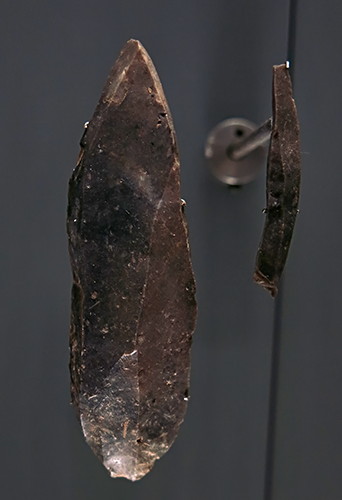 (left) 'Raw' blade, one which has not been retouched after striking it from the nucleus or core.

(right) Burin and burin spall. Burin spalls, the flake taken off when sharpening a burin, were often used as tools in their own right.

La Madeleine.

Photo: Don Hitchcock 2015
Source: Original, Muséum de Toulouse, or Muséum d'Histoire Naturelle de la ville de Toulouse, MHNT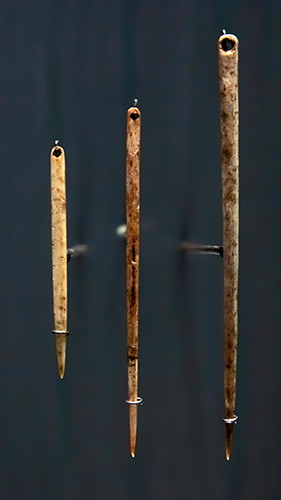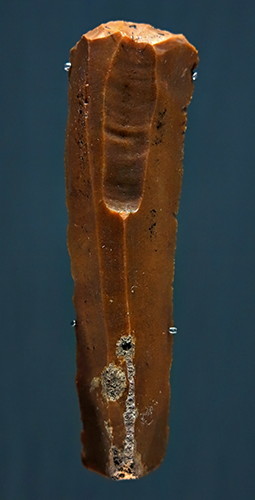 (left image) Needles.

(left of left image) Needle with a flat cross section.

(centre and right of left image) Needles with round cross sections.

(right image) Grattoir on a blade.

( note what appears to be a burin spall negative on the grattoir - Don )

La Madeleine.

Photo: Don Hitchcock 2015
Source: Original, Muséum de Toulouse, or Muséum d'Histoire Naturelle de la ville de Toulouse, MHNT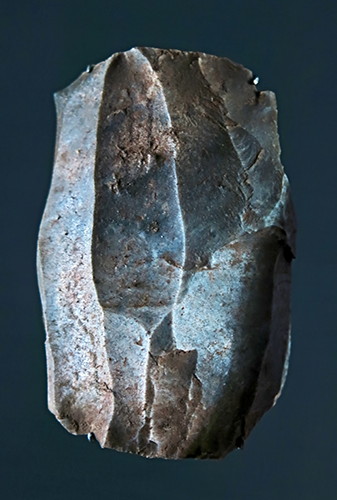 Core or nucleus from which blades have been struck.

La Madeleine.

Photo: Don Hitchcock 2015
Source: Original, Muséum de Toulouse, or Muséum d'Histoire Naturelle de la ville de Toulouse, MHNT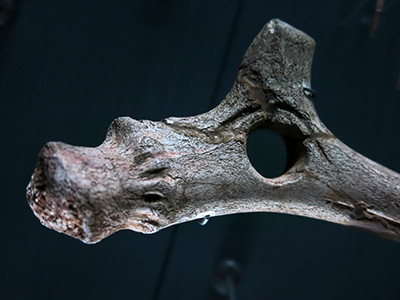 Pierced baton.

La Madeleine.

Photo: Don Hitchcock 2015
Source: Original, Muséum de Toulouse, or Muséum d'Histoire Naturelle de la ville de Toulouse, MHNT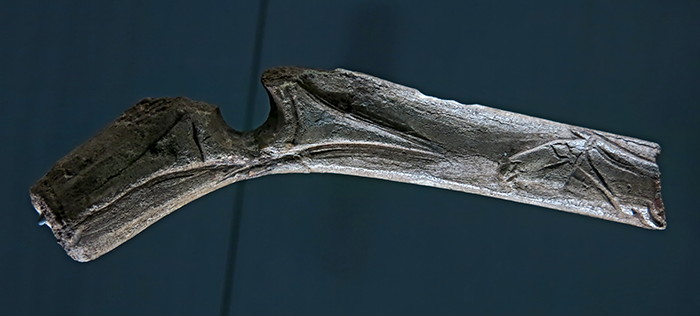 Pierced baton, engraved with a horse head and neck.

La Madeleine.

Photo: Don Hitchcock 2015
Source: Original, Muséum de Toulouse, or Muséum d'Histoire Naturelle de la ville de Toulouse, MHNT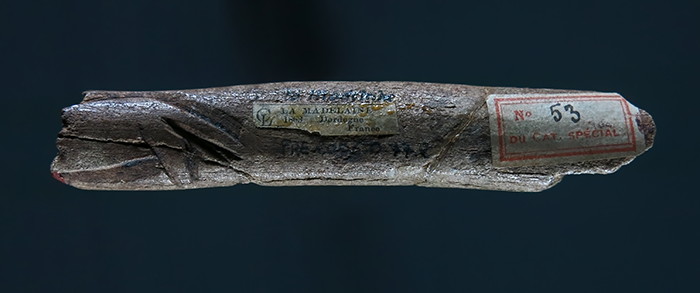 Pierced baton. This is the rear part of the pierced baton above, and bears the hindquarters of the horse depicted on the piece above.

La Madeleine.

Photo: Don Hitchcock 2015
Source: Original, Muséum de Toulouse, or Muséum d'Histoire Naturelle de la ville de Toulouse, MHNT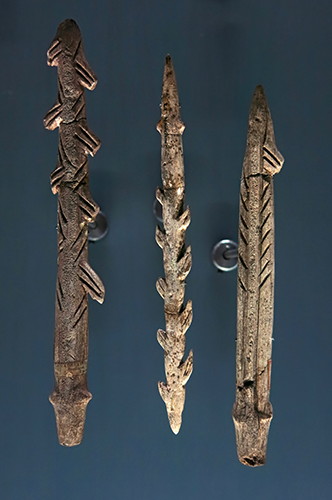 (left and centre) Harpoons with two rows of teeth.

(right) Harpoon with one row of teeth - apparently it was made with just one tooth.

La Madeleine.

Photo: Don Hitchcock 2015
Source: Original, Muséum de Toulouse, or Muséum d'Histoire Naturelle de la ville de Toulouse, MHNT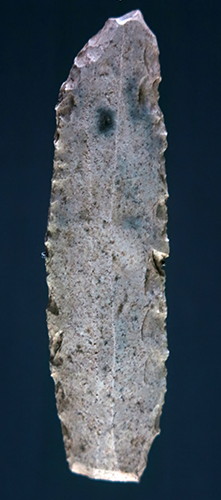 Spear point.

La Madeleine.

Photo: Don Hitchcock 2015
Source: Original, Muséum de Toulouse, or Muséum d'Histoire Naturelle de la ville de Toulouse, MHNT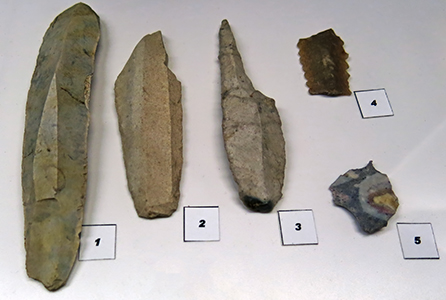 1. Retouched grattoir (scraper) on a blade, Roc-de-Marcamps, Prignac-et-Marcamps (33)
Flint, Inv. no. 70.19.408

2. Burin, Cap Blanc, Marquay (24)
Flint, Inv. no. 61.3.273

3. Pedunculate spear head (pointe à soie), Cap Blanc, Marquay (24)
Flint, Inv. no. 61.3.275

4. Unrecorded

5. Perçoir, awl, Roc-de-Marcamps, Prignac-et-Marcamps (33)
Flint, Inv. no. 17.19.415

Photo: Don Hitchcock 2015
Source: Original, Musée d'Aquitaine à Bordeaux
6. Burins bec de perroquet, parrot beak burins, from La Madeleine, Tursac (24) and Prignac-et-Marcamps, Prignac-et-Marcamps (33)
Flint, Inv. no. 61.3.256 and 70.19.419

Photo: Don Hitchcock 2015
Source: Original, Musée d'Aquitaine à Bordeaux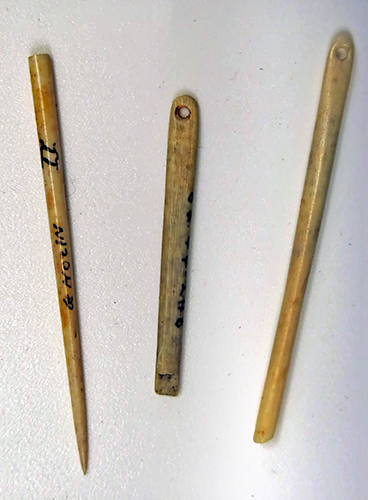 7. Aiguilles, needles, Le Morin, Pessac-sur-Dordogne (33)
Bone, Inv. no. 88.47.246, 248, and 1599

Photo: Don Hitchcock 2015
Source: Original, Musée d'Aquitaine à Bordeaux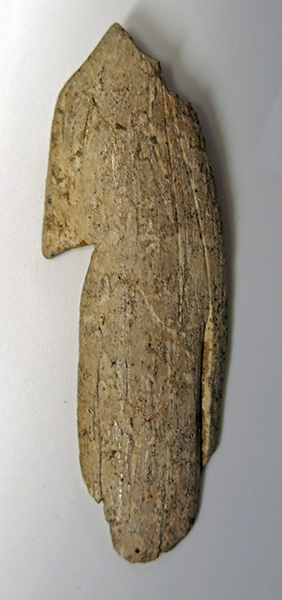 8. Crochet de propulseur, hook of a spear thrower, Roc-de-Marcamps, Prignac-et-Marcamps (33)
Bone, Inv. no. 70.19.437

Photo: Don Hitchcock 2015
Source: Original, Musée d'Aquitaine à Bordeaux

9. Sifflet, whistle, Roc-de-Marcamps, Prignac-et-Marcamps (33)
Bone, Inv. no. 70.19.465

Photo: Don Hitchcock 2015
Source: Original, Musée d'Aquitaine à Bordeaux


10. Navette, shuttle, used for weaving, Roc-de-Marcamps, Prignac-et-Marcamps (33)
Reindeer antler, Inv. no. 70.19.438

Photo: Don Hitchcock 2015
Source: Original, Musée d'Aquitaine à Bordeaux
11. Bâton percé, pierced baton, Les Eyzies-de-Tayac (24)
Reindeer antler, Inv. no. 61.3.258

Photo: Don Hitchcock 2015
Source: Original, Musée d'Aquitaine à Bordeaux



12. Sagaie, spear point, Grotte des Fées, Prignac-et-Marcamps (33)
Bone, Inv. no. 60.839.13

( note that this looks more like a bone awl than a spear point to me - Don )

Photo: Don Hitchcock 2015
Source: Original, Musée d'Aquitaine à Bordeaux

13. Harpons à deux rangs de barbelures, harpoons with two rows of barbs, Le Morin, Pessac-sur-Dordogne (33)
Reindeer antler, Inv. no. 88.47.1123 and 1678

Photo: Don Hitchcock 2015
Source: Original, Musée d'Aquitaine à Bordeaux


14. Pointe à cran, shouldered point, Roc-de-Marcamps, Prignac-et-Marcamps (33)
Flint, Inv. no. 70.19.421

Photo: Don Hitchcock 2015
Source: Original, Musée d'Aquitaine à Bordeaux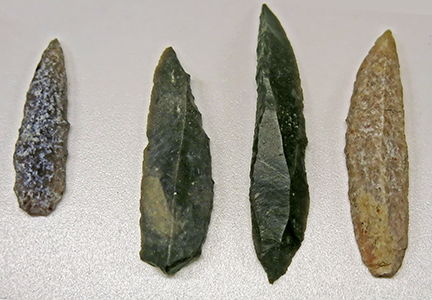 15. Lamelles retouchées, retouched blades, Roc de Marcamps, Prignac-et-Marcamps (33)
Flint, 70.19.429 to 70.19.431 (sic)

Photo: Don Hitchcock 2015
Source: Original, Musée d'Aquitaine à Bordeaux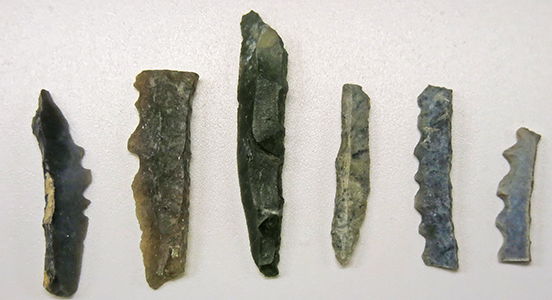 17. Lamelles à dos retouchées, backed, retouched blades, Roc de Marcamps, Prignac-et-Marcamps (33)
Flint, 70.19.422 to 70.19.427

Photo: Don Hitchcock 2015
Catalog: 70.19.422 to 70.19.427
Source: Original, Musée d'Aquitaine à Bordeaux
Bone Implements
The specimens shown in the image below belong to the category of arms, or, perhaps, of fishing implements, made of reindeer antler. Whether considering them as arrow-heads, or as harpoon-heads, we see that all, both large and small, have on each side recurved points, hooks, or barbs, cut out of the sides, sometimes opposite, sometimes alternate.

The upper end, more or less elongated and pointed, is sometimes rounded and nearly smooth. One would scarcely think that weapons of so little sharpness could pierce the flesh of animals, even that of fishes, had we not known that the Inuit of our own day (particularly those of the more northern regions, who have not yet been able to get any iron) are obliged to make their tools and weapons of bits of wild reindeer antler, and that these are not the less formidable to wild beasts.

All the weapon-heads are tapered, and even pointed, at the lower end or butt, without doubt to fit into a socket in the end of a wooden shaft. Two or three lines distant above this tapering butt-end there are nearly always two little eminences or knobs, probably to aid in fixing the implement in the shaft, unless, indeed, it was for the fastening of a line for attachment.

Perhaps with these harpoons, much smaller in size than those of the Inuit, our old fishermen of Perigord attacked the large freshwater fishes which abounded in their rivers.

It was not very long ago, that is, before the building of certain weirs on the Dordogne River, that Salmon came up from the sea as far as the Vézère, which still produces abundantly Carp, Barbel, and other Cyprinoid fish.

Perhaps, also, the shaft, detached from the harpoon, served as a float to indicate where the fish went, and to check its escape.

There are also heads for arrows or harpoons which have barbs down one side only; and it is difficult to suppose them to be anything but fishing implements.

In most of these barbed weapon-heads there are long nicks or grooves on the barbs, and almost always on both sides. These grooves are most frequently single; but sometimes they are double; and they follow the curve of the barbs, which sometimes end in a sharp hook, and sometimes with a nearly smooth point. It has been conjectured, in searching for an explanation of the probable use of these grooves, that they may have served to hold a poisonous substance, active enough to hasten the death of the wounded animal.

In support of this supposition, one may refer to the custom that some of the hunter gatherers of South America have of rubbing the arrows used in hunting with a poison that makes the flesh of the animals so killed more tender. An historian of the Eighteenth Century (Dom. Martin, Hist, des Gauloises) has held that the Ancient Gauls had just such a practice in the chase.


Text above:
Lartet and Christy (1875)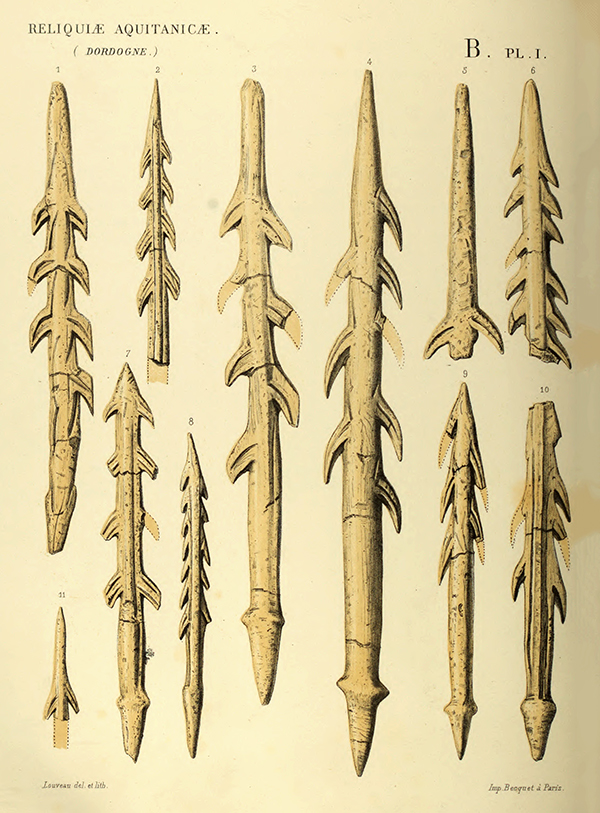 1. A head of an arrow or harpoon, with barbs on each side. It belongs to the long-pointed type, with a round and nearly smooth point. It has eight barbs, one of which has been broken; they are arranged on the two sides, one opposite to another, that is to say, opposed, and not alternate as we shall see them in other specimens. They are flat, and their points are sharply curved back or hooked, and hollowed on each face by grooves or nicks, intended, perhaps, to lodge poison in. The stem of the weapon also bears longitudinal grooves, disposed two and two on the intervals between the barbs. This weapon is made of reindeer antler, like all the others.

From La Madeleine.

2. Another harpoon head, with the apex carefully pointed; it bears eight barbs, subalternate, those on one side rising a little above those on the other. These barbs are not so long as those in 1, and lie nearer to the stem, which throughout its length has a raised riblet, running up into the point, and bordered all along by engraved lines or continued notches.

The barbs in this specimen have double grooves. This is one of the most carefully worked examples; but it is imperfect, owing to an old fracture just below the barbed portion.

From Laugerie Basse.

3. This is of the long-pointed type, but not very sharp; it has seven barbs three on one side, and four on the other; and the stem is marked with large shallow furrows. This specimen differs somewhat in form from most of the weapons of this kind.

From La Madeleine.

4. Another harpoon-head, more carefully worked than the last. It is one of the largest we have found. Its point is elongate and somewhat sharp. The stem is regularly rounded. The barbs, cut out symmetrically, and marked with simple grooves, are three on one side (right), and five on the other (left); the first on the left side is placed forward, and has none to correspond with it on the other side. The others are some alternate, some opposite. There are no longitudinal lines, but only oblique notches between each two barbs. The knobs at the haft are very prominent.

From La Madeleine.

5. A fragment, broken off below the first pair of barbs. The point is very much drawn out, rounded, and smooth at its extremity. The barbs have simple grooves. This is a form very distinct from those ordinarily met with.

From La Madeleine.

6. With numerous barbs; these are closely set, rounded, and offering no trace of the supposed poison-grooves. Though broken through the barbed portion, this specimen still presents seven barbs on one side and eight on the other.

From La Madeleine.

Fig. 7. A distinct type (unless, indeed, it was originally longer, and has been re-cut and sharpened after having been broken) with the point forming a triangle by the meeting of the first two barbs, which, like the others, are nearly flat, and are hollowed by two parallel grooves on both faces. The stem is marked by two longitudinal lines, between which is a somewhat raised fillet, dying out at the point. The knobs for the haft are tolerably prominent.

From La Madeleine.

8. With a sharp point and numerous barbs; these lie almost close to the stem, and are subalternate, seven on one side and five on the other, mostly without poison-grooves. The stem is marked by a continuous fillet along one side, and an interrupted fillet on the other.

From La Madeleine.

9. Another Harpoon-head, sharply pointed, and very short. The barbs are long, curved along the stem, and simply grooved, three on one side and two on the other. The haft-knobs are prominent; the lower or butt end is very much pointed.

From La Madeleine.

10. Harpoon-head of particular form, bearing along its middle a longitudinal and highly raised rib. The point is broken off. The barbs diverge slightly, are subalternate, and oblique to the axis of the stem, four on· one side and three on the other.

From La Madeleine.

Fig. 11. A small specimen, with elongate point, and belonging to the same type as Fig. 5. It has been broken below the first pair of barbs, which are subalternate.

From La Madeleine.


Source and text: Lartet and Christy (1875)
Proximal source: archive.org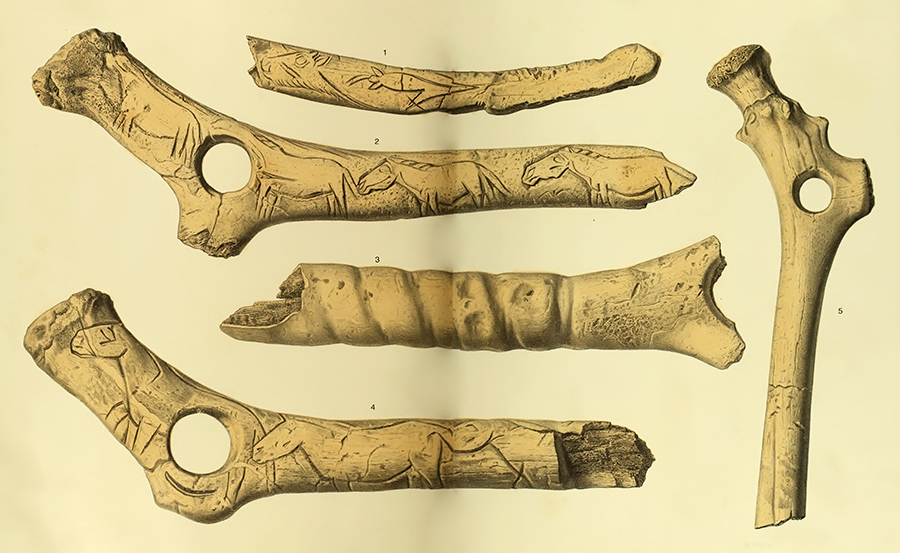 B. PLATE XXX. & XXXI. (Double.)

This plate exhibits some fine specimens of the Aquitanian pogamagan, or baton, made of carved and perforated antlers, common in the caves of the Vézère, and rare elsewhere. ( Pogamagan are clubs with a knobbed head, used by various American First Nation peoples - Don )

_________

Fig. 1. La Madelaine.

A fragment of a carved stem of antler; it is slightly curved, oblong in section towards the apex, and sub-cylindrical at the broken end. On the figured face is an isolated, eared, hornless head, possibly bovine, with a shaggy jowl, succeeded by a flower-like outline. On the other face two somewhat similar flower-like figures are seen, succeeded towards the apex by two patterns consisting of an obliquely transverse furrow crossed in one instance by four, and in the other by three short and slightly curved notches. The concave margin has seven transverse unequal notches (perhaps tally-marks), some of which show themselves in the figure above the head and flower. The convex margin has a long shallow notch and two blunt barb-like projections, beyond which is partially corroded on the figured side, but somewhat polished, perhaps by use, on the opposite face.

_________

Fig. 2. La Madelaine.

A broken baton or pogamagan, made of a shed antler, ornamented with a row of Horses on each side. These appear to be standing, have large heads as usual, hog manes, excepting two, one on each side of the butt-end; and their tails seem to be rather long and narrow.

(  hogging, also known as 'roaching' in the US, is the practice of shaving or cutting short a horse's mane. The wild horses of Europe had mostly short, erect manes, but some may have had a 'falling' mane as with domestic horses of today - Don ),

The perforation interferes with the head of a horse on each side; also with the tail of one, and the head of the other horse, at the butt-end; for one of these is reversed in position. Both have the mane indicated by the usual line parallel with the neck. The concave edge of the antler is ornamented with a shallow, incised, mesial line and numerous short oblique notches set off on each side of it.

_________

Fig. 3. Laugerie Basse.

A fragment of a large perforated Pogamagan or Baton of antler, ornamented with a shallow spiral furrow encircling the stem.

_________

Fig. 4. La Madelaine.

Another broken baton, made of a shed antler, perforated with one hole, and ornamented on one side with horses, standing or gently moving, in very close sequence, and with a pattern of longitudinal and transverse scoring, and at least one horse (of which a portion remains), on the other. The round hole also is bordered with a groove on the side not figured, and with a partial marginal groove on the figured face. The horses are relatively large, with rather long thin tails, and heavy heads; their manes are indicated by the usual horizontal line.

_________

Fig. 5. Unknown provenance.

A pogamagan or baton, consisting of a small antler (detached by force from the frontal bone), pierced with a single hole. Imperfect.


Source and text: Lartet and Christy (1875)
Proximal source: https://archive.org/
---
References
Capitan L., Peyrony D., 1928: La Madeleine : son gisement, son industrie, ses oeuvres d'art. Paris, Librairie Emile Nourry, 1928.
Howard, C., 2002: The Gloss Patination of Flint Artifacts Plains Anthropologist, Vol. 47, No. 182 (August 2002), pp. 283-287 (5 pages), Taylor & Francis, Ltd.
Lartet, E., Christy H.,1875: Reliquiae aquitanicae : being contributions to the archaeology and palaeontology of Pèrigord and the adjoining provinces of Southern France, London: Williams, 1875
Peyrony, D., 1926 - Fouille de La Madeleine, Carnet de fouilles D. Peyrony, Archives du Musée national de Préhistoire, Les Eyzies-de-Tayac, p. 110-112.
---

Back to Archaeological Sites