Back to Archaeological Sites
Cave paintings from the Indonesian island of Sulawesi are at least 40 thousand years old
Cave paintings from the Indonesian island of Sulawesi are at least 40 thousand years old, according to a study published this week in the scientific journal Nature.

This is compatible in age with the oldest known rock art from Europe, long seen as the birthplace of 'Ice Age' cave painting and home to the most sophisticated artworks in early human cultural history.

These new findings challenge long-cherished views about the origins of cave art, one of the most fundamental developments in our evolutionary past, according to Maxime Aubert from Griffith University, the dating expert who co-led the study.

'It is often assumed that Europe was the centre of the earliest explosion in human creativity, especially cave art, about 40 thousand years ago', said Aubert, 'but our rock art dates from Sulawesi show that at around the same time on the other side of the world people were making pictures of animals as remarkable as those in the Ice Age caves of France and Spain.'

The prehistoric images are from limestone caves near Maros in southern Sulawesi, a large island east of Borneo. They consist of stencilled outlines of human hands – made by blowing or spraying paint around hands pressed against rock surfaces – and paintings of primitive fruit-eating pigs called babirusas ('pig-deer').
Text above from: http://app.griffith.edu.au/news/2014/10/09/rock-art-discovery-paints-new-human-history/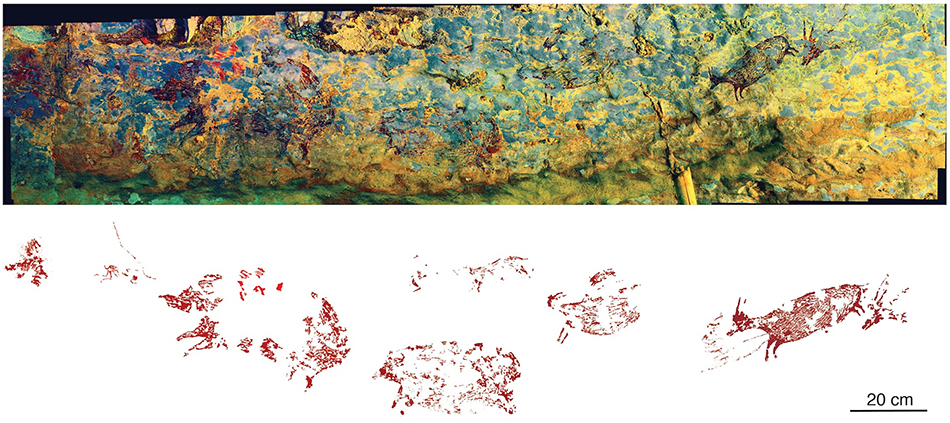 Hunting scene at Leang Bulu' Sipong 4. The top image shows a photostitched panorama of the rock art panel (images enhanced using DStretch). The bottom image is a digital tracing of the rock art scene.

Photo: Ratno Sardi (top)
Drawing: Adhi Agus Oktaviana (bottom).
Source and text: Aubert et al. (2019)
Proximal source: theconversation.com/indonesian-cave-paintings-show-the-dawn-of-imaginative-art-and-human-spiritual-belief-128457
Hunting scene at Leang Bulu' Sipong 4.

A group of small part-human, part-animal figures is apparently capturing an anoa (a buffalo-like creature native to Sulawesi) with what seem to be ropes or spears.

Photo: Ratno Sardi
Source: Aubert et al. (2019)
Proximal source: theconversation.com/indonesian-cave-paintings-show-the-dawn-of-imaginative-art-and-human-spiritual-belief-128457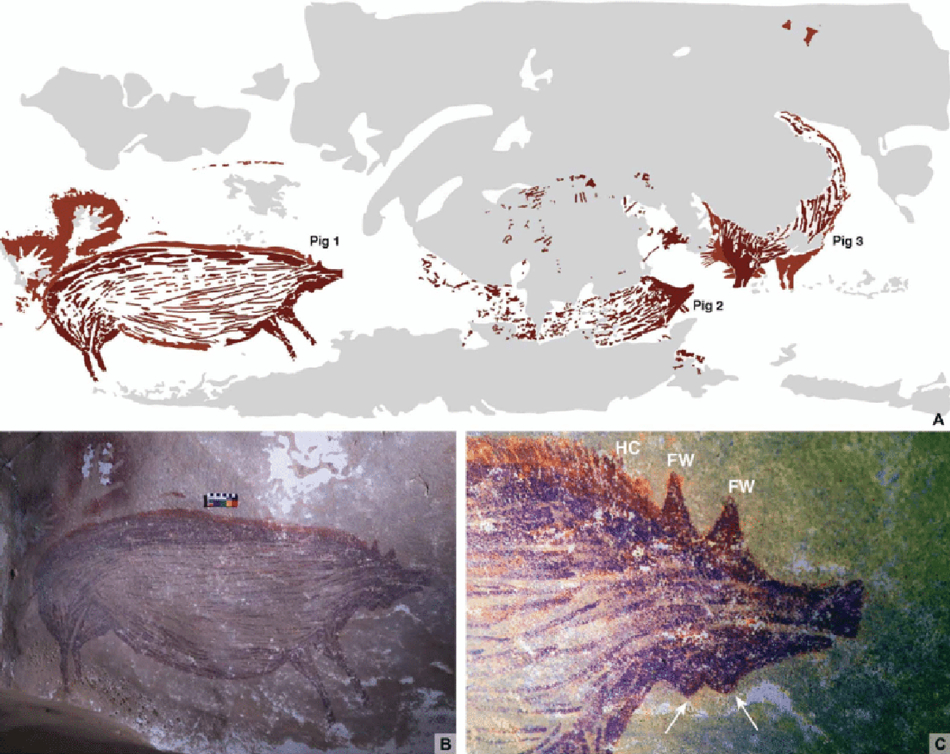 Dated pig figure (pig 1) in the rock art panel at Leang Tedongnge. (A) Digital tracing of the rock art panel (P10). (B) Pig 1. (C) Detail of the head area of pig 1 [enhanced using the Decorrelation Stretch (DStretch) computer program (44); channel setting: _ac_lab; AC, auto contrast and LAB color space]. HC, head crest; FW, preorbital facial warts. Pig 1 displays an unidentified morphological feature, a pair of teat-like protuberances in the lower neck area; these are highlighted by white arrows in (C).

Photo: A. A. Oktaviana, ARKENAS/Griffith University.
Source: Brumm et al. (2021)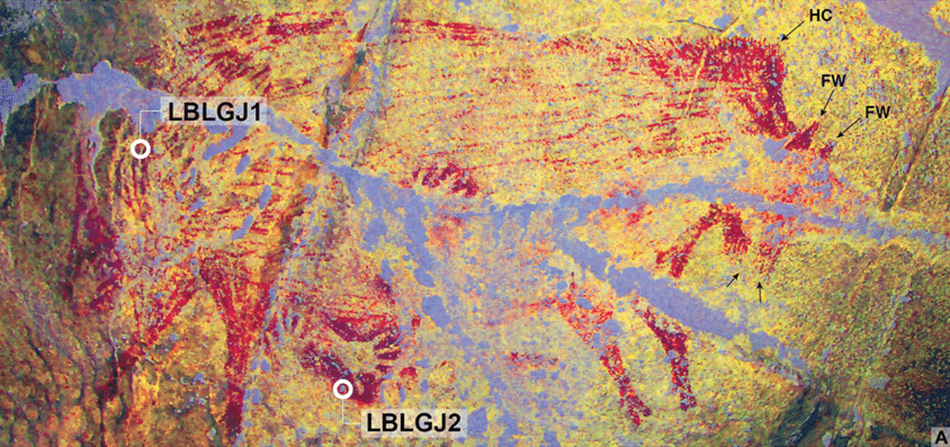 Red pig figure at Leang Balangajia 1. U-series dating indicates that the figure was painted between 73.4 ka and 32 ka.

Photo: A. A. Oktaviana, ARKENAS/Griffith University.
Source: Brumm et al. (2021)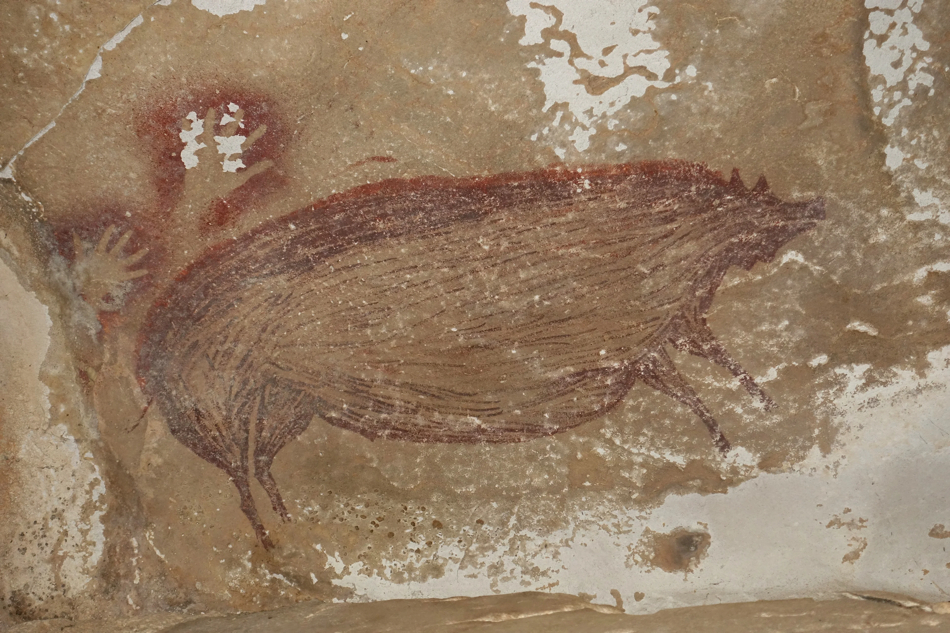 Painting of a pig at Leang Tedongnge site in Indonesia dated to 45 000 BP

Photo: Maxime Aubert
Proximal source and text: Scientific American January 2021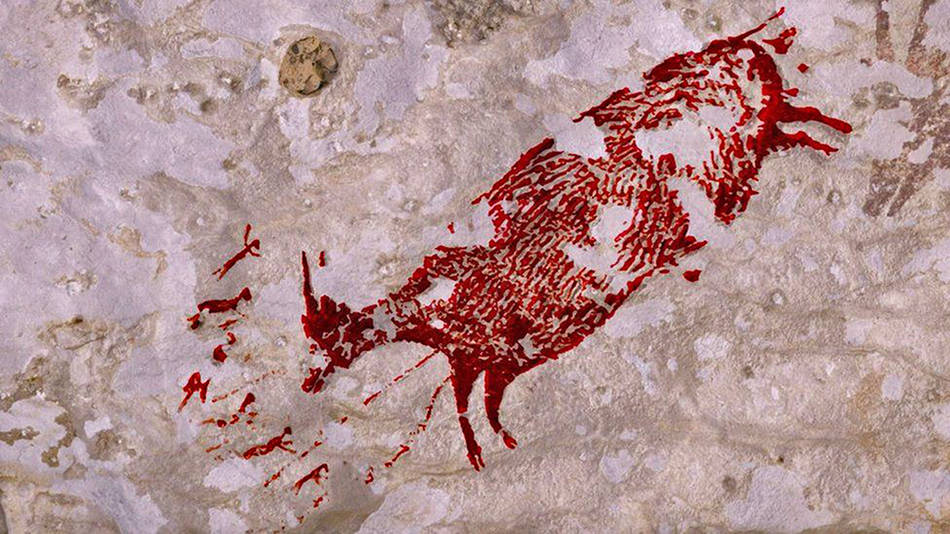 A painting discovered on the wall of an Indonesian cave has been dated at 44 000 BP The art appears to show a buffalo being hunted by part-human, part-animal creatures holding spears and possibly ropes. Some researchers think the scene could be the world's oldest-recorded story.

Photo: Maxime Aubert
Source: Aubert et al. (2019)
Text: www.bbc.com <!- www.bbc.com/news/world-asia-50754303-->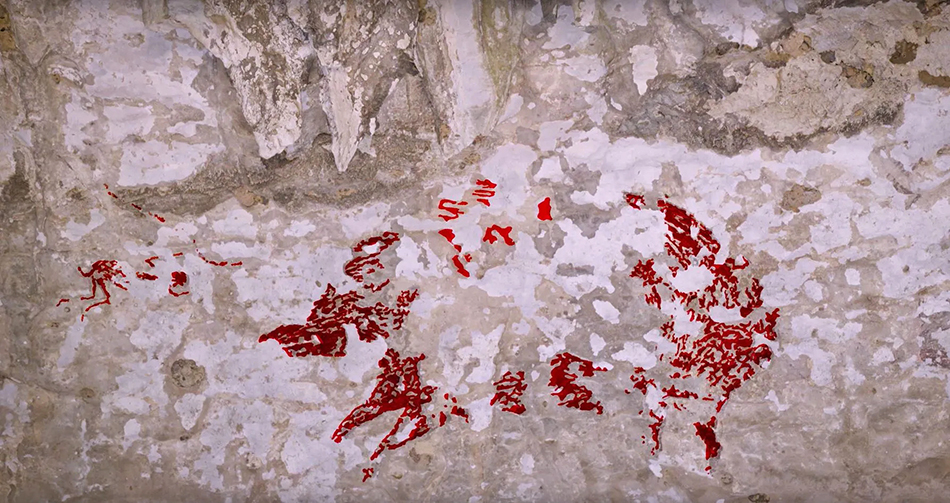 Anthropoid figure hunting a pig.

Photo: Maxime Aubert
Source: Aubert et al. (2019)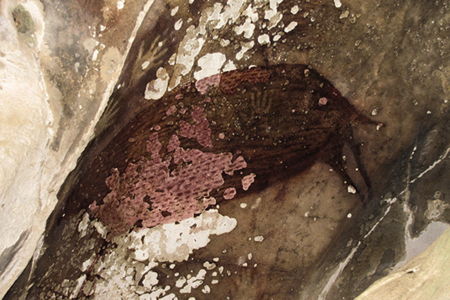 Hand stencils and-painting of a wild pig at Leang Pettakere.

Photo: Anthony Dosseto, University of Wollongong Source: http://www.rappler.com/science-nature/society-culture/71464-indonesia-sulawesi-cave-paintings-ancient-art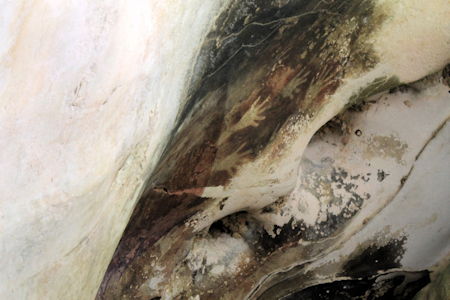 Leang Leang Pettakere

(Leang Leang means cave)

Picture of hands overlapping one of the hog deer in Leang Pettakere

Photo: mutiahberceritakekamu
Source: http://mutiahberceritakekamu.wordpress.com/2011/11/16/from-waterpark-to-leang-leang-part-ii/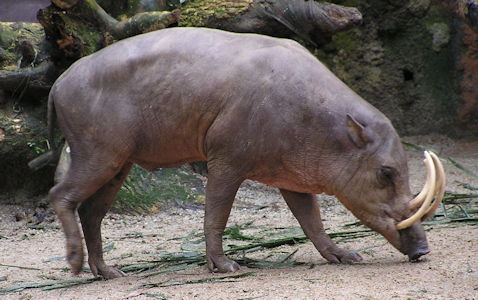 North Sulawesi babirusa, Babyrousa celebensis

The babirusas, also called pig-deer (modern Indonesian: babirusa) are a genus, Babyrousa, in the pig family (Suidae) found in Wallacea, or specifically the Indonesian islands of Sulawesi, Togian, Sula and Buru. If a babirusa does not grind its tusks (achievable through regular activity), they can eventually keep growing so as to penetrate the animal's own skull.

Photo: Masteraah
Permission: CC-BY-SA-2.0-DE
Text: Adapted from Wikipedia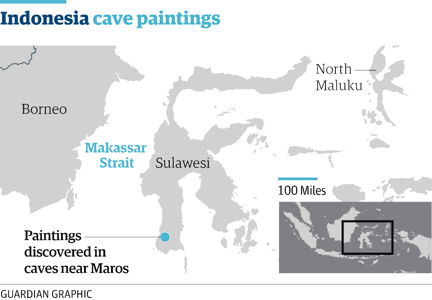 General location of the discoveries.

Photo: http://www.theguardian.com/science/2014/oct/08/cave-art-indonesia-sulawesi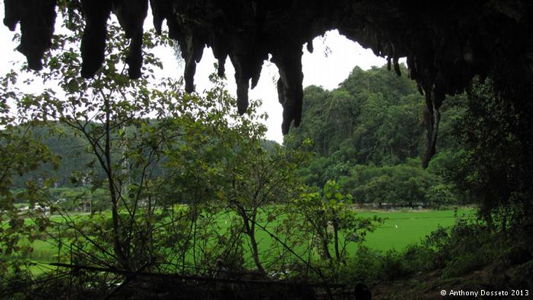 The ancient paintings were found in seven caves on the central Indonesian island of Sulawesi. This photograph was taken from the entrance of a cave in the vicinity of the sites where rock art was found and dated.

Photo: Anthony Dosseto, University of Wollongong Source: http://www.dw.de/indonesian-cave-paintings-rewriting-art-history/g-17984540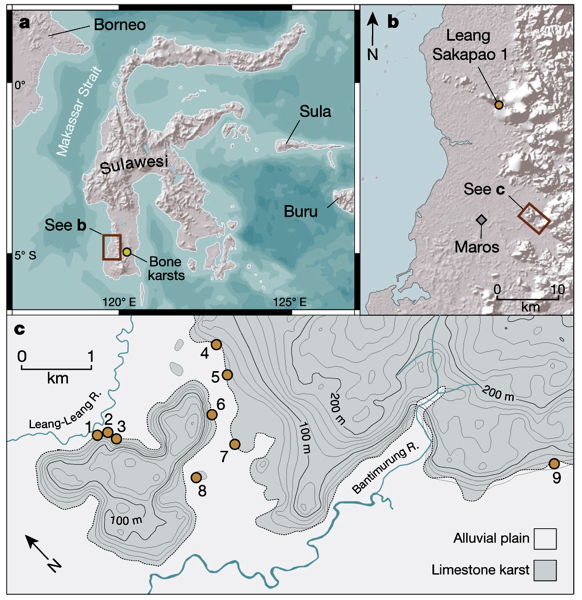 Locations of the rock art.

a, Sulawesi is situated east of Borneo in the Wallacean archipelago.

b, The location of the Maros–Pangkep karsts (the area of high relief) near the town of Maros on Sulawesi's southwestern peninsula. The separate karst region of Bone is further east.

c, The locations of the archaeological sites included in this study: 1, Leang Barugayya 2; 2, Leang Barugayya 1; 3, Gua Jing; 4, Leang Bulu Bettue; 5, Leang Sampeang; 6, Leang Timpuseng; 7, Leang Burung 2; 8, Leang Lompoa; and 9, Leang Jarie.

Gua Jing and Leang Barugayya 1 and 2 are separate cave sites interconnected by a system of phreatic passages.

Map data: © ESRI (2008).
Photo: Aubert et al. (2014)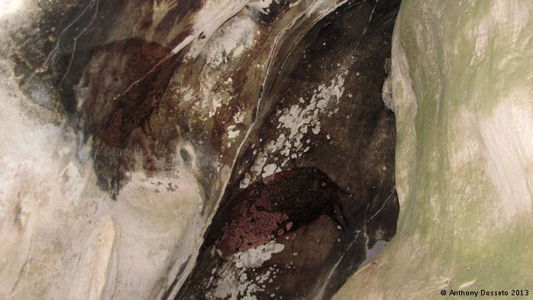 'Pig-deer'

The prehistoric images, at least 40,000 years old, depict animals and the outline of human hands. This picture shows hand stencils and images of two babirusa or pig-deer - pig-like animals native to Sulawesi and the surrounding islands of Indonesia - at a Leang Pettakere cave. Red ochres were used to produce the red and mulberry-coloured paintings.

Photo: Anthony Dosseto, University of Wollongong
Source and text: http://www.dw.de/indonesian-cave-paintings-rewriting-art-history/g-17984540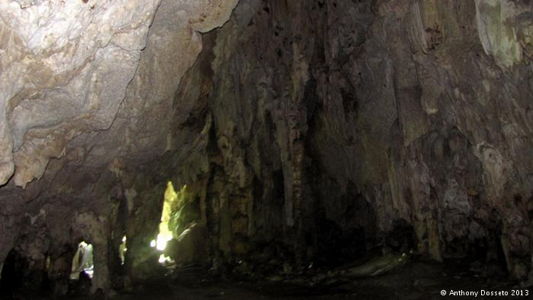 Sulawesi's rock art was first reported by Dutch archeologist Heeren-Palm in the 1950s. For many years, archeologists thought that it was part of the pre-Neolithic (Mesolithic) period some 10 000 years ago. The latest phase of research began in 2011 when Indonesian and Australian archeologists started excavations at Leang Burung 2 in the Maros region and ultimately succeeded in dating the caves.

Photo: Anthony Dosseto, University of Wollongong
Source and text: http://www.dw.de/indonesian-cave-paintings-rewriting-art-history/g-17984540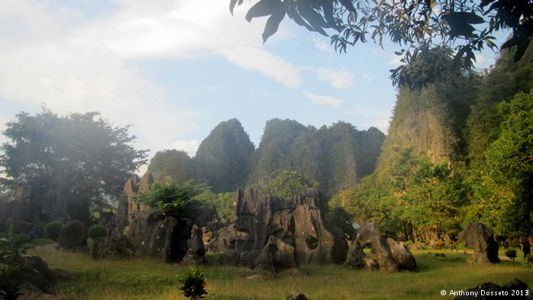 While many sites still preserve beautiful examples of rock art in this region, many others may have been destroyed by erosion. An additional threat may come from the growing interest people will have in the region.

Indonesian authorities said they plan to place the cave paintings on a list of the nation's official 'cultural heritage' and apply to have them included in UNESCO's World Heritage List.

(this site is known as Leang-Leang Prehistoric Park. The caves and paintings were discovered by two archaeologists, HR Heekeren and CHM van Heeren-Palm. In 1950 they discovered the cave paintings at Goa Pettae and Petta Kere - Don )

Photo: Anthony Dosseto, University of Wollongong
Source and text: http://www.dw.de/indonesian-cave-paintings-rewriting-art-history/g-17984540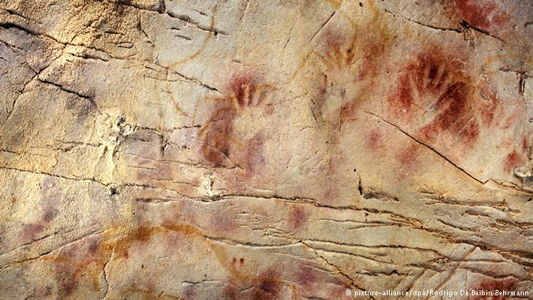 Researchers found the Indonesian paintings were comparable in age to the oldest-known rock art from Europe, long thought to be the birthplace of art. There are also other similarities as seen in these hand stencils and red disks drawn in the El Castillo cave in Spain between 37 000 and 40 000 years ago. These are some of the oldest cave paintings in Europe

Photo: © picture-alliance/dps/Rodrigo De Balbin Behrmann
Source and text: http://www.dw.de/indonesian-cave-paintings-rewriting-art-history/g-17984540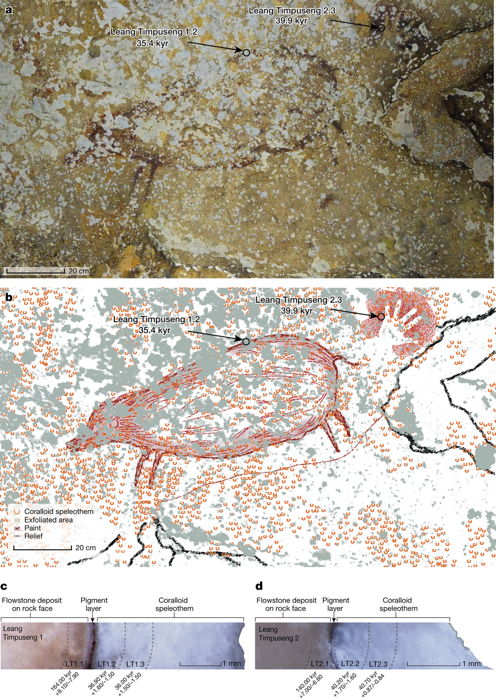 Dated rock art from Leang Timpuseng.

a, b, Photograph (a) and tracing (b) showing the locations of the dated coralloid speleothems and associated paintings: a hand stencil and a large naturalistic depiction of an animal shown in profile. Although the animal figure is badly deteriorated and obscured by coralloids, we interpret it as a female babirusa.

A painted red line below the babirusa (not clearly visible in a, but illustrated in b) seems to represent the ground surface on which the animal is standing or walking. The rock art panel is located on the ceiling about 8 m from the cave entrance and 4 m above the current cave floor.

c, d, Profiles of the coralloid speleothems showing the microexcavated subsamples bracketing the age of the paintings. We interpret the similar ages for the overlying aliquots as a result of fast-growing speleothems.

Tracing credit: Leslie Refine 'Graph & Co' (France)
Photo and text: Aubert et al. (2014)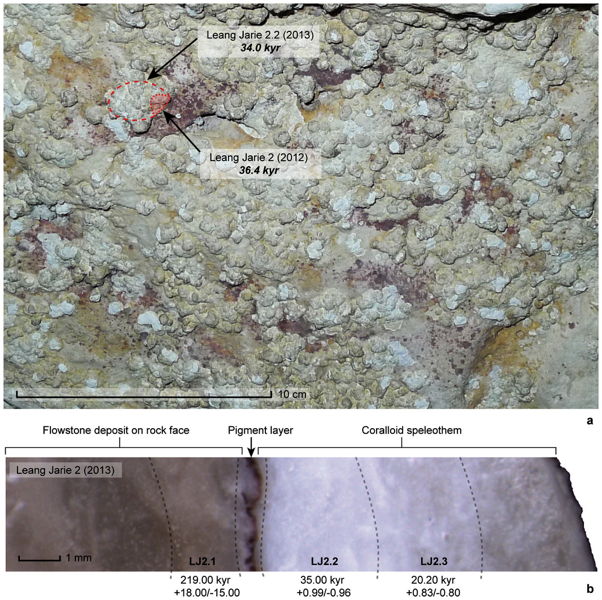 Dated rock art from Leang Jarie.

a, Locations of the sampled coralloid speleothems and associated hand stencils.

b, Profile of the coralloid speleothem showing the microexcavated subsamples bracketing the age of the paintings.

The Leang Jarie 2 (2012) sample is from above the pigment layer and so only provides a minimum age for the underlying hand stencils.

Photo and text: Aubert et al. (2014)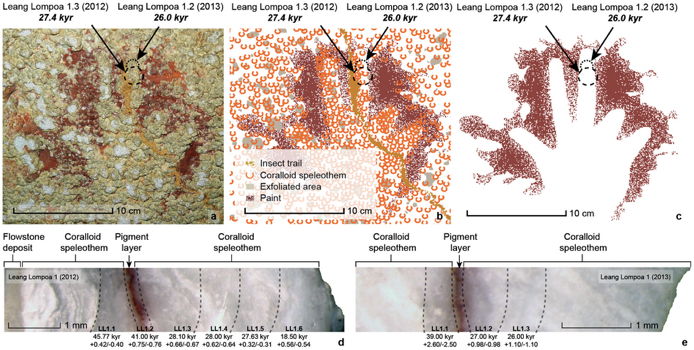 Dated rock art from Leang Lompoa.

a, Photograph showing the locations of the sampled coralloid speleothems and associated hand stencil.

b, c, Tracings showing the locations of the sampled coralloid speleothems and associated hand stencil. Although heavily obscured by coralloid speleothems, we interpret this image as a 'mutilated hand' stencil, which shows in outline a human hand with two amputated digits or with the third and fourth fingers folded into the palm. The hand stencil is located on the ceiling of a narrow, dimly lit passage leading off from the main entrance to the cave. Samples Leang Lompoa 1 (2012) and Leang Lompoa 1 (2013) are part of the same cluster of coralloid speleothems that formed over the hand stencil.

d, e, Profiles of the coralloid speleothems showing the microexcavated subsamples bracketing the age of the motif.

Note that sample LL1.2 (2012) does not represent the age of the hand stencil. The resultant age reflects a mixture of calcium carbonate from below and above the pigment layer.

Tracing credit: Leslie Refine 'Graph & Co' (France).
Photo and text: Aubert et al. (2014)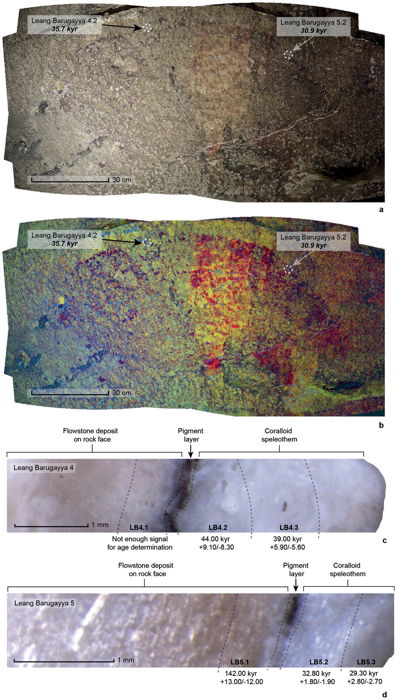 Dated rock art from Leang Barugayya 2.

a, b, Composite of photographs showing the locations of the sampled coralloid speleothems and associated large infilled red painting of an animal.

Field photographs were altered in the software program DStretch to enhance the image (b). The animal species depicted is unidentified as a result of the extent of weathering and deterioration of the painting and the thick accumulation of coralloids over the art; however, the painting seems to show in profile a large land mammal, probably a pig (a babirusa or Sus celebensis), with the head facing right and the hindquarters at the left.

c, d, Profile of the coralloid speleothems showing the microexcavated subsamples bracketing the age of the painting.

Images a and b courtesy of A. A. Oktaviana.
Photo and text: Aubert et al. (2014)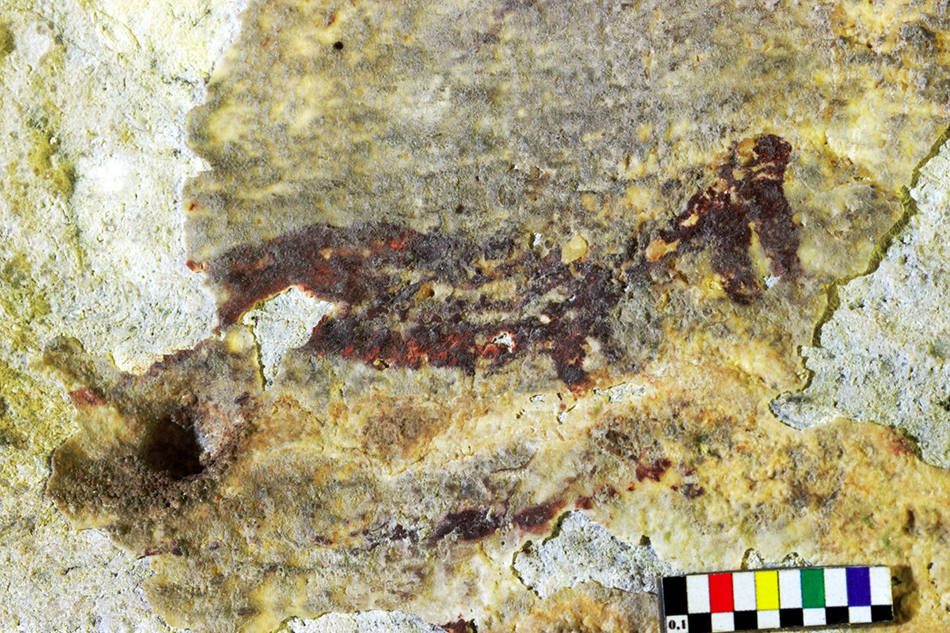 A therianthropic figure in the hunting scene at Leang Bulu' Sipong 4. This motif appears to represent a human figure with bird-like head and beak.

Photo: Ratno Sardi
Source and text: Aubert et al. (2019)
Proximal source: theconversation.com/indonesian-cave-paintings-show-the-dawn-of-imaginative-art-and-human-spiritual-belief-128457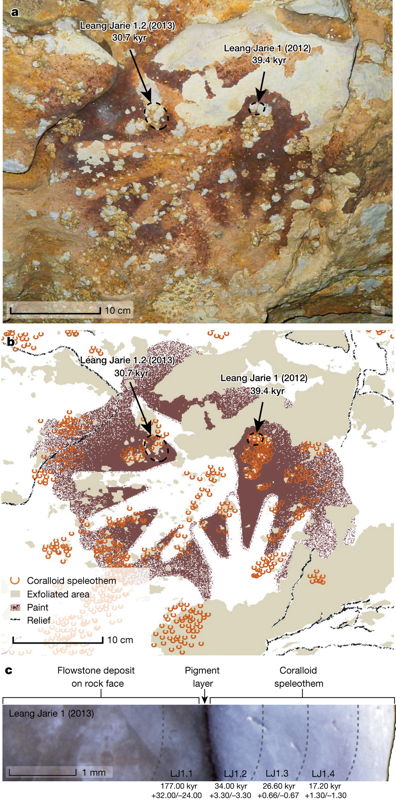 Dated rock art from Leang Jarie.

a, b, Photograph (a) and tracing (b) showing the locations of the dated coralloid speleothems and associated hand stencils.

The hand stencils are part of a 4-m-long art panel located in a dark recess along the eastern wall of the cave, about 5 m from the entrance and 1.5 m above the floor.

c, Profile of the coralloid speleothem (Leang Jarie 1 (2013)) showing the microexcavated subsamples bracketing the age of the paintings.

The Leang Jarie 1 (2012) sample is from above the pigment layer and so only provides a minimum age for the underlying hand stencils.

Tracing credit: Leslie Refine 'Graph & Co' (France)
Photo: Aubert et al. (2014)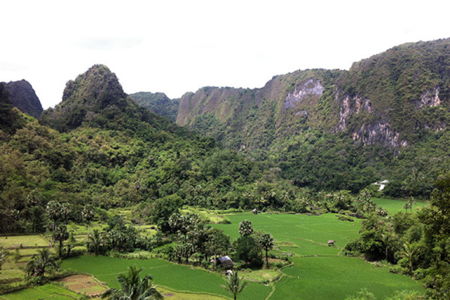 The karst country in which the paintings were found.

Photo: Anthony Dosseto, University of Wollongong Source: http://www.rappler.com/science-nature/society-culture/71464-indonesia-sulawesi-cave-paintings-ancient-art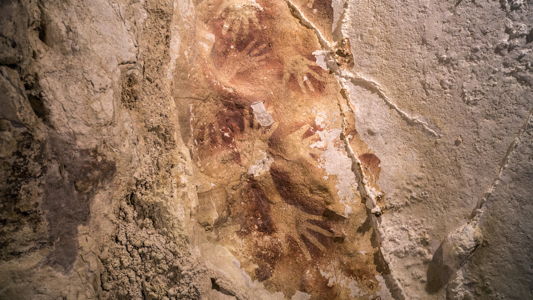 Hand outlines found on a cave wall in Indonesia are at least 39 900 years old, researchers said.

Photo: Kinez Riza
Source: http://www.nytimes.com/2014/10/09/science/ancient-indonesian-find-may-rival-oldest-known-cave-art.html?_r=0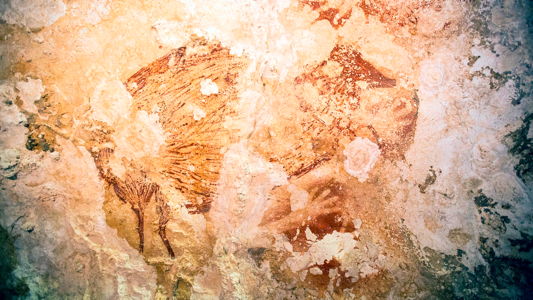 Babirusa (pig-deer) and hand stencil.

Photo: Kinez Riza
Source: http://theconversation.com/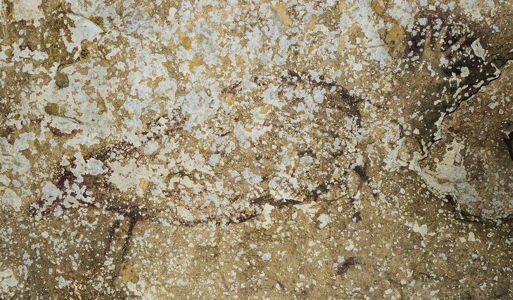 A female babirusa and a hand stencil in Leang Timpuseng cave in Sulawesi.

See below for interpretation.

Photo: Maxime Aubert, Griffith University
Source: http://news.nationalgeographic.com/news/2014/10/141008-cave-art-sulawesi-hand-science/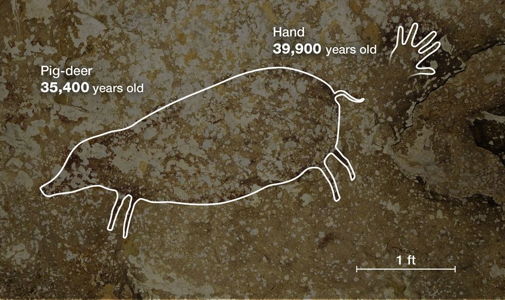 The oldest dated hand stencil in the world (upper right) and possibly the oldest figurative depiction in cave art—a female babirusa (a hoglike animal also called a pig-deer)-were found in Leang Timpuseng cave in Sulawesi, an island east of Borneo.

Photo: Aubert et al. (2014)
Source: http://news.nationalgeographic.com/news/2014/10/141008-cave-art-sulawesi-hand-science/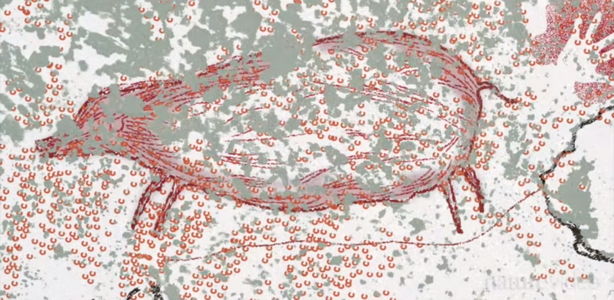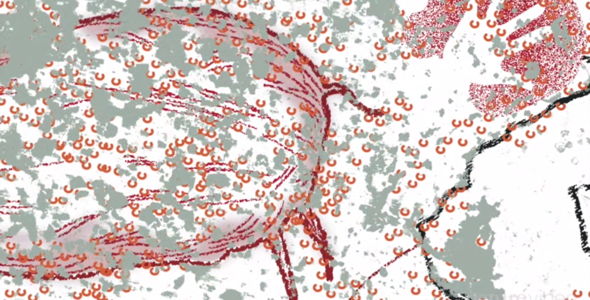 Drawings of the features of one of the pig-deer.

Photo: Cave art in the tropics, Nature Video
Source: https://www.youtube.com/watch?v=ZVEqkVDn6Y4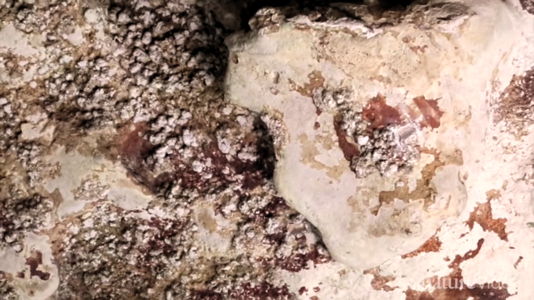 The paintings have been dated using the Uranium/Thorium series, which gives a minimum age for the paintings based on the calcite (here in the form known as 'popcorn') which occasionally covers parts of the paintings.

Photo: Cave art in the tropics, Nature Video
Source: https://www.youtube.com/watch?v=ZVEqkVDn6Y4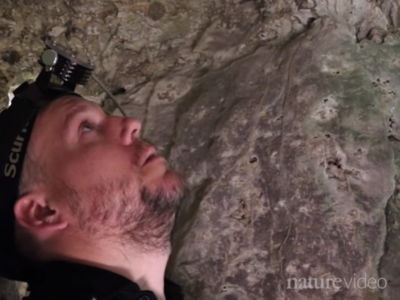 Maxime Aubert, one of the researchers, shown here examining the rock art.

Photo: Cave art in the tropics, Nature Video
Source: https://www.youtube.com/watch?v=ZVEqkVDn6Y4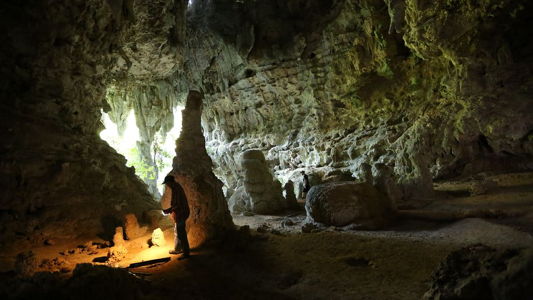 Maxime Aubert, right, and a team member work inside one of the limestone caves on Sulawesi where ancient cave art was found.

Photo: Kinez Riza
Source: http://news.nationalgeographic.com/news/2014/10/141008-cave-art-sulawesi-hand-science/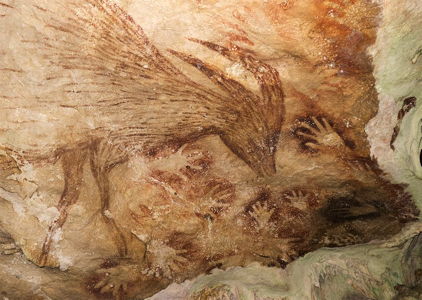 Cave paintings on the Indonesian island of Sulawesi were found more than 50 years ago, but until now the dates of origin were not known. The art shown here has not been dated, but is stylistically similar to other art in the area now found to be around 40 000 years old.

Photo: Maxime Aubert, Griffith University
Source: http://news.nationalgeographic.com/news/2014/10/141008-cave-art-sulawesi-hand-science/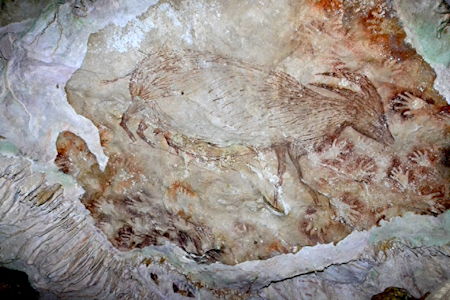 A wider angle version of the photo above.

(note that this is not the same animal as the babirusa. It has short, stubby horns on its head, and may at first be thought to be a Sambar deer, though their antlers are usually longer, and branched, not simple and short as in this case.

The animal is an Anoa, see below - Don )

Photo: http://kebudayaan.kemdikbud.go.id/bpcbmakassar/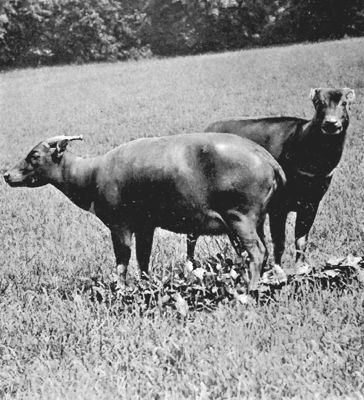 The animal is an Anoa.

Anoa, also known as midget buffalo and sapiutan, are a subgenus of Bubalus comprising two species native to Indonesia: the mountain anoa (Bubalus quarlesi) and the lowland anoa (Bubalus depressicornis). Both live in undisturbed rainforest, and are essentially miniature water buffalo. They are similar in appearance to a deer, weighing 150–300 kg (330–660 lb).

Both are found on the island of Sulawesi and the nearby island of Buton in Indonesia. They apparently live singly or in pairs, rather than in herds like most cattle, except when the cows are about to give birth. One young is born per year.

Both species of anoa have been classified as endangered since the 1960s, and the population continues to decrease. Fewer than 5000 animals of each species likely remain. Reasons for their decline include hunting for hide, horns and meat by the local peoples and loss of habitat due to the advancement of settlement. Currently, hunting is the more serious factor in most areas.

Photo: 1903, Richard Lydekker's Mostly Mammals
Permission: Public Domain
Text: Wikipedia

The Lowland Anoa is the smallest member of the water buffalo family. It is in danger of extinction due to the loss of its forest habitat and because it is being hunted for its meat and horns.

Body length: 150-180cm
Tail length: 25-35cm
Weight: 150-300kg
(Source: Doubutsu Sekai-isan* Red Data Animals Kodansha) (*World Animal Heritage)

The Lowland Anoa lives only on the island of Sulawesi in Indonesia. It mainly lives in forested areas near water.

The Lowland Anoa eats the shoots and leaves of plants. It is the smallest member of the water buffalo family, but it still weighs over 150 kg.

Photo and text: http://www.konicaminolta.com/kids/endangered_animals/library/field/lowland-anoa.html: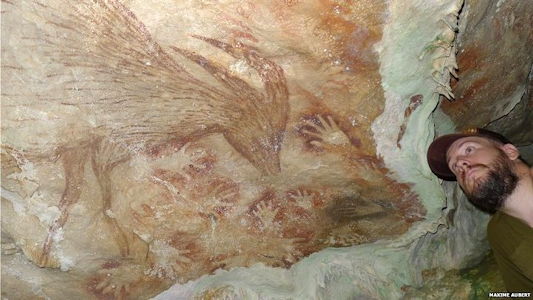 Another version, with Dr Maxime Aubert in the frame.

Photo: © Maxime Aubert
Source: http://nationalgeographic.co.id/berita/2014/10/ditemukan-lukisan-kuno-tertua-di-sulawesi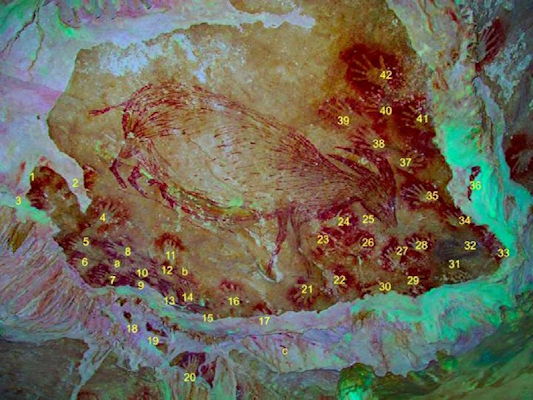 This gives a good idea of the ages of the various parts of the art panel.

Photo: http://nationalgeographic.co.id/berita/2014/10/makna-tersingkapnya-usia-lukisan-dinding-gua-di-maros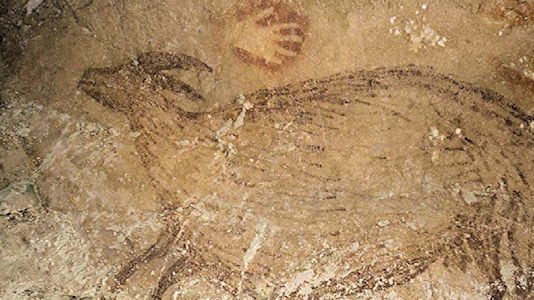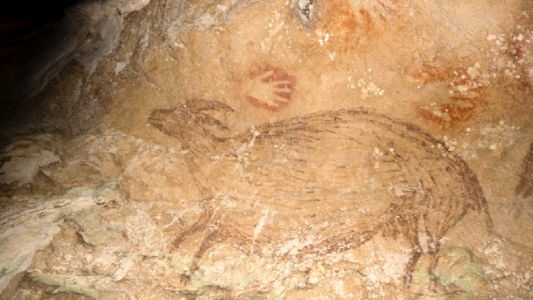 Another painting of an Anoa, apparently a male, in the same style, and possibly even by the same artist.

Photo: Adam Brumm
Source (above): http://actualidad.rt.com/cultura/view/142838-pintura-rupestre-indonesia-desafiar-espana-cuna-arte
Source (below): http://www.smh.com.au/technology/sci-tech/indonesian-cave-paintings-some-of-earliest-human-art-australianled-study-finds-20141008-1135ka.html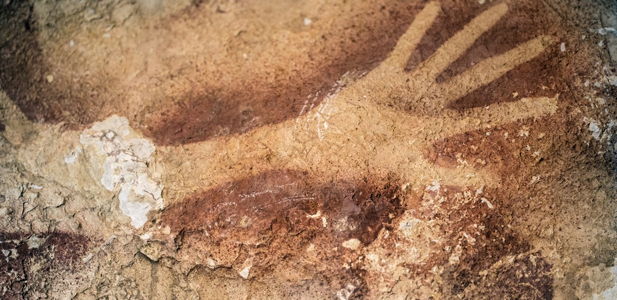 A close up of one of the hand stencils found in the prehistoric caves in Indonesia.

Photo: Kinez Riza
Source: http://theconversation.com/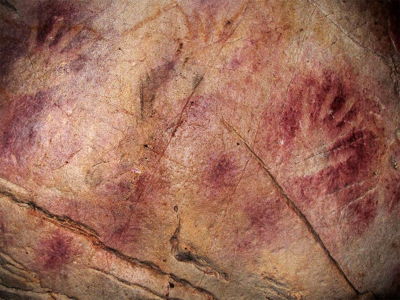 The Panel of Hands in El Castillo cave in northern Spain contains a red disk, center, that is dated to be older than 40 800 years, making it the oldest cave art in Europe. The hands and red disks were made by blowing or spitting paint onto the wall.

Photo: Joao Zilhao, ICREA/University of Barcelona
Source: http://news.nationalgeographic.com/news/2014/10/141008-cave-art-sulawesi-hand-science/
References
Aubert et al., 2014: Pleistocene cave art from Sulawesi, Indonesia, Nature, 514, 223–227 (09 October 2014)
Aubert et al., 2019: Earliest hunting scene in prehistoric art, Nature, 576, 442–445 (2019). https://doi.org/10.1038/s41586-019-1806-y
Brumm et al., 2021: Oldest cave art found in Sulawesi, Sci. Adv., 2021, 7 : eabd4648 13 January 2021
---

Back to Archaeological Sites