Back to Archaeological Sites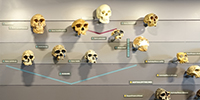 Back to the review of hominins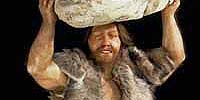 Back to Neanderthal Sites
Homo sapiens neanderthalensis
The Spy Neanderthal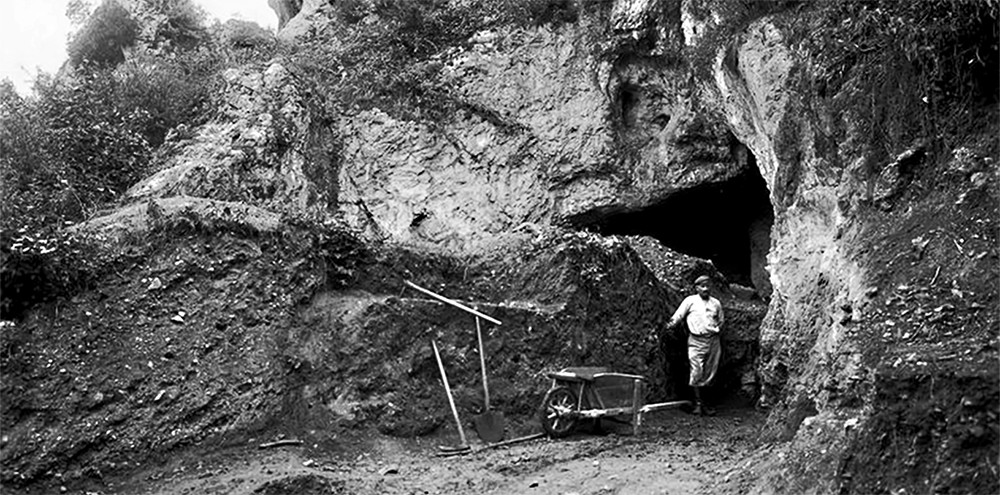 Spy Cave

Sambreville, Belgium.
Photo: Unknown, Public Domain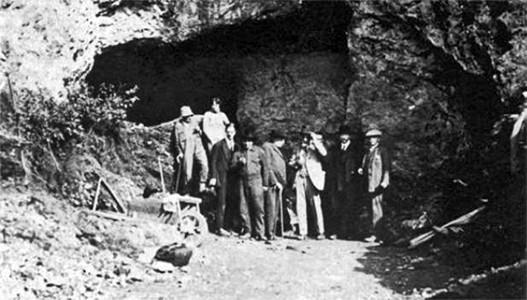 Spy Cave entrance in 1927.

Neanderthal remains were found here in 1886.

Photo: Unknown, Public Domain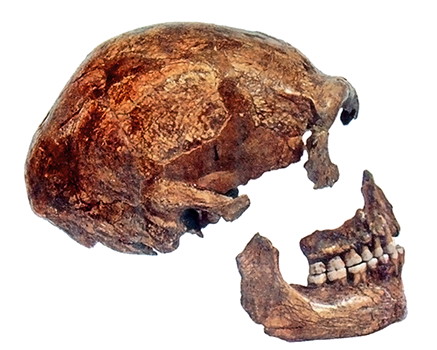 The Spy 2 skull which was found in 1886.

Photo: We El
Permission: GNU Free Documentation License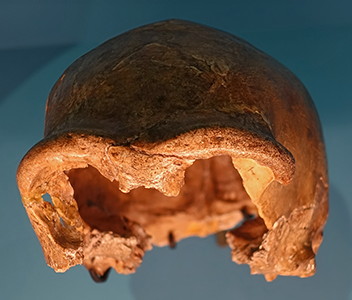 Skullcap of Spy 1, thought to be of a female.

Spy, Belgium, discovered in 1886.

Between 41 500 BP and 38 000 BP.

Photo: Don Hitchcock 2018
Catalog: IG 28159
Institut royal des Sciences naturelles de Belgique, Bruxelles
Source and text: Musée de l'Homme, Paris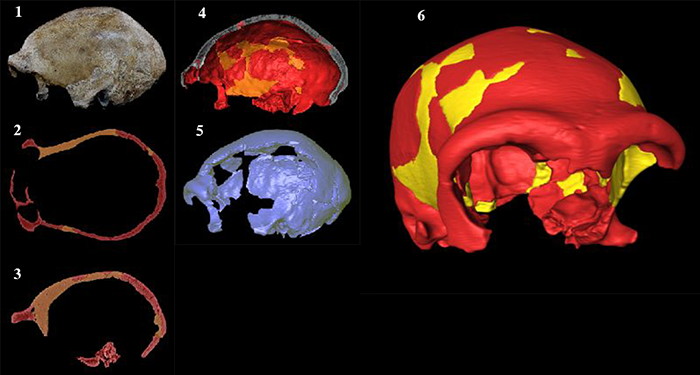 Reconstruction of the Spy I skull.

1: Left lateral view of the original.
2 and 3: CT slices and segmentation of bone (in red) and plaster (in orange) with Amira ® 3.1.
4: Internal view of the 3D reconstruction of the right part of the fossil.
5: left lateral view of the 3D reconstruction of the bone material without plaster.
6: Reconstructed skull with segmented bone and plaster.

Image: A. Balzeau and P. Semal
Source: Semal et al. (2006)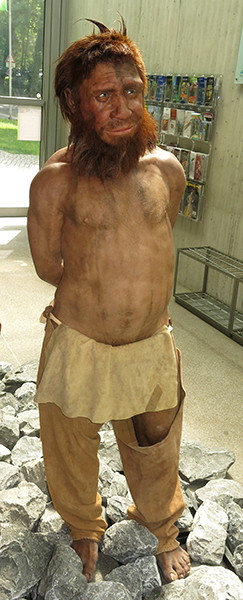 Sculpture of Spy 2, a young male, the skeleton of which was found in 1886.

Photo: Don Hitchcock 2015
Artist: Adrie & Alfons Kennis, Kennis & Kennis Reconstructions
Source and text: Neanderthal Museum, Mettmann, near Düsseldorf, Germany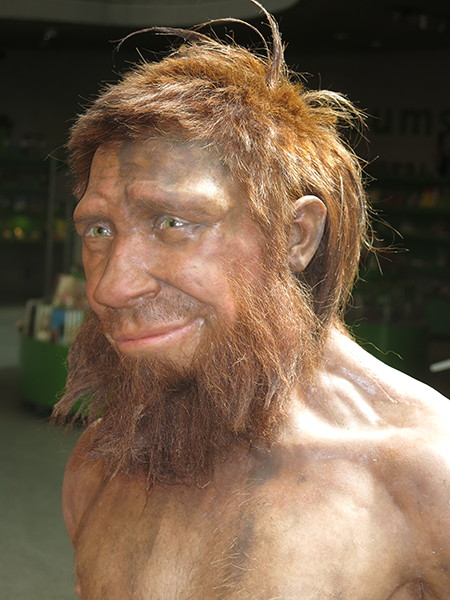 Close up of the Spy 2 reconstruction. It is a superb piece of sculpture, giving character to the piece.

Photo: Don Hitchcock 2015
Artist: Kennis & Kennis Reconstructions
Source and text: Neanderthal Museum, Mettmann, near Düsseldorf, Germany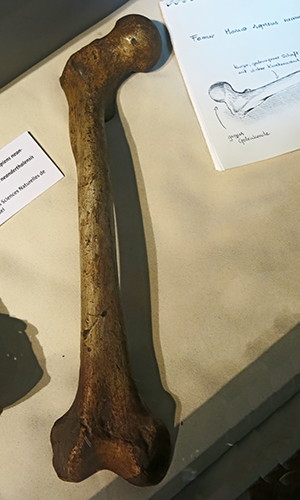 Femur of Spy 2.

Photo: Don Hitchcock 2015
Source and text: Facsimile, Neanderthal Museum, Mettmann, near Düsseldorf, Germany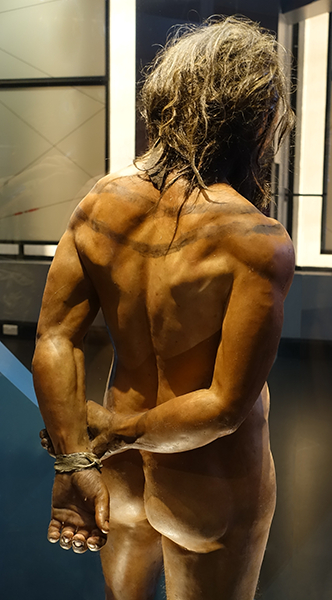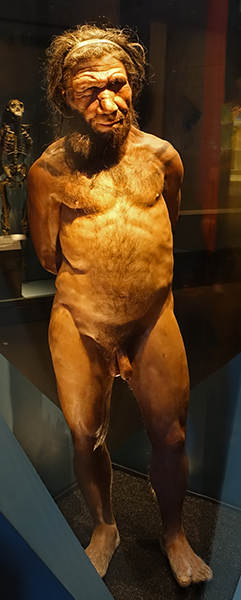 This reconstruction is also based on the 40 000 BP remains found at Spy in Belgium, known as Spy2. He is naked to show his physique. However in the cold climate of the last glaciation, Neanderthals would have had to wear animal skins to survive.

Artist: Kennis & Kennis Reconstructions
Catalog: PA E 7787
Photo: Don Hitchcock 2018
Source and text: Facsimile, display at The Natural History Museum, Cromwell Road, London SW7 5BD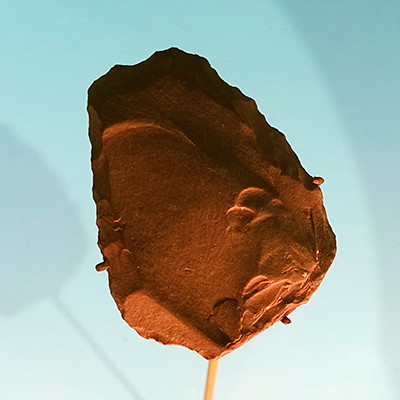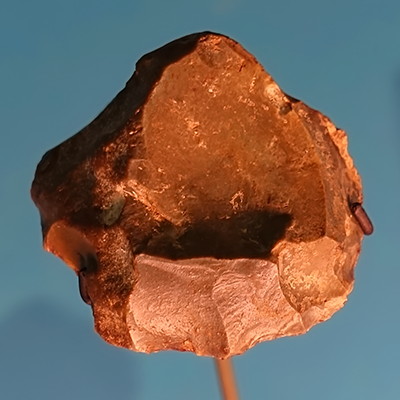 Flake (left) and core from Spy cave.

Between 41 500 BP and 38 000 BP.

Photo: Don Hitchcock 2018
Catalog: IG 5608 (flake), IG 17393 (core)
Institut royal des Sciences naturelles de Belgique, Bruxelles
Source and text: Musée de l'Homme, Paris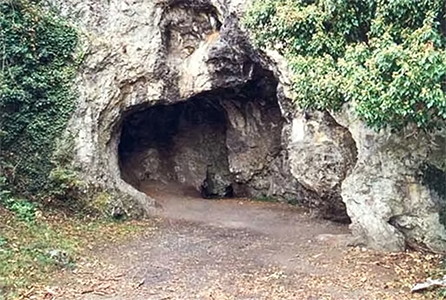 Spy Cave entrance today

Photo: Krocat at nl.wikipedia
Permission: GNU Free Documentation License.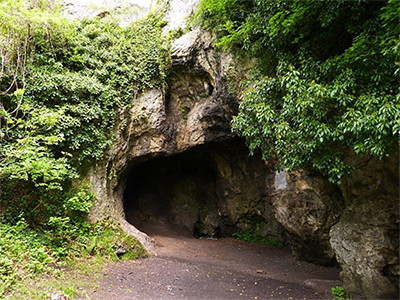 Grotto de Spy or Spy Cave is located 15 km north-east from the town of Spy in Belgium.

Photo and text: https://be.igotoworld.com/en/poi_object/1699_cave-of-spy.htm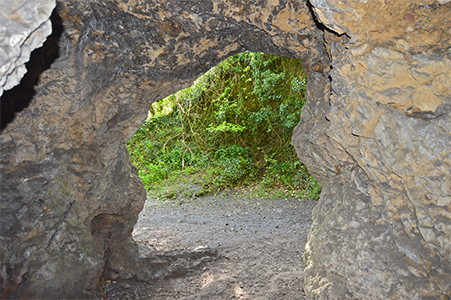 This view to the outside is one that must have been very familiar to the original inhabitants - although the vegetation outside would not have been as lush at that time!

Photo: Bel Adone
Permission: Public Domain
The hominid skeletons discovered during the first excavations have been named Spy I, a female, and Spy 2, a young male. These were dated to around 36 000 BP , although a Bayesian analysis in 2014 concluded that they were probably more than 40,000 years old. The identification of the remains of a Neanderthal child, Spy VI, was published in 2010. The identification was made from an analysis of the mandibular remains and the child is thought to have died at about 18 months, making the Spy Neandertal remains the youngest ever directly dated in northwest Europe.
A paper in Anthropologica et Præhistorica states that the original excavators at Spy did not believe that the remains were deliberately buried in graves but that this hypothesis is now widely accepted.
Almost 12 000 faunal remains of the Pleistocene were discovered, including mammoth, horse, cave hyena, woolly rhinoceros, reindeer, and cave bear bones.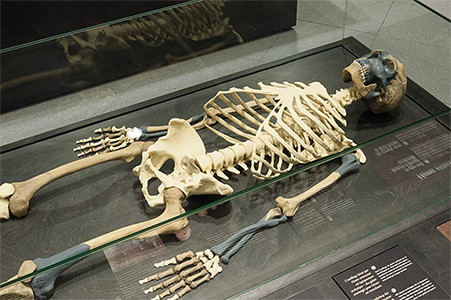 The Spy 2 skeleton

Photo: Royal Belgian Institute of Natural Sciences, http://rbins.tumblr.com/post/129855515054/neanderthalsofspy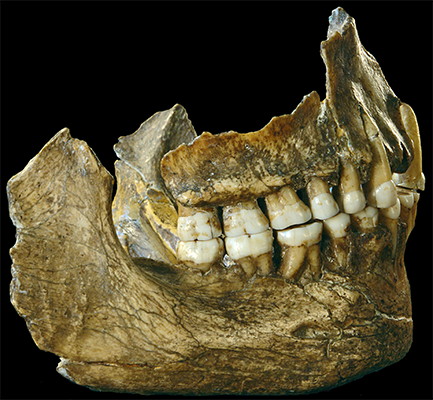 The reconstructed jaw of the Spy 2 Neanderthal.

Photo: Royal Belgian Institute of Natural Sciences.
References
Rougier, H., Semal, P., 2013: Spy Cave - 125 years of multidisciplinary research at the Betche aux Rotches (Jemeppe-sur-Sambre, Province of Namur, Belgium), Volume 1, 2013
Semal, P. et al., 2006: Digitization of Belgian Neanderthals Cultural Heritage Preservation and Scientific Exploitation, https://www.researchgate.net/, article, January 2006
---

Back to Archaeological Sites