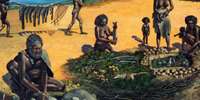 Back to Animals of Lake Mungo
The Mungo Giant Wombat
Click on the photos to see an enlarged version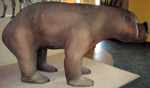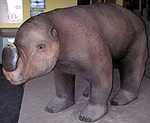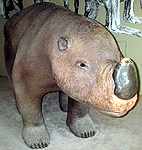 Diprotodon optatum

Display: NPWS centre, Lake Mungo NP.

Photo: Don Hitchcock 2005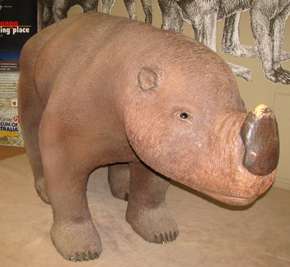 Diprotodon optatum

Display: NPWS centre, Lake Mungo NP.

Photo: Don Hitchcock 2009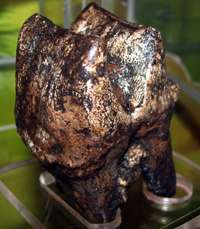 Diprotodon australis lower molar.

Display: Flinders Chase National Park, Kangaroo Island

Source: Original, or museum quality facsimile

Photo: Don Hitchcock 2009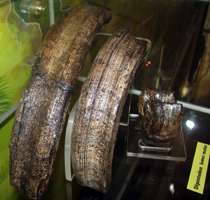 Diprotodon australis incisors.

Display: Flinders Chase National Park, Kangaroo Island

Source: Original, or museum quality facsimile

Photo: Don Hitchcock 2009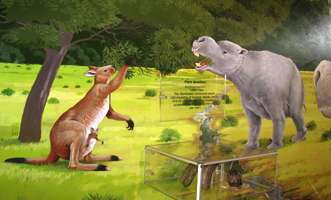 Diprotodon australis

The Diprotodon consumed about 150 Kilograms of browse (leaves, reeds and shrubs) per day. They therefore produced 36.5 tonnes of manure per year!

Display and text: Flinders Chase National Park, Kangaroo Island

Painter: Nicholas Pike, 2002

Photo: Don Hitchcock 2009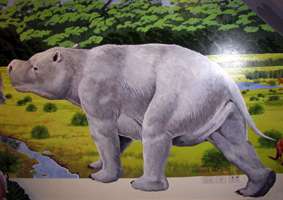 Diprotodon australis



Display: Flinders Chase National Park, Kangaroo Island

Painter: Nicholas Pike, 2002

Photo: Don Hitchcock 2009


Text below adapted from:
http://www.museum.vic.gov.au/prehistoric/mammals/diprotodontids.html
The Diprotodontids
Meaning:
'Two prominent teeth'
Age:
Late Tertiary and Quaternary Periods
(~15 million to 15 thousand years ago).
Diet:
Plants (They were browsers).
The diprotodontids are perhaps the best known of the Australian Megafauna. There were a number of species of these large herbivorous marsupials, varying from animals about the size of a sheep that existed 15 million years ago, to several more recent and much larger species.
Diprotodon optatum
, which evolved about a million years ago and may have become extinct as recently as 15 000 years ago, has the distinction of being the largest marsupial ever. It was the size of a rhinoceros - three metres long, almost two metres high at the shoulder, and weighing as much as two tonnes. It had pillar-like legs and broad footpads, a little like those of an elephant.
Diprotodon optatum
was quite widespread throughout inland Australia prior to the last glacial peak about 18 000 years ago. Inland Australia was somewhat less arid at that time, and supported extensive grasslands. The last Ice Age brought increasingly dry conditions to the inland, and this may have caused the extinction of Diprotodon soon after. Fossils of Diprotodon and other animals are plentiful in the dry inland lakes of South Australia, and may be evidence that the last of the Diprotodons retreated into the lakes as they dried up.
The skulls of diprotodontids were huge but quite hollow. Fossil skulls therefore tend to be rather fragile.