Earth Children Maps
Clan of the Cave Bear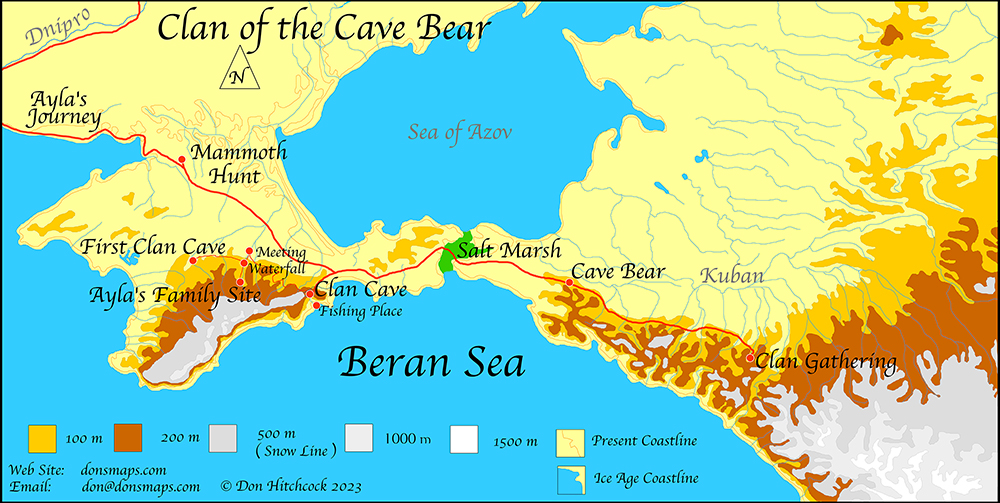 Map of the area in Clan of the Cave Bear from the travels of Ayla of the Mamutoi in the book 'Clan of the Cave Bear' by Jean Auel.

Click on this small image (thumbnail) above to get the larger version. At this point you can copy and paste it, or print directly.

Or click here for the larger version
---
There are several ways to print this image.

Here is the map as a pdf file.

This should allow the user to print the map as a single page on all computers and printers using the free Adobe Reader program.

Other programs and browsers may open the file, but it is best to use Adobe Reader to print it, since other programs tend to chop bits off.
---
Many people find that the above method is the best way to print the file. It should open in Adobe Reader, which is a free program that most people have, but if not you can get it at:
http://www.adobe.com/products/reader/
Another way to print this image is to copy it and paste into a drawing program.
Another way to do the same thing perhaps more easily is to click on the 'open map in another window' link below. It opens a page which only contains the map. This should then allow you to more easily save the map (go to the file menu and 'save as source') so that you can open it later from a drawing program.
open map in another window