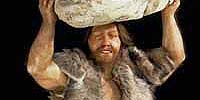 Mousterian (Neanderthal) Sites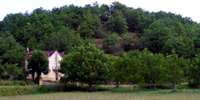 Back to the Combe Capelle site
Combe-Capelle Tools
Combe-Capelle is a Mousterian / Neanderthal site situated in the Couze valley in the Périgord region of Southern France. Henri-Marc Ami carried out excavations there from the late 1920s until his death in 1931. In 1925 the Mousterian site of the Haut de Combe-Capelle was excavated under the direction of Peyrony, and on his advice the Canadian Doctor Henri-Marc Ami opened a trench in the bottom portion of the slope, perpendicular to the departmental road, a year later. (

Lenoir 1995

)

Some years later Denis Peyrony,

Peyrony (1943a and 1943b)

, described the stratigraphy of Roc de Combe-Capelle and Combe-Capelle Bas, where the excavations had been interrupted by the death of Henri-Marc Ami in 1931, and also prepared an inventory of the principal sites of the Perigord. This is a record of the tools found there by Ami and Peyrony, recorded and catalogued by Peyrony after the death of Ami, and on display at Le Musée National de Préhistoire, Les Eyzies-de-Tayac.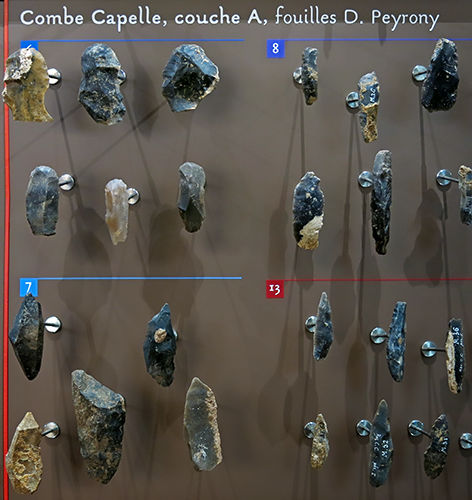 Combe-Capelle tools from Layer A, excavations of Denis Peyrony.

Age circa 37 000 BP.

■  6: Grattoirs, scrapers on the end of a blade
■  7: Burins
■  8: Retouched tools
■ 13: Armatures, tools

Photo: Don Hitchcock 2014
Source: Originals, Le Musée National de Préhistoire, Les Eyzies-de-Tayac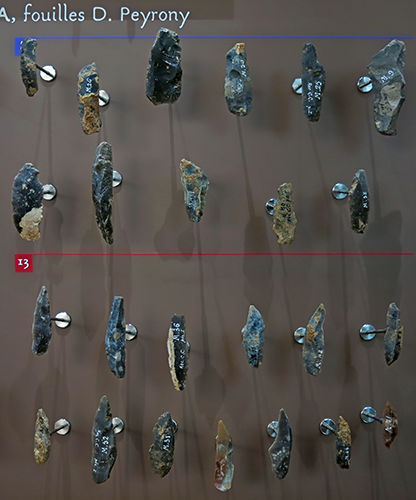 Combe-Capelle tools from Layer A, excavations of Denis Peyrony.

Age circa 37 000 BP.

■  8: Retouched tools
■ 13: Armatures, tools

Photo: Don Hitchcock 2014
Source: Originals, Le Musée National de Préhistoire, Les Eyzies-de-Tayac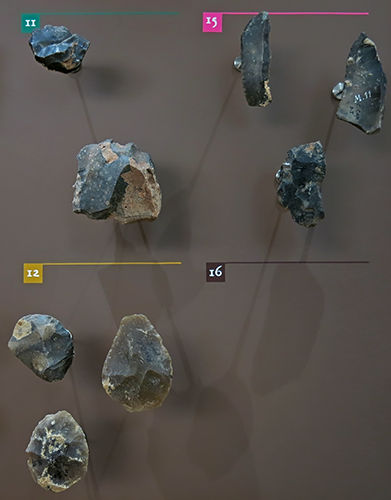 Combe-Capelle tools from Layer A, excavations of Denis Peyrony.

Age circa 37 000 BP.

■ 11: Notched/denticulated tools
■ 12: Racloirs/raclettes, side scrapers and small, often round scrapers
■ 15: Special tools
■ 16: Bone industry

Photo: Don Hitchcock 2014
Source: Originals, Le Musée National de Préhistoire, Les Eyzies-de-Tayac
---
Other Combe Capelle Tools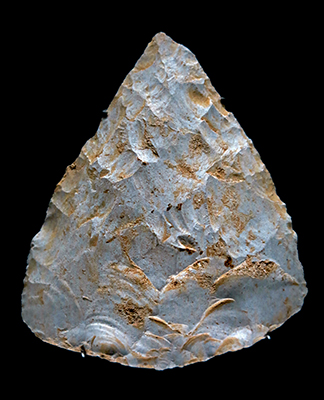 Combe-Capelle bifaces

Age has been determined at circa 37 000 BP - 60 000 BP, by Valladas et al. (2003)

From the collection of Édouard Harlé (b. 1850, Toulouse – d. 1922, Bordeaux) who was a French railway engineer (Ingénieur des ponts et chaussées) and prehistorian. He was a Director of the Chemin de Fer du Midi.

His collections of prehistoric artefacts are held by the Muséum d'histoire naturelle de Bordeaux and the Muséum de Toulouse.

Photo: Don Hitchcock 2015
Collection: Édouard Harlé
Source and text: Original, Muséum de Toulouse
Additional text: Wikipedia

Combe-Capelle racloirs, side scrapers

Age has been determined at circa 37 000 BP - 60 000 BP, by Valladas et al. (2003)

From the collection of Édouard Harlé (b. 1850, Toulouse – d. 1922, Bordeaux) who was a French railway engineer (Ingénieur des ponts et chaussées) and prehistorian. He was a Director of the Chemin de Fer du Midi.

His collections of prehistoric artefacts are held by the Muséum d'histoire naturelle de Bordeaux and the Muséum de Toulouse.

Photo: Don Hitchcock 2015
Collection: Édouard Harlé
Source and text: Original, Muséum de Toulouse
Additional text: Wikipedia
---
References
Lenoir, M., 1995: The Middle Paleolithic Site of Combe-Capelle Bas (France), UPenn Museum of Archaeology, 1995 - History - 363 pages
Peyrony, D., 1943a: Combe-Capelle, Bulletin de la Société préhistorique de France, Année 1943 Volume 40 Numéro 10 pp. 243-257
Peyrony, D., 1943b: Le Gisement Du Roc De Combe Capelle (Commune de Saint-Avit-Sénieur, Dordogne), Bulletin Société historique Périgord , 0, 1943, S. 156–173, (Périgueux).
Valladas, H. et al., 2003: TL dates for the Middle Paleolithic site of Combe-Capelle Bas, France, Journal of Archaeological Science, 30(11):1443-1450, DOI: 10.1016/S0305-4403(03)00039-6
---

Back to Archaeological Sites