Hitchcock Family History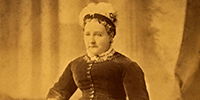 Back to the Hitchcock Family index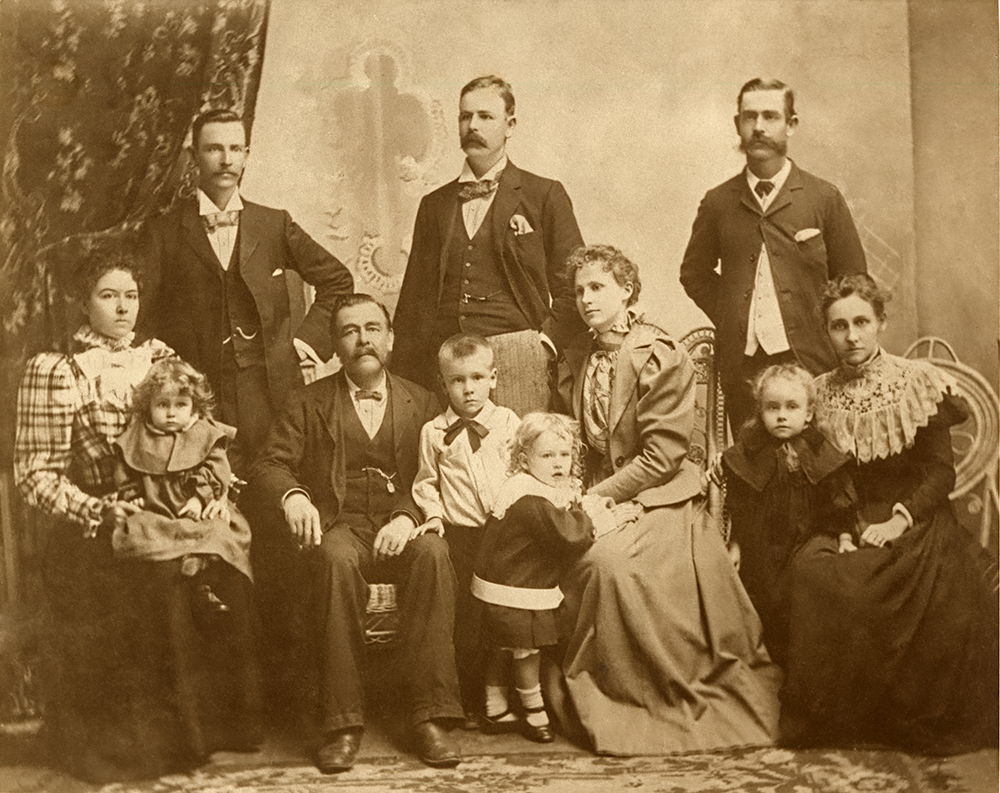 Studio photo taken in 1899 in Rockhampton Qld
Photo: Unknown, Rockhampton Studio Photo.
Gt Uncles Dick, Charlie, William Henry, Gt Aunt Sis, Daisy on knee, Gt Grandfather Charles William, Uncle Charlie, Leith, Flora, Betty, Bella.
Taken in Rockhampton, possibly to record the new century and also to seize the opportunity of a family photo while Charles Martin, Flora and Leith were on a visit from Brisbane. The copy given to Don by Madge was printed on glass, possibly for archival purposes. There was an 1899 Rockhampton paper pasted to the back of the glass.
Leith was Charlie and Flora's son. Charlie, Betty and Daisy were William Henry and Bella's children. Gt Grandmother Emma is missing - presumably deceased. Gt Grandfather Charles married again and had another family, marrying Grace, his nurse, when he was 63 and she was 20.
Great Aunt Emma was another sister to Sis and Charlie and Dick etc, possibly married and in Sydney by the time the family studio photo was taken. Gt Uncle Ned is also missing, from the photo, possibly deceased - He died of pneumonia fairly young, though he was alive in 1894.
Birthyears:
William Henry 24.07.1865
Charles Martin 24.06.1867
Arthur 27.04.1870
Eliza 18.05.1873
Richard Alfred 25.08.1875
Edward Clement 07.12.1877
Charlie 06.06.1894
Betty 1895
Daisy 1897
Ted 29.08.1908
Madge 1917
Bella Dunn ca 1873
Jessie Dunn ca 1875 in Edinburgh Scotland
Leith Fuller Hitchcock 12.02.1897
Great grandfather Charles William was born in England, in Oxford, around 1840. Charles W's father was Richard Henry Hitchcock who married Eliza Martyn, and had four children, William(?), Richard(?), Charles W. and Annie.
Charles W. moved to London in 1865, and named their house Oxford Cottage in Balls Pond Place N1 (Islington East?) He and Emma came out in the Royal Dane in 1865. Charles W. had 10 children by Emma Fuller, - Henry, Emma (called Topsie, born in London, Middlesex ca 1860, came out with her parents on the Royal Dane. Married 15.11.1881 to Henry Watson. They went to Townsville. Madge remembered an Aunt Emma.) Charles, William Henry, Charles Martin, Arthur, Edward Clement, Richard Alfred, Eliza Jane(Sis) (that makes nine) then four more with Grace.Grace was his nurse. Grace Darling Clapton, born 11.03.1882, married Charles William on 19.01.1903
They then had Leonard Clayton Hitchcock, Beatrice Grace, Mildred Fanny, Florence Ethel Hitchcock, (?and another girl?) Family history from Madge says '
He was an interior decorator. They were blown off course, and were six months late. The ship was given up for lost. The first land was the Queensland coast. Grandfather was born in Keppel Bay on the ship which brought the family to Australia. Great Grandmother Emma carried the baby in her arms when rowed up the Fitzroy river. The ship was supposed to land at Brisbane first.
'
This is a highly coloured version of events, and illustrates how stories are embellished with time. In fact the ship had quite a fast passage of 93 days. See the real data on the ship and the voyage in the caption to the 'Royal Dane' photo.
On the Marine Register of Births for William Henry, Charles' profession is listed as 'plaisterer'. Plaister is an obsolete spelling of plaster. Charles is listed as 25 years old, Emma (nee Fuller) is listed as 26. They are listed as having married in London, and Charles at least had four living children and one deceased at the time of William Henry's birth. The register of passengers and on the Royal Dane was sent to England (and not returned) after the voyage, since there were 32 deaths on the way out. There was an enquiry, and the manifests sent to England (the captain and surgeon were reputed to be drunkards) so I have been unable to find out how many of their first children apart from Emma came out to Rockhampton with them.
Madge continued '
Most of the passengers got off and went up the Fitzroy in rowboats, since the river was too shallow for ships at that time. Rockhampton was a gold mining town at first. East Street was a muddy lane, one shop, half a dozen houses.'
Note the photo of East Street in 1865. There are a lot more than half a dozen houses and one shop - though the street is quite muddy! '
He ended up with a big two story house near Archer Park Railway station with lots of iron lace, now demolished.
'
Madge remembered standing in the street with houses on both sides, looking at it.
'
Great grandfather Charles William also had the house at Fern Hill.
' I suspect this was their first house, though there is no evidence one way or another. '
His interior decorating business was in Rockhampton.
' Note that W.H.'s marriage certificate gives Charles' profession as accountant, while W.H.'s death certificate gives Charles' occupation as clerk.'
Emma lived at Fern Hill with the children, and worked it as a farm while he was in Rockhampton. The boys used to go to Rockhampton on the railway, buy one ticket, go to the other end and pass it through the fence. The Rockhampton house was still in Hitchcock hands when Emma died, and Fern Hill was sold first. Great Grandmother Emma was scared of kangaroos and wallabies. When one of the boys brought home a baby kangaroo, she had a miscarriage. She was still alive when Bella and William Henry were married, and Bella did not like her mother in law. Emma had red curly hair.

Dick was working in the railways in Rockhampton and was transferred to Townsville. His wife was Aunty Bridge, (Bridget), a rigid Irish Catholic.

Great Uncle Charlie had cheese factories - more than one. He wanted Leith to be a doctor, but Leith found his stomach couldn't take the surgery, and he joined the CSIRO as an entomologist. Robert, Leith's son,went to Newcastle and became an engineer.

Great Uncle Ned (not in photo) was a jeweller who died of pneumonia fairly young. An Uncle of Flora's owned the property where Mt Morgan was found. They hopped the fence, found gold, bought the property, then developed the gold.
'
The frame (now replaced) to the glass backed family photograph was made by Grandfather Dunn, father of Bella. The heavy furniture in 19 Mountain St. Mt Gravatt was also made by him. There was a chest of drawers, dressing table, bookcase.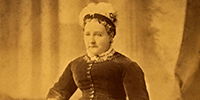 Back to the Hitchcock Family index