Hitchcock Family History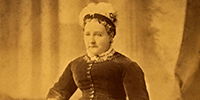 Back to the Hitchcock Family index
East St Rockhampton 1866 from the roof of the new Post Office
East St Rockhampton the year after Charles William and Emma Hitchcock landed by rowboat from the Royal Dane which had brought them from London. The photo was taken from the tower of the Post Office (built 1866, pulled down in 1892 due to failed foundations), looking towards William St. See 'Rockhampton and Districts' 1988 printed by Oxford Press, a division of Capricornia Newspapers. It has been raining, and the street seems to be awash in this photo, and would no doubt have been muddy, but there appear to be dry sidewalks.
Certainly the town seems thriving. It was surveyed in 1858 and the first land sale was made in that year. Possibly because of the long exposure needed at this stage of photography there are no people or vehicles to be seen moving down the street, but it is curious that there are no parked vehicles anywhere. Sunday morning? There does appear to be a two masted ship moored in the river. Freight would be best offloaded directly from a shallow draughted ship, even if it had to be towed up the river by rowboat, rather than the double handling otherwise required.
Signs include 'J Forrest Importer', 'F.F.Buddens General Warehouse Wholesale and Retail', 'McGoon and Co' (?) as well as the striped poles of a barber shop in the foreground. The awnings of the shops seem very well supplied with posts, more than would be used today. There is a flagpole in the right foreground, probably because the photo is from the roof of the Post Office. No flag on the pole, which further indicates a Sunday photo. The river seems quite broad at this point, but rocks a little further upstream stopped significant navigation. It appears capable of taking the Royal Dane, although other sources say it was not deep enough. Certainly it looks as though not much would be required to make the Fitzroy River burst its banks. Rocky has been flooded a number of times, most notably in 1918, 1954, and 1991 when floods over 9 metres were recorded. Aborigines at the time of first settlement spoke of even greater floods extending almost unbroken from the Dee range to the Berserkers, and The Atherton brothers saw a log caught in the fork of a tree near the heart of the Rockhampton village in 1857.
Photo source: John Oxley Library of Queensland - 'A photograph of East Street Rockhampton 1865'. (Wrong date, it was taken in 1866 after the Post Office was built.) This library has a treasure trove of old Queensland photos. I intend to have a browse next time I am in Brisbane. (8 inches x 10 inches Cost $13.00 (Australian) 1997 Postage $4.00 for 1-10 photos).
Photo used by permission.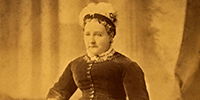 Back to the Hitchcock Family index