Grotte de la Vache in the Pyrenees was home for the artists of Niaux Cave
La Grotte de la Vache is important for the complete camp of Magdalenian hunters found, and may be seen almost as it was 12 000 to 15 000 years ago. Weapons, tools, typical game and artworks have been recovered from this small but important site. It was the living quarters for the artists of Niaux Cave, or la Grotte de Niaux.
---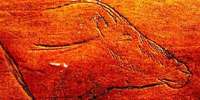 This is a very important and ground breaking paper by Mme Nicole Pailhaugue which summarises the fauna and seasons of occupation of the important site of La Grotte de la Vache, in the French Pyrenees. It deserves a much wider audience.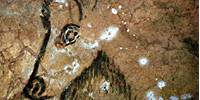 Niaux Cave, or la Grotte de Niaux is one of the most famous prehistoric caves in Europe. It lies in the northern foothills of the Pyrenees, and is located in Ariège, in the valley of Vicdessos, across the valley from the smaller Grotte de la Vache, in an area rich with prehistoric sites. The huge cave entrance, 55 metres high and 50 metres wide, is at 678 metres above sea level. There are more than two kilometres of galleries, with a hundred or more superb paintings from Magdalenian times, most of which are in the famous 'Salon Noir', 800 metres from the entrance. Many of the paintings are done in the classic style of the Magdalenian, outlined in black or red pigment, mostly haematite or manganese dioxide respectively.
---



Panorama of the meeting room, the Salle Monique at Grotte de la Vache

Photo: Don Hitchcock 2008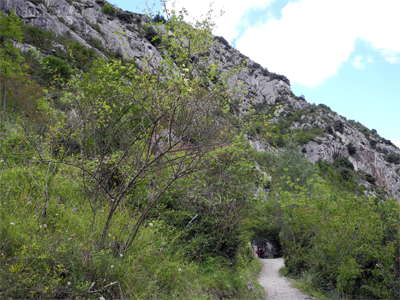 The path to Grotte de la Vache, with the entrance just coming into view.

Photo: Courtesy Elise Meyer 2011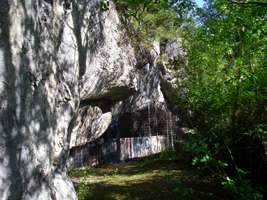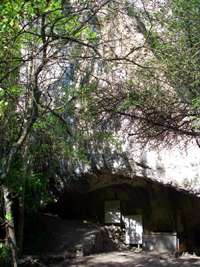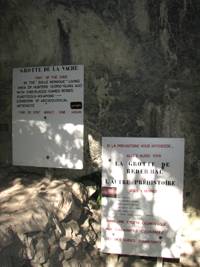 Entrance to Grotte de la Vache. The name, Cave of the Cow, is due to a natural sculpture near the entrance to the cave which looks something like a cow.

Photo: Don Hitchcock 2008
Grotte de la Vache faces south east. It would have been a lovely place to come out of on a sunny day, into the sunshine, even in the middle of winter. Certainly the valley would have kept it shaded very early in the morning in winter, but the sun would soon have swung over the valley walls and down the broad valley to the Grotte de la Vache, even in winter.
The photos taken of the entrance, above, were at ten am (summer time) in August, and it was a very pleasant place to ramble around the area while I waited for the first tour. If you mentally subtract the shade from the trees, which would have been stunted if they had been there at the time of the Magdalenian hunters, or more likely non-existent, you can get some idea of the ideal aspect of the cave entrance. Even in the middle of winter, and the inhabitants spent the winter here, feasting on the ibex which came down from their summer pastures in the high peaks and valleys to graze on the broad grassy floor of the Vicdessos valley, there would have been sunshine in the middle of the day.
For Grotte de Niaux and Grotte de la Vache:
Latitude : 42.8167N
Longitude : 1.5833E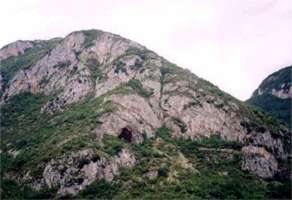 As seen here in a photo taken from Grotte de la Vache, Grotte de Niaux is just across the Vicdessos valley, about 500 metres away.

The Niaux cave entrance is behind the brown sculpture visible in the middle of the cliff face, in line with the approach road.

The paintings of Grotte de Niaux were almost certainly done by the people who made Grotte de la Vache their winter home. There is no evidence of occupation of Grotte de Niaux, which would have been comparatively cold and drafty and dark compared with Grotte de la Vache.

Photo: http://www.prehistoirepassion.com/grotte%20la%20vache.htm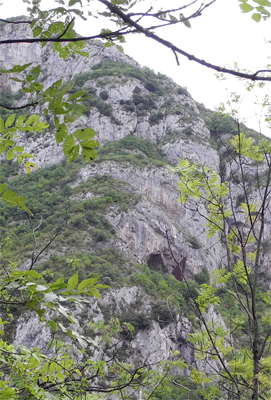 In this photo we can see that both cave entrances are now obscured from direct sight because of the trees at both sites, at least in summer.

Photo: Courtesy Elise Meyer 2011



A panorama of the view down the valley of the Vic-Dessos from near the entrance to Grotte de la Vache, taken from the path about thirty metres before the entrance to the cave. The brown steel triangle at the entrance to Grotte de Niaux may be seen towards the upper right of this photo. (click to expand)

Photo: Courtesy Elise Meyer 2011
The entrance to Niaux faces more north west, but it is so large that west is close enough, especially given the enormous flat entry porch - a wonderful vantage point for looking for game. Even in winter, the setting sun, to the south west, would flood the entrance way with light.
Approximate maximum and minimum times of sunrise and sunset, if we make noon at the middle of the day:
Summer 04.30h to 19.30h, or 4.30 am to 7.30 pm, 15 hours of sunshine per day.
Winter 07.30h to 16.30h, or 7.30 am to 4.30 pm, 9 hours of sunshine per day.
North has an azimuth value of 0 degrees, east is 90 degrees, south is 180 degrees, and west is 270 degrees.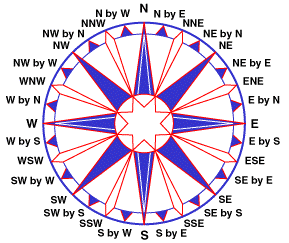 The sun rises and sets in summer with azimuths of 56° and 304° - this means that the sun rises at NE by E in summer, and sets at NW by W.

The sun rises and sets in winter with azimuths of 122° and 238° - this means that the sun rises at SE by E in winter, and sets at SW by W.



Photo: http://ahoy.tk-jk.net/macslog/BoxingtheCompas.html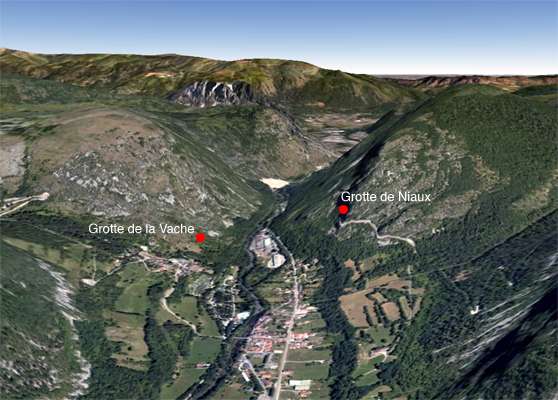 Looking north, down the Vicdessos valley to the lowlands beyond. Note in particular the broad and relatively flat area upstream of Grotte de la Vache which would have provided excellent grazing for Ibex during the winter months, when the herbage in the mountains to the south was covered in snow.

Photo: Google Earth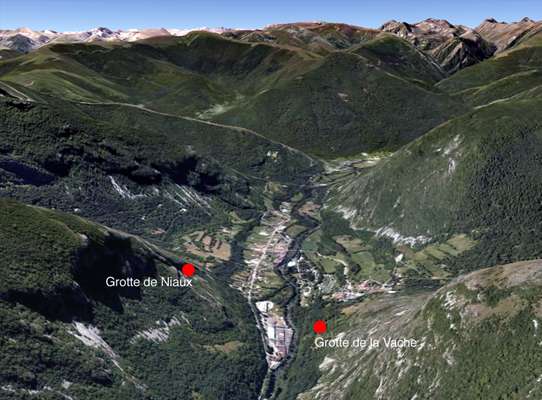 Looking south, up the Vicdessos valley to the Pyrenees beyond. This view shows clearly the favoured position of Grotte de la Vache with good grazing for Ibex in winter, with north facing slopes in the mountains nearby, which would not have lost their snow even in summer, 13 000 years ago. The snow line at that time was at 1300 metres.

The toe of the Vicdessos glacier was certainly no more than three kilometres away during the Magdalenian, and may have been closer to Grotte de la Vache and Grotte de Niaux than that.

The two caves are approximately 500 metres apart, on opposite sides of the valley.

Photo: Google Earth









Plan of the Grotte de la Vache.

Plan by the caving club of Haut-Sabarthez, revised and completed by R. Gailli.

Photo: Gailli (2008)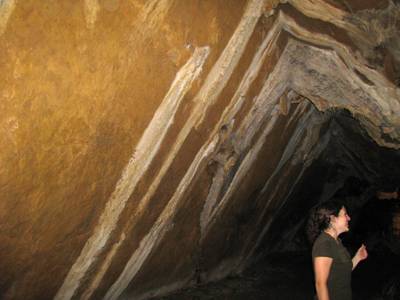 Salle Triangulaire

The guide took us first to the Salle triangulaire. This is almost at the end of the cave, which is not a huge place. The name is apt because of the very flat and steeply angled left wall as you approach, which combined with the sloping though uneven right wall gives the impression of an old fashioned tent, or an attic, with a triangular roof section. The apex of the roof is about five or six metres above the floor of the cave, and the Salle triangulaire is about twenty or so metres long.

Photo: Don Hitchcock 2008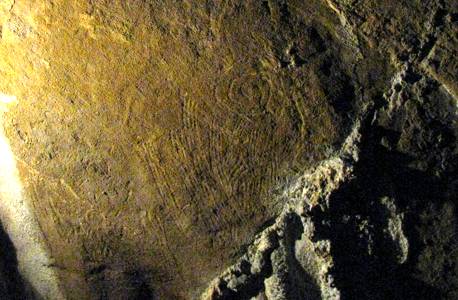 Recently discovered on the left, sloping flat side of the Salle Triangulaire, at 2.4 metres above the floor, are these digital sketches which it is believed are prehistoric. A large boulder was used to allow access to the wall.

Photo: Don Hitchcock 2008

Text: Translated and adapted from Gailli (2008) by Don Hitchcock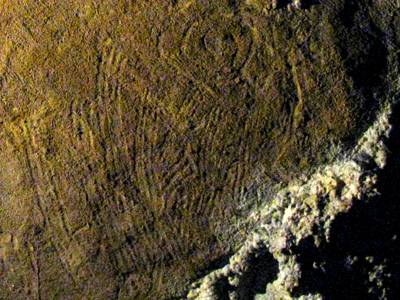 This panel is about 60 cm square, with classic but almost straight "macaroni" type marks, using four fingers of one hand, in a curving pattern downwards and to the right. On the right and above these, one finger has traced a multiple spiral, reminiscent of the head of a figure, but not interpretable as such.

It was only after electrification of the cave, with a spot light at an oblique angle, that these marks were discovered. They are invisible if one shines a light such as a hand held flashlight at the wall, which is why they were undiscovered for so long.

Photo: Don Hitchcock 2008

Text: Translated and adapted from Gailli (2008) by Don Hitchcock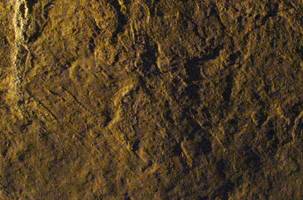 Another area in the Salle Triangulaire, shown here, with markings of a similar nature is much less obvious, and it is not known what the marks signify.

Further, there is no way of discovering how old these traces are. They may be very old, or they may be relatively recent.

Photo: Don Hitchcock 2008

Text: Translated and adapted from Gailli (2008) by Don Hitchcock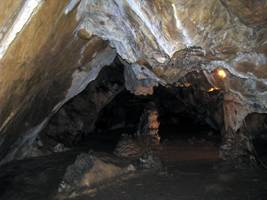 At the end of the Salle triangulaire, beyond the pillars we can see the Galerie à Reptation, the Winding or Creeping Gallery.

So far as I am aware, this gallery is a sterile area with no wall markings. It is not accessible to the public, since the ceiling is so low. It gives access to some much smaller passages where one must crawl to proceed, but none of the passages goes very far into the rest of the hill.

Photo: Don Hitchcock 2008


This is one of those passages, which ends in a blank wall. The whole floor of the cave is remarkably flat. There is an intermittent rain of fine particles from the ceiling of the cave, and when the cave occasionally gets water covering the floor, the clay and limestone particles settle out in a flat layer.

Photo: Don Hitchcock 2008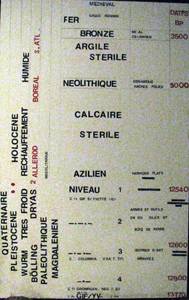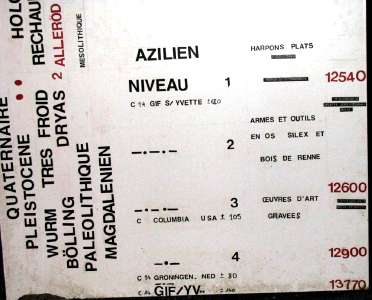 Table of the sediments in Grotte de la Vache.

In the Magdalenian, 13 000 years ago, this area was very cold indeed.

Photo: Don Hitchcock 2008

Panorama of the meeting room, the Salle Monique, at Grotte de La Vache. The cave would have been a relatively warm refuge from the rigours of the chase during the Magdalenian, in an alpine area subject to sudden changes of weather even today. The cave maintains a steady temperature of 13°C throughout the year.
The whole area was covered at the time of its modern discovery with a metre or more of sediments from the rain of very fine particles flaking off the roof over thirteen thousand years. The level of the original floor of the cave before excavation down to the Magdalenian level can be seen as a distinct line on the far wall of this room.
Photo: Don Hitchcock 2008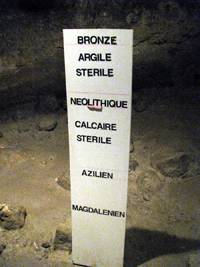 A simplified indication of the depth, type, and ages of sediments previously in the Salle Monique, before they were excavated by Romain Robert, after its discovery by his young daughter, Monique, in 1952.
Dating
The following dates are from
Pailhaugue (1998)
---
Two carbon-14 dates on charcoal were performed by the laboratory of Groningue at the request of R. Robert:
Gr 2025: 12 540 ± 105 BP Layer II
Gr 2026: 12 850 ± 140 BP layer IV
A new dating performed at our request by the laboratory of Gif-sur-Yvette on a lot of bones confirmed the previous ones:
Gif. 7603: 12 800 ± 140 BP layer II
Recently, we have obtained dates produced by the particle accelerator laboratory in Gif-sur-Yvette:
Square 269, depth 109 cm: 13 490 ± 120 BP
Square 71, depth 59.5 cm: 13 770BP ± 140
Square 71 depth 115 cm: 13 650BP ± 130
---
Note that these dates agree very well with the dates for the paintings in Grotte Niaux just across the valley.
No artefacts apart from a bone needle have been found in the Grotte Niaux. There are no remains of meals or evidence of habitation there at all.
It would appear that Grotte Vache was used as a living area, and Niaux was used exclusively for artworks, by the same people.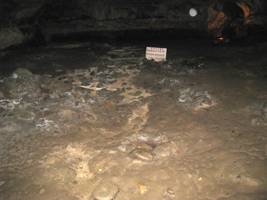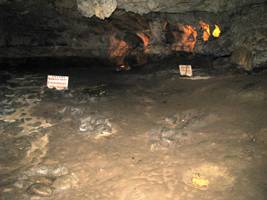 Salle Monique. There are many hearths here with their stone surrounds still in place.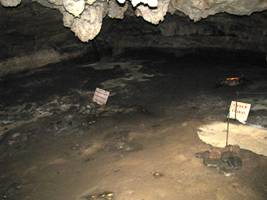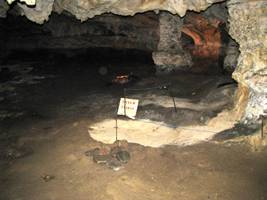 I could not help imagining the laughter, song and feasting that must have taken place during the time of its occupation. This would have been a magic place, secure from the howling, icy wind outside, where outer clothing could be removed, and long stories of bravery and treachery could be told around the campfires.

Photo: Don Hitchcock 2008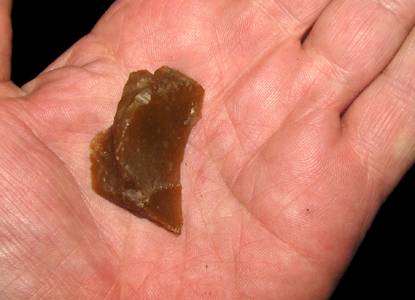 This is a flint tool from the time of the occupation of the Grotte de la Vache. Good quality flint like this was sometimes carried hundreds of kilometres from the quarry where it was unearthed.

Photo: Don Hitchcock 2008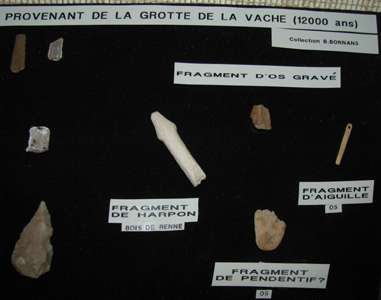 Tools from Grotte de la Vache.

Photo: Don Hitchcock 2008

Source: Museum, Alliat, Ariège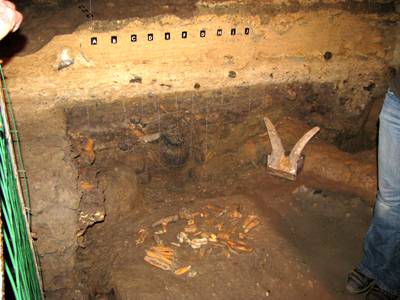 This is a recent small dig in one corner of the Salle Monique near the entrance, which has turned up some interesting finds.

Photo: Don Hitchcock 2008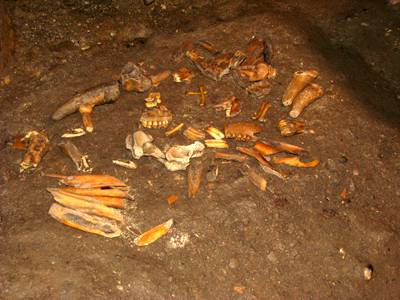 Many bones are easily identifiable, even in this photo. Some have been cracked open to extract the fat-rich marrow.

Photo: Don Hitchcock 2008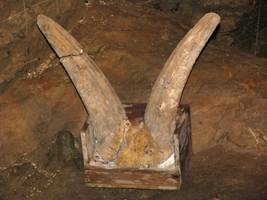 These horns of a Bouquetin, or Ibex, were from a hunted and gutted animal, brought back to the cave otherwise entire. The faunal remains indicate (Pailhaugue,1998) that this was the normal procedure for the deposits analysed at La Salle Monique.

Photo: Don Hitchcock 2008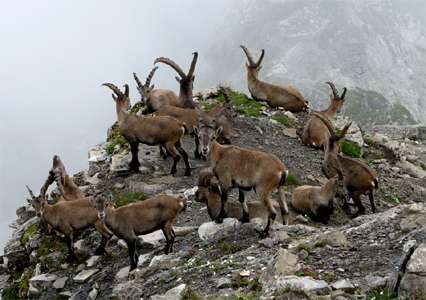 Ibex, border area Switzerland-Austria-Liechtenstein, 11th August 2008.

Photo: Wikimedia

Author: Nudelbraut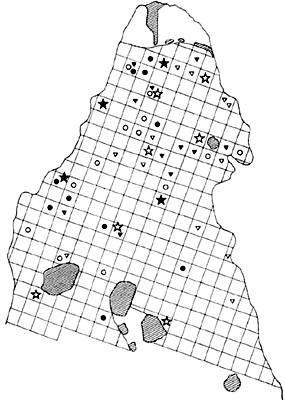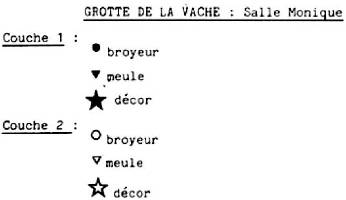 Plan of Salle Monique, showing the distribution of objects carrying traces of colouring agents such as iron oxide and manganese dioxide. All such colouring agents were associated with biotite, a black or dark green mineral of the mica group, found in igneous and metamorphic rocks. The biotite was added because it gave the paint more opacity, since it is one of the micas, and the tiny flakes reflect light back to the viewer.

Broyeur - pestle

Meule - mortar

Décor - decorated object

Photo: Pinçon et al (1989)
An unusual aspect of some pieces found at the Grotte de la Vache is that they were not only carved, they were stained with both red and black pigments, which demonstrates that this was an intentional act.
Out of a total of 225 pieces, only 16 were coloured, consisting of spears and "chisels" or scrapers, made of deer antler. There were 39 mortars and 44 pestles used for grinding up the colours, and there were colouring agents on 371 flint tools. These objects were more numerous in beds one and two.
Text translated and adapted from:
Pinçon et al (1989)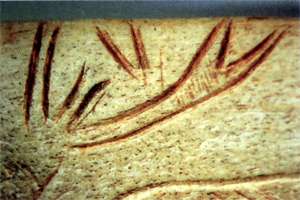 In the case of this "ellipse", or arc, above, the colour affects the entire surface of the piece, and is found in the incisions, as well as the cells of the spongiosa, the centre of the bone. The oxides in the incisions can be seen in the closeup (left).

(It appears to be a scraper or stretcher or burnisher used in the preparation of hides. Note the left hand end which has been very carefully shaped, and is highly polished from much use. This was obviously a highly valued tool of great sentimental value, evidenced from the care and skill of its shaping and decoration - Don)

Photo and text translated and adapted from: Pinçon et al (1989)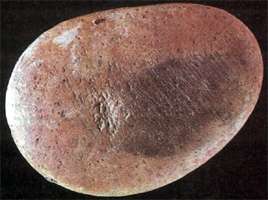 Pebble showing much evidence of usage, notably those characteristic of pestles or grinders of oxide colouring agents such as iron and manganese oxides.

Photo and translated text adapted from: Pinçon et al (1989)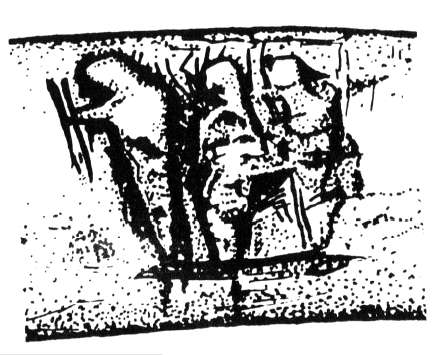 This is a beautiful piece of work, with the Aurochs and the hunters done in bas relief, a most unusual technique.

An artist's impression of the hunters is at the left.

The hole in the piece indicates that this is a spear straightener, or bâton percé.

Photo: Delporte (1993)



Another version of the spear straightener.

Photo: http://www.istmira.com/foto-i-video-pervobytnoe-obschestvo/3923-iskusstvo-predystorii-pervobytnost-1.html


A file of Ibex. This is a very sophisticated work. Grotte de la Vache was home to some fine artists.

Photo: Delporte (1993)


Two ibex facing each other. Again, a beautifully realised piece of art.

Photo: Delporte (1993)


Two reindeer in line. The artist has captured the animals with the eye of a hunter who has observed nature closely.

Photo: Delporte (1993)


Cave lions.

Photo: http://paleobox.forumactif.com/ou-voir-des-originaux-f12/musee-d-aurignac-et-sites-dans-les-pyrenees-et-ariege-t836.htm




Engraved bird bone
"La scène d'initiation"
Cat 455

Origin : La Vache cave, Ariège
Photo: © photo - Loïc Hamon, Musée des Antiquités nationales, Saint-Germain-en-Laye.

Photo Source: http://www.culture.gouv.fr/culture/app/eng/inits.htm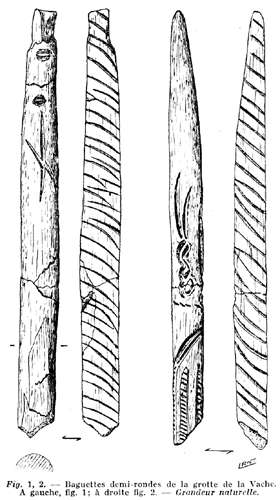 Baguettes demi-rondes from the Grotte de la Vache.

Note the carved decorations on the convex side, and the oblique grooves on the planar or slightly concave side.

The baguette demi-ronde on the right has what appears to be a stylised Ibex head carved into it.

Photo: Breuil et Robert (1951)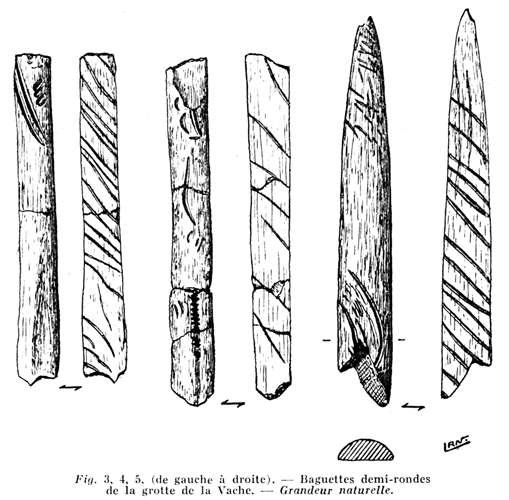 Baguettes demi-rondes from the Grotte de la Vache.

Photo: Breuil et Robert (1951)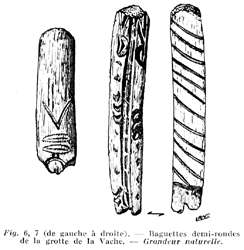 Baguettes demi-rondes from the Grotte de la Vache.

Photo: Breuil et Robert (1951)

(As far as I can make out, baguette demi-rondes were fixed to a shaft, (somehow!) and the reason for the half round shape, i.e. round on one side, flat on the other, is that they were tied together around a flint (or bone or ivory I suppose) projectile point, with the flat sides against the point and each other, the round shape towards the outside.

Thus the two round sides made a roughly cylindrical shape, which could then be, say, inserted in a socket in the spear shaft and secured in some way. The end of the spear shaft could also have been whittled down to a tongue shape, flat on both sides, around which the two baguette demi-rondes were placed and secured with cord. If I was doing it, that's what I would try first. The darts weren't really of a large enough diameter to be able to carve a hole to accept the baguette demi-ronde. Harpoon shafts, however, were used more as thrusting spears as far as I can work out, so they could be of a much larger diameter, into which you could carve a socket.

Birch bark glue may have been used, and the glue would also have been used to strengthen the cords holding the two halves together. Birch bark glue is a very difficult glue to make, but the technique was well understood at that time.

The advantage is that if the flint is broken by impact with the ground or a bone, you can simply insert another flint head, attach it with cord or a leather thong, and you are ready to hunt again. You then only have to carry a few spear shafts and many light and easily packed flints when you go on a hunt, apart from the other things you need.

I emphasise that this is all conjecture on my part, I have been unable to get anything more than very unsatisfactory allusions to the technique.

However the idea of a fore-shaft is one that was used in a number of cases, and especially for harpoon heads. Methods were needed to attach bone or ivory harpoon heads to the shaft of the harpoon, and I've heard of sockets being used in that instance.

In the abstract of

Pearson (1999)

you will find this, in reference to north american hunting methods:


Based on the compiled information, a new hafting method for Clovis points is put forth that links the attributes of bi-beveled rods to a specific role within this system. This new hypothesis suggests that bi-beveled rods were tied facing each other around a Clovis point and a main shaft as part of composite clothes pin-like foreshafts.
The spears used are more properly referred to as darts, they were not the strong thrusting spear as used by, say, the Romans, but a long, thin, whippy piece of wood. The ability to bend is an integral part of why they are able to be thrown such long distances. The bend stores up energy which is released in the form of extra speed as it leaves the spear thrower, and the spear straightens.

- Don
)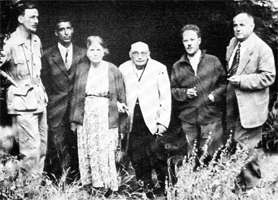 Dr Clark, Dr Sahly, Miss Boyl, Abbé Breuil, Romain Robert and F. Denjean at the entrance to the Grotte de la Vache (11th August 1958). Livre Préhistoire Ariégeoise 1985.

Photo and text translated from: http://www2.ac-toulouse.fr/eco-primaire-pradelet-tarascon/spip.php?article558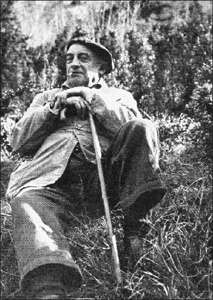 L'Abbé Breuil, undated photograph in the book Livre Préhistoire Ariégeoise (1985).

Photo: http://www2.ac-toulouse.fr/eco-primaire-pradelet-tarascon/spip.php?article558
Composition of colouring agents used at Grotte de la Vache
Compound
Formula
Morphology
Calcite
CaCO3
varnish or glaze, some micrometres
Black pigment
MnO2
needle-like grains, five to twenty micrometres
Red pigment
Fe2O3
grains and plates or scales, about five micrometres
Quartz
SiO2
irregular grains, some micrometres
Biotite
Black mica, a ferro-magnesium compound
flakes
Table adapted and translated from:
Pinçon et al (1989)
Colouring agents in various Paleolithic Caves
Cave
Red
Black
Niaux
wood charcoal
Lascaux
Hematite, Goethite
Oxides of Manganese, wood charcoal
Altamira
Iron Oxides
Oxides of Manganese, wood charcoal
Quercy
Oxides of Manganese and Barium, wood charcoal
La Vache
Oxides of iron, and biotite
Oxides of Manganese, and biotite
Table adapted and translated from:
Pinçon et al (1989)
Percentages at Grotte de la Vache of various species in remains of animals eaten and as decorations
Species
Food
Figures
Reindeer
3.85%
Deer and other Cervids
4.96%
11.54%
Bovids
0.24%
16.67%
Chamois
4.99%
Ibex
88.25%
17.95%
Saiga Antelope
2.56%
Horse
0.01%
25.64%
Bear
8.97%
Wolf
5.13%
Lion
6.41%
Seal?
1.28%
Hare
0.96%
Table adapted and translated from:
Delporte (1993)
---
Human migration using DNA analysis
It is instructive to look at the groupings of DNA in modern human populations in order to discover where they originated from. During the glacial maximum about 20 000 ago, there were three main groups of anatomically modern humans in warmer climates, utilising the warmer temperatures in the Iberian (spanish) peninsula, the Balkans, and the area north-west of the Black Sea, the present day Ukraine.

This does not show that there were no humans between the tree line and the ice - there were. However there was a movement from these refugia in warmer climes to the productive lands of present day France, Germany, Hungary and so on as they came out of the grip of the worst of the ice age, and became more productive - Don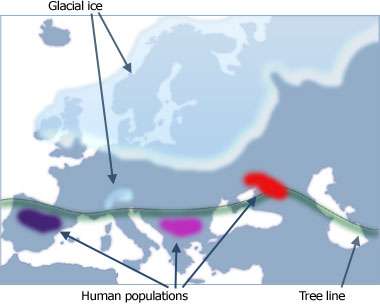 This image shows Palaeolithic Europe 18 000 years ago in the grip of the last ice age. Glacial ice 2km thick covers much of Northern Europe and the Alps. Sea levels are approx. 125m lower than today and the coastline differs slightly from the present day. For example, Britain and Ireland would have been connected to continental Europe (not shown on map).

The air would have been on average 10-12 degrees cooler and much more arid. In between the ice and the tree line, drought-tolerant grasses and loess dunes would have dominated the landscape.

The Neanderthals would have died out around 14 000 years ago leaving the nomadic hunter-gatherer Cro-Magnon (modern man) to pursue the animals of the time. Due to the cold and the need for food, the populations of the day waited the ice age out in the three locations shown on the map. These were the Iberian Peninsula, the Balkans and the Ukraine.

These people were skilled in flint-knapping techniques and various tools such as end-scrapers for animal skins and burins for working wood and engraving were common. Cave painting using charcoal had been around for a couple of thousand years although at this time they were now more subtle than mere outline drawings. These artistic expressions are significant as it shows that people are able to obtain some leisure time. Whether this is 'art for art's sake' or objects of ritual is not known.

Photo and text: http://www.dnaheritage.com/masterclass2.asp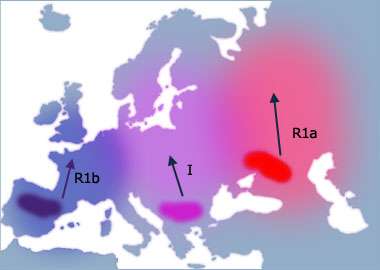 If we fast forward to 12 000 years ago as shown here, the ice has retreated and the land has become much more supportive to life. Many animal species have returned to inhabit the land, although the snake, harvest mouse and mole never made it as far as Ireland before the land bridges re-flooded (ever wondered why there are no snakes in Ireland?). This map shows the spread of Haplogroups R1b, I and R1a (12nbsp;000 years ago).



Photo and text: http://www.dnaheritage.com/masterclass2.asp
The three groups of humans had taken refuge for so long that their DNA had naturally picked up mutations, and consequently can be defined into different haplogroups. As they spread from these refuges, Haplogroups R1b, I and R1a propagated across Europe.
Haplogroup R1b is common on the western Atlantic coast as far as Scotland.

Haplogroup I is common across central Europe and up into Scandinavia.

Haplogroup R1a is common in eastern Europe and has also spread across into central Asia and as far as India and Pakistan.

These three major haplogroups account for approx 80% of Europe's present-day population.

(Readers who wish to follow this topic further, may be interested in http://www.roperld.com/HomoSapienEvents.htm -Don)

Text: http://www.dnaheritage.com/masterclass2.asp
From Wikipedia:
The Allerød period was a warm and moist global interstadial that occurred at the end of the last glacial period. The Allerød oscillation raised temperatures (in the northern Atlantic region to almost present-day levels), before they declined again in the succeeding Younger Dryas period, which was followed by the present interglacial period. The Greenland Oxygen isotope record shows the warming identified with the Allerød to be after about 14 100 BP and before about 12 900 BP.
(Note that this is the period during which La Grotte de la Vache was inhabited, and the paintings were created at Niaux Cave - a warm period before the cold of the Younger Dryas (12 800 to 11 500 years ago) which was the last gasp of the last ice age - Don)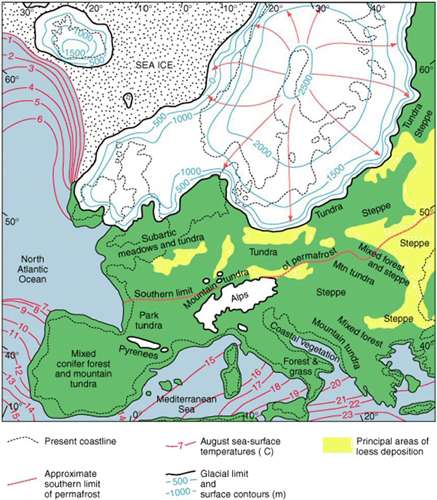 Climate Seminar, Gothenburg 2nd May 2006

Continental Ice Sheet

Extent of the continental ice sheet that covered northern Europe 20 000 years ago, and summer sea-surface temperatures.

Central Europe had a climate comparable to northern Siberia, and southern Europe was forested.

About 10 000 years ago the ice melted and the Holocene, a period of pleasant climate, began.

Photo and text adapted from: http://www.kolumbus.fi/boris.winterhalter/LEOprize/ClimateTalkOH.pdf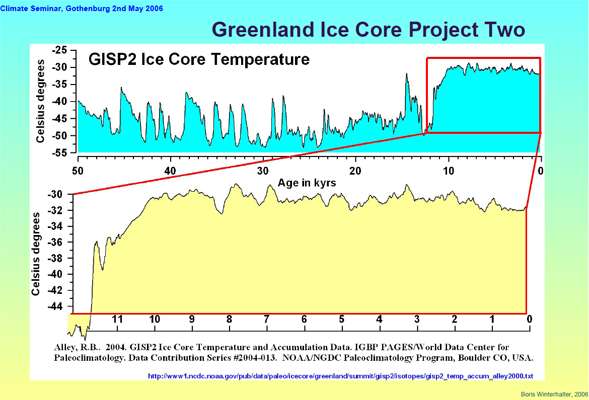 Climate Seminar, Gothenburg 2nd May 2006

This is a very useful graph for determining relative temperatures over the last 50 000 years, using ice core data as a proxy for global temperatures.

Photo: http://www.kolumbus.fi/boris.winterhalter/LEOprize/ClimateTalkOH.pdf
---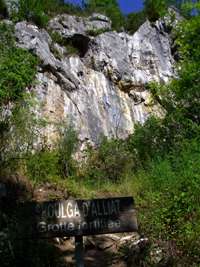 When I arrived, I found that there was a considerable wait before the next tour, so I occupied my time by investigating some side walks I had seen on the way in. These were very interesting.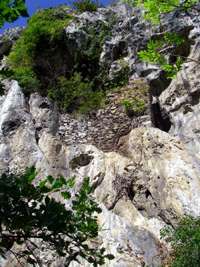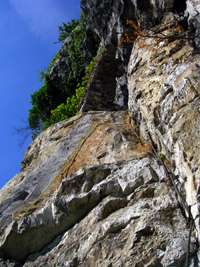 In particular, I was fascinated by the fortified cave known as "Spoulga d'Alliat", about one hundred metres from the grotte de la Vache. It served as a refuge during the war of the Albigenses.

The fortification can now be accessed only by rope. At the time it was in use, it would have had rope ladders or light wooden ladders which could be pulled up after everyone was safe in the fortification. They would have needed a lot of food, water and other supplies if there had been an extended occupation of the area by enemy forces, and the safety of the occupants would have depended on their location being secret. An occupying army could have soon breached the defences of this little place of refuge, if only by seige.

Photo: Don Hitchcock 2008
Text below adapted from Wikipedia:
The Albigensian Crusade or Cathar Crusade (1209–1229) was a 20-year military campaign initiated by the Catholic Church to eliminate the Cathar heresy in Languedoc. Pope Innocent III declared a crusade against Languedoc, offering the lands of the schismatics to any French nobleman willing to take up arms. The violence led to France's acquisition of lands with closer cultural and linguistic ties to Catalonia. An estimated 200 000 to 1 000 000 people were massacred during the crusade.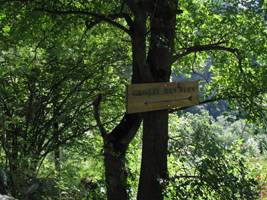 Sign pointing to Grottes des Fées (Fairies Cave)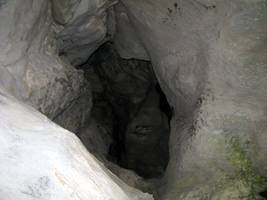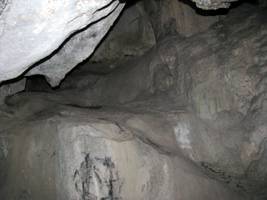 Grottes des Fées (Fairies Cave)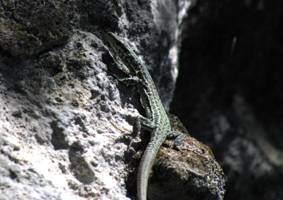 The European wall lizard, Podarcis muralis, is a small lizard whose scales are highly variable in colour and pattern.

This one moved around very quickly, and was difficult to photograph. It is a little bit unusual in that it has a pronounced blue/green colour, whereas most are shades of brown.

They are common in France, and grow to about 15 cm to 20 cm long, of which more than half is tail.

They can live for seven years, and eat insects and other invertebrates, and are themselves hunted by snakes.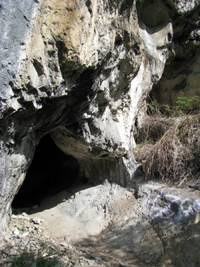 Grottes des Fées (Fairies Cave)


References
Breuil, H., Robert R., 1951: Les baguettes demi-rondes de la grotte de la Vache (Ariège). Bulletin de la Société préhistorique française, 1951, tome 48, No. 9-10. pp. 453-457
Delporte, H. , 1993: L'art mobilier de la Grotte de la Vache : premier essai de vue générale, Bulletin de la Société préhistorique française, Année 1993, Volume 90, Numéro 2 p. 131 - 136
Gailli, R. , 2008: La Grotte Préhistorique de la Vache, Éditions Larrey CDL, 2008. ISBN-10: 2-908622-05-X ISBN-13: 978-2-908622-05-8
Pailhaugue, N. , 1998: Faune et saisons d'occupation de la salle Monique au Magdalénien Pyrénéen, Grotte de la Vache (Alliat, Ariège, France), Quaternaire Volume 9, Numéro 4, 1998. pp. 385-400
Pearson, G., 1999: North American Paleoindian Bi-Beveled Bone and Ivory Rods: A New Interpretation, North American Archaeologist, Volume 20, Number 2 / 1999 pp 81 - 103
Pinçon, G., Walter Ph., Menu, M., Buisson D., 1989: Les objets colorés du Paléolithique supérieur : cas de la grotte de La Vache (Ariège), Bulletin de la Société préhistorique française, Année 1989, Volume 86, Numéro 6 p. 183 - 192
---