Recent additions, changes and updates to Don's Maps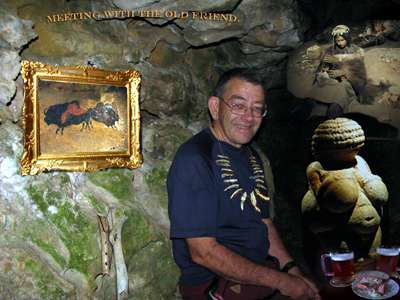 At the moment I am working on the cave of Pech Merle in the south of France.

Photo: Heavily photoshopped image of me in a French cave, having a beer with a well known companion, by my friend Vladimir Gorodnjanski in Estonia.

Venus figures from the Stone Age - I have added a page with the Venus figures arranged in chronological order.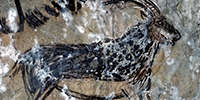 The Niaux art works - Niaux Cave, or la Grotte de Niaux is one of the most famous prehistoric caves in Europe. It lies in the northern foothills of the Pyrenees, and is located in Ariège, in the valley of Vicdessos, across the valley from the smaller Grotte de la Vache, in an area rich with prehistoric sites. The cave has well over one hundred superb paintings from Magdalenian times, most of which are in the famous 'Salon Noir', 800 metres from the entrance. Many of the paintings are done in the classic style of the Magdalenian, outlined in red or black pigment. This section on the artworks themselves has been completely reorganised, with over one hundred extra photographs and accompanying text added.

Last updated Friday 29 November 2013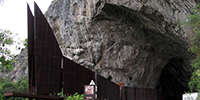 Niaux - Description and History. La Grotte de Niaux lies in the northern foothills of the Pyrenees, and is located in Ariège, in the valley of Vicdessos, across the valley from the smaller Grotte de la Vache, in an area rich with prehistoric sites. The huge cave entrance, 55 metres high and 50 metres wide, is at 678 metres above sea level. There are more than two kilometres of galleries.

Last updated Friday 29 November 2013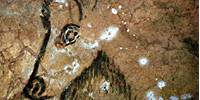 The section on Niaux has been reorganised into two main sections, one for the description and history, the other for the art works themselves, organised by the gallery in which they occur. This is the index page to all the pages concerning Niaux.

Last updated Friday 29 November 2013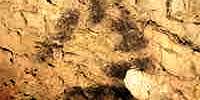 The cave art of Grotte de Gargas constitutes one of the most moving revelations today of the life and thoughts of our prehistoric ancestors. It is made up of two very important elements - painted hands, many apparently mutilated, as well as important animal engravings and paintings. Many sharp, well composed and high definition photographs have been added to this page.

Last updated Saturday 23 November 2013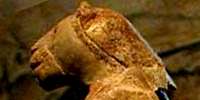 Lowenfrau, Löwenmensch, the Lion Lady/Man Venus - carved from mammoth ivory, it is 30 cm high and 6 cm in diameter. It was found in the Stadelhöhle am Hohenstein, a rocky cliff in the Lonetal valley above Asselfingen. In November 2013 it was announced that the figurine is male. Extra photographs have been added of very important finds which have added the right arm, and shown that the figurine is in fact male.

Last updated Thursday 21 November 2013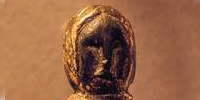 The site of Mal'ta is composed of a series of subterranean houses made of large animal bones and reindeer antler which had likely been covered with animal skins and sod to protect inhabitants from the severe, prevailing northerly winds. The companion site of Buret' is from the same culture. Results from a DNA study of a young boy's skeletal remains found at Mal'ta believed to be 24 000 years old could turn the archaeological world upside down – it's been proven that nearly 30 percent of modern Native American's ancestry came from this youngster's gene pool, suggesting First Americans came directly from Siberia.

Last updated Wednesday 20 November 2013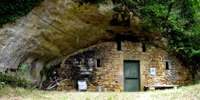 Grotte de la Mouthe was discovered in 1894, and was excavated by Emile Rivière. It contains more than 200 engravings and paintings of bison, horses, deer, cats, wolves, as well as two hands and a tectiform. The deposits in the cave record its use by Neanderthals and modern humans, based on the tools which were found there. Images of paintings/engravings on the ceiling and walls of La Mouthe have been added.

Last updated Tuesday 19 November 2013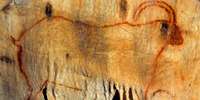 The Grottes de Cougnac caves are near Gourdon, Lot. The site consists of two caves separated by 200 metres. The first contains many concretions, some very fine, called soda straws. The second is a decorated cave from the Paleolithic. The cave has many prehistoric paintings dated to the upper Paleolithic. Depictions include deer, megaceros, the ibex, and mammoths as well as various schematic human figures. More images of the two main friezes have been added.

Last updated Tuesday 19 November 2013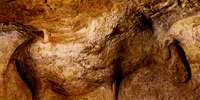 Over 15 000 years ago, Ice Age hunters carved horses, bison and reindeer, some of which are over two metres long, straight into the Limestone cliffs at L'Abri du Cap Blanc. The abri, which was discovered in 1909, is today the only frieze of prehistoric sculptures in the world to be shown to the public. More photographs have been added.

Last updated Monday 18 November 2013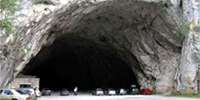 Grotte de Bédeilhac has a huge entrance and was a good shelter for Magdalenian hunters. There are two horizons with human remains. Important finds include clay sculptures, bone polishers, baguettes demi-ronde, perforated horse teeth and many paintings and engravings on the walls. Extra images of the clay bison have been added.

Last updated Monday 18 November 2013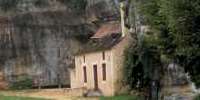 Les Combarelles in the Dordogne, with more than 600 images on its walls, most of them engraved, is considered to be one of the major sanctuaries of Magdalenian culture. This extraordinary site was discovered in 1901. Beyond the entrance of the cave two galleries diverge. The largest one, now open to the public, is a narrow and winding passage, following a zig zag pattern for more than 240 metres. The animals represented are finely engraved. A diverse fauna is represented, including horses, reindeer, ibex, mammoths, rhinoceros, bears, lions and a few bisons and aurochs. Extra images have been added.

Last updated Monday 18 November 2013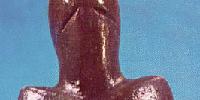 The Venus of Dolni Vestonice is a Venus figurine, a ceramic statuette of a nude female figure dated to 29 000 – 25 000 BP (Gravettian industry). This figurine, together with a few others from nearby locations, is the oldest known ceramic in the world, predating the use of fired clay to make pottery. In addition to the Venus figurine, figures of animals – bear, lion, mammoth, horse, fox, rhino and owl – and more than 2 000 balls of burnt clay have been found at Dolní Věstonice. Photos of some small ceramic venus fragments have been added.

Last updated Sunday 17 November 2013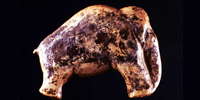 Vogelherd cave is located on the edge of the Lone valley, about 1 km northwest of Stetten and northeast of the Alb-Donau county (Alb-Donau-Kreis). Vogelherd cave is a very scenic place and well worth a visit, as indeed is all of the Lone valley, or Lonetal. The cave is not visible from the road and one must first walk over a ridge to gain access to the three entrances on the edge of the Lone valley. The cave covers an area of 170 square metres. This extremely important site, rich in finds, was first discovered when Stone Age artefacts turned up from a badger's burrow. The actual size of it only became apparent after the excavations by Gustav Riek in the summer of 1931. Extra photos of small cave lion sculptures have been added.

Last updated Sunday 17 November 2013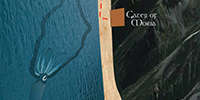 Map of Frodo's Journey, showing the path up the dry stream of the Sirannon, around the dammed lake, to the Gates of Moria, drawn by Don Hitchcock from the description in the text of the Lord of the Rings books by J.R.R. Tolkien.

Last updated Sunday 17 November 2013
The cave lion is known from Paleolithic cave paintings, ivory carvings, and clay figurines. These representations indicate that cave lions had rounded, protruding ears, tufted tails, possibly faint tiger-like stripes, and that at least some had a ruff or primitive mane around their neck, indicating males. The cave lion received its common name because large quantities of its remains are found in caves, but it is doubtful whether they lived in them. They probably preferred conifer forests and grasslands, where medium-sized to large herbivores occurred. More photos have been added.

Last updated Tuesday 12 November 2013

Ice Age Animals - As the last great ice age (the fourth, or Wurm) began, the advancing ice of the Wurm glaciation forced tundra animals further south into western europe. The increasingly cold conditions altered the vegetation as well. The spruce, fir, and arctic willow were now found only in the more sheltered river valleys, while the rest of the landscape was mostly deforested. An image of an aurochs skull has been added.

Last updated Tuesday 12 November 2013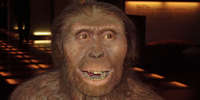 Lucy, Australopithecus afarensis, is an extinct hominid that lived between 3.9 and 2.9 million years ago. Australopithecus afarensis was slenderly built, like the younger Australopithecus africanus. It is thought that Australopithecus afarensis was more closely related to the genus Homo (which includes the modern human species Homo sapiens ), whether as a direct ancestor or a close relative of an unknown ancestor, than any other known primate from the same time. More photos have been added.

Last updated Tuesday 12 November 2013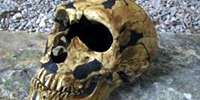 La Ferrassie rock shelter yielded skeletons from eight Neanderthal individuals, including adults, children, infants, and two fetuses. Today the skeleton of La Ferrassie 1 is considered the classic example of Neanderthal anatomy. It was unearthed on 17th September 1909 by R. Capitan and D. Peyrony. A stereolithograph (3D print) of La Ferrassie 1 has been added.

Last updated Tuesday 12 November 2013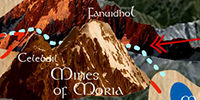 Map of Frodo's Journey from Rivendell to the Pass of Redhorn Gate, the Mines of Moria, and Lothlorien, from the Lord of the Rings books by J.R.R. Tolkien, redrawn by Don Hitchcock.

Last updated Tuesday 12 November 2013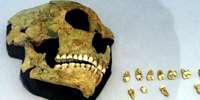 St Césaire Neanderthal Skeleton - another image has been added.

Last updated Wednesday 06 November 2013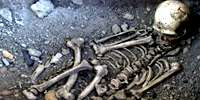 The Neandertal skeleton from La Chapelle-aux-Saints - more photos have been added.

Last updated Wednesday 06 November 2013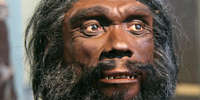 Homo heidelbergensis is an extinct species of the genus Homo which lived in Africa, Europe and western Asia from at least 600 000 years ago, and may date back 1 300 000 years. It survived until 200 000 to 250 000 years ago. It is probably the ancestor of Homo sapiens in Africa and the Neanderthals in Europe, and perhaps also the Denisovans in Asia. It was first discovered near Heidelberg in Germany in 1907 and named by Otto Schoetensack. Some experts believe that H. heidelbergensis, like its descendant H. neandertalensis, acquired a primitive form of language. More photos have been added.

Last updated Wednesday 06 November 2013
Homo Erectus was probably the first early human species to form part of a hunter-gatherer society, and used more diverse and sophisticated tools than its predecessors. Homo Erectus was the first to use fire in a controlled manner. More text and several new photographs have been added.

Last updated Wednesday 06 November 2013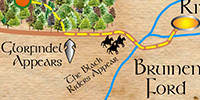 Map of Frodo's Journey from Bree along the East Road, turning aside into the Chetwood, the crossing of the Midgewater, the path to Weathertop, the route taken to the Last Bridge, through the Trollshaws, the meeting with the Elf Lord Glorfindel, the appearance of the Black Riders, and the arrival at Rivendell, from the Lord of the Rings books by J.R.R. Tolkien, redrawn by Don Hitchcock.

Last updated Saturday 16 November 2013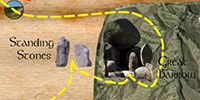 Map of Frodo's Journey from Maggot's Farm through the Old Forest to the Bree Road from the Lord of the Rings books by J.R.R. Tolkien, redrawn by Don Hitchcock. The map shows the route taken from Maggot's Farm, the meeting with Merry, the path taken to Crickhollow, the entry to the Old Forest, the Bonfire Glade, the Green Hill, Old Man Willow, Tom Bombadil's House, the Flat Topped Hill, the Standing Stones, the Great Barrow, the Northern Gap, and the arrival at the East Road, from the Lord of the Rings books by J.R.R. Tolkien, redrawn by Don Hitchcock.

Last updated Tuesday 05 November 2013

Map of a Part of the Shire from the Lord of the Rings books by J.R.R. Tolkien, redrawn by Don Hitchcock, showing Frodo's journey to the Old Forest. The map shows the route taken from Frodo's former home in Hobbiton across the water via a plank bridge, the crossing of the East Road, striking the Stock Road, the first camp in the dry pine forest, the appearance of the Black Rider and the Elves, the second night at the Elven Hall, crossing the Stockbrook, Maggot's Farm, the meeting with Merry, the path taken to Crickhollow, and the entry to the Old Forest, from the Lord of the Rings books by J.R.R. Tolkien, redrawn by Don Hitchcock.

Last updated Tuesday 05 November 2013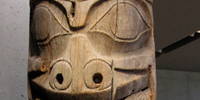 The First Nations of the Pacific North West Coast at one time had the most densely populated areas of indigenous people. The land and waters provided rich natural resources through cedar and salmon, and highly structured cultures developed from relatively dense populations. Within the Pacific Northwest, many different nations developed, each with their own distinct history, culture, and society. The creation of beautiful and practical objects (for all tribal communities) served as a means of transmitting stories, history, wisdom and property from generation to generation. Art provided Indigenous people with a tie to the land by depicting their histories on totem poles the Big (Plank) Houses of the Pacific Northwest coast – the symbols depicted were a constant reminder of their birth places, lineages and nations. Many images have been added.

Last updated Saturday 28 September 2013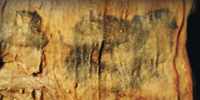 The Grottes de Villars contain galleries of stalactites and earth coloured calcite accumulations, including 17 000 year old prehistoric paintings dating from the same period as those at Lascaux. The slow seepage of water has created some of the most beautiful natural scenery. There are all types of concretions: calcite, thin stalactites, gours, translucent draperies and countless stalagmites. Some of the cave paintings, like those of the rotunda of the horses are covered with a thin layer of calcite that gives them a special blue color.The scene of the bison and the sorcerer is one of the few human representations of prehistoric art. More images have been added.

Last updated Tuesday 17 September 2013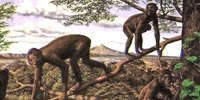 Proconsul africanus is the first species of the oligocene-era fossil genus of primate to be discovered and was named by Arthur Hopwood, an associate of Louis Leakey, in 1933. The Leakey expedition of 1947 - 1948 to Rusinga Island in Lake Victoria uncovered more species of Proconsul. Louis Leakey made an especially complete find of Proconsul there in 1948. The 18-million-year-old fossil species has been considered a possible ancestor of both great and lesser apes, and of humans. Opinion currently favours a position between the monkeys and the apes.

Last updated Wednesday 18 September 2013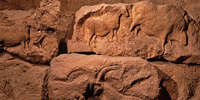 The Roc de Sers sculpted frieze is one of the relatively few examples of parietal art that can be confidently attributed to the Solutrean as it fragmented and fell off the rear wall of the rockshelter into dated archaeological deposits. Sculpture is rare in Upper Palaeolithic parietal art, and, given the relative paucity of Solutrean parietal art in general, Roc de Sers is doubly important as it serves as a benchmark for defining Solutrean artistic form and technique. Abundant evidence has been recovered from three main activity areas across a large part of the rockshelter and associated small cave; a rich classic Solutrean lithic assemblage bears witness to the production of feuilles de laurier, pointes à cran, burins and grattoirs.

Last updated Monday 30 September 2013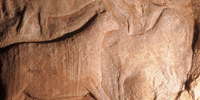 Roc-aux-Sorciers is an Upper Paleolithic rock shelter site dating to the mid-Magdalenian cultural stage, ca 14 000 BP, made famous by its relief wall carvings. The south-facing rock-shelter is composed of two geologically distinct sections; below is the Abri Bourdois, a classic rock-shelter site beneath a slight overhang, and above is the Cave Taillebourg, a deeper vestibule. The art of Roc-aux-Sorciers is in two distinct categories - a 20 metre long frieze, still standing, not open to the public, and a series of sculptures, formerly on a wall of a collapsed section of the site. Several more images have been added.

Last updated Sunday 15 September 2013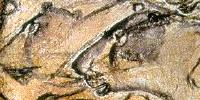 Chauvet Cave in the valley of the Ardèche River in France is filled with paintings, engravings and drawings created more than 30 000 years ago, of cave lions, mammoths, rhinos, bison, cave bears and horses. It contains the earliest known cave paintings, as well as other evidence of Upper Paleolithic life. More photos have been added.

Last updated Wednesday 13 November 2013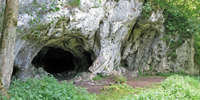 Lonetal Sites, including Neanderthal and Middle Paleolithic sites in the Swabian Alb near the city of Ulm, were important areas of ice age art. The sites occur in the Schwaebische Alb (Swabian Alb), in the valleys of the Ach and Blau river near Blaubeuren, where the famous lion/human figure was found in the Hohlenstein-Stadel cave, and where the superb sculptures from Vogelherd were discovered. More photos have been added.

Last updated Tuesday 27 August 2013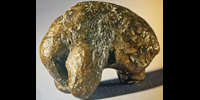 Dolni Vestonice and Pavlov - Jewellery, Pottery, and other artifacts. A sculpture of a young mammoth in baked clay from the Moravaské Museum, Brno has been added.

Last updated Monday 30 September 2013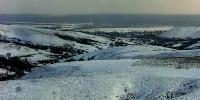 Kostenki is a very important Paleolithic site on the Don River in the Ukraine. It was a settlement which contained venus figures, dwellings made of mammoth bones, and many flint tools and bone implements. Kostenki / Kostienki is not actually a single site but really an area on the right bank of the Don River in the regions of the villages of Kostenki and Borshevo, consisting of more than twenty site locations, all dating to the Paleolithic. Two mammoth sculptures in marl and red ochre have been added.

Last updated Monday 30 September 2013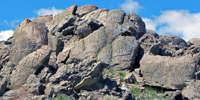 Winnemucca Lake petroglyphs discovered in western Nevada are at least 10 500 years old, making them the oldest rock art ever dated in North America. On the west side of Nevada's dried-up Winnemucca Lake, there are several limestone boulders with deep, ancient carvings; some resemble trees and leaves, whereas others are more abstract designs that look like ovals or diamonds in a chain. The true age of this rock art had not been known, but a new analysis suggests these petroglyphs are the oldest North America, dating back to between 10 500 and 14 800 years ago.

Last updated Wednesday 21 August 2013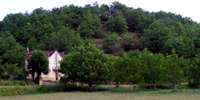 Combe-Capelle, a Neanderthal site in Southern France - Archaeologists have unearthed the oldest specialised bone tools ever found in Europe, at a site where Neanderthals lived more than 40 000 years ago. The slender, curved implements called 'lissoirs' were shaped from deer ribs and likely used to work animal hides to make them softer, tougher and more waterproof. The tools are remarkable because they seem to pre-date the arrival of modern humans in Europe, suggesting that Neanderthals invented them, rather than copying the designs from humans.

Last updated Wednesday 21 August 2013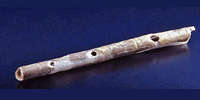 The Site of Geissenklösterle, Hohle Fels, and Middle Paleolithic sites in the Swabian Alb near the city of Ulm - important areas of ice age art occurred near Ulm (Germany), in the Schwaebische Alb, in the valleys of the Ach and Blau river near Blaubeuren, where the famous lion/human figure was found in the Hohlenstein-Stadel cave. A number of world-wide famous caves, such as the Geissenklösterle, Brillenhöhle ('spectacle cave'), Grosse Grotte (great cave), Sirgenstein and Hohle Fels cave, can be reached from Blaubeuren on a labelled hiking path and are easily accessible from the important Museum für Ur-und Frühgeschichte which displays the earliest known flutes.

Last updated Tuesday 20 August 2013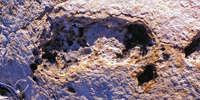 Fossilised Human Footprints in Australia - These appear to be fossilised human footprints on the foreshore of a beach, found by a fisherman. He came across many of them in the one spot, ranging from child to adult size, as well as some animal prints.

Last updated Saturday 17 August 2013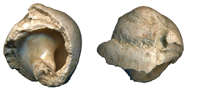 A fossil marine shell, Aspa marginata, was discovered in a Mousterian layer of Fumane Cave, northern Italy, and was dated to 47 600 cal BP. Analysis shows that this fossil gastropod was collected by Neandertals, at a Miocene or Pliocene fossil outcrop, the closest of which is located more than one hundred kilometres from the site. The shell was smeared with a pure, finely ground, hematite powder, probably mixed with a liquid. It was perhaps perforated and used as a personal ornament before being discarded, lost or intentionally left at Fumane Cave, some 47 600 - 45 000 cal BP.

Last updated Wednesday 24 July 2013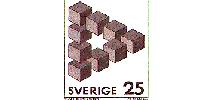 Inconsistencies in the EC books - some inconsistencies in the Land of Painted Caves, brought to my attention by Michelle Messner, have been added.

Last updated Thursday 18 July 2013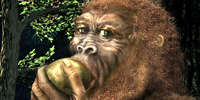 Paranthropus boisei was an early hominin. It lived in Eastern Africa during the Pleistocene epoch from about 2.3 until about 1.2 million years ago. First discovered by anthropologist Mary Leakey in 1959, at Olduvai Gorge, Tanzania, the well-preserved cranium (nicknamed 'Nutcracker Man') was dated to 1.75 million years old and had characteristics distinctive of the robust australopithecines. Richard Leakey considered it to be the first hominin species to use stone tools. It had a skull highly specialised for heavy chewing and several traits seen in modern day gorillas. It inhabited savannah woodland territories.

Last updated Wednesday 17 July 2013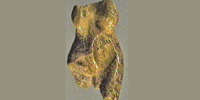 Le Torse - this Gravettian venus figurine was found during the 1896 excavations by Édouard Piette and J. de Laporterie at Grottes du Pape, Brassempouy. It was found in the upper part of the figurines layer, 4 or 5 cm above a fireplace. Dimensions: 94 mm high, 51.5 mm wide, 48 mm thick

Last updated Tuesday 24 September 2013
Font-de-Gaume is a cave near Les Eyzies. The cave contains prehistoric polychrome cave paintings and engravings. The paintings were discovered by Denis Peyrony, a local schoolmaster, on 12 September 1901. The cave had been known to the general public before this, but the significance of the paintings had not been recognised. The paintings in the cave at Font-de-Gaume were the first to be discovered in the Périgord province. Prehistoric people living in the Dordogne Valley first settled in the mouth of Font-de-Gaume around 27 000 BP. The cave mouth was inhabited at least sporadically for the next several thousand years. The paintings date from around 16 000 BP, during the Magdalenian period. An important paper from 1903 by Capitan and Breuil has been added, with images and translated text.

Last updated Friday 21 June 2013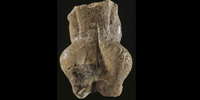 Grottes du Pape, Brassempouy - The Venus of Brassempouy, or the lady with the hood was discovered in the Grottes du Pape, (Pope's Cave) in 1894, accompanied by at least eight other human figures. These may be an example of unfinished work, as if artist(s) carved several figurines at the same time. P.E. Dubalen first explored the Grotte du Pape in 1881, followed by J. de Laporterie and Édouard Piette (1827–1906) from 1894 onwards. Photographs of an ivory stopper for a water skin have been added.

Last updated Wednesday 29 May 2013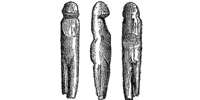 The Venus called la fillette or la poupée, from the Grottes du Pape, Brassempouy, is a figurine of a girl, made with just a few blows of the flint. It is a child's toy. She has no arms, and probably never had feet. She is naked, and her hair is long. The sex is shown.

Last updated Wednesday 29 May 2013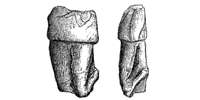 The Venus called la figurine à la pèlerine, or figurine dressed in a cape, from the Grottes du Pape, Brassempouy, consists of a fragment of the torso of a figure wearing a cape. The arm in bas relief is folded across the chest. Sculptors had recognised how fragile arms are when they are detached from the trunk, and they used bas relief to represent them. The arm tapers in thickness from the shoulder to the elbow.

Last updated Wednesday 29 May 2013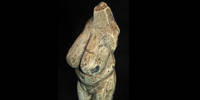 The Venus of Moravany is 76 mm tall, and was discovered when it was found in a ploughed field by a farmer in 1938 in the area of Moravany nad Váhom. It is officially dated 22 800 B.P. More photographs of the facsimile from the Vienna Natural History Museum have been added, and the photos enhanced.

Last updated Tuesday 04 June 2013
Willendorf Venus - The Venus of Willendorf, I, II and III. The Venus of Willendorf I is a superbly crafted sculpture of a naked obese woman from the stone age. It is made of oolitic limestone, and was covered with red ochre when found in 1908. The vulva is particularly well carved, by someone with a good knowledge of anatomy. New photographs and information have been added, and my photos from the Vienna Natural History Museum have been enhanced and reorganised.

Last updated Tuesday 10 December 2013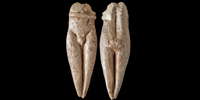 The Venus called la figurine à la Ceinture or the figurine with a belt, from the Grottes du Pape, Brassempouy, displays the lower part of a human body. It is difficult to determine the sex. The belly is as flat as that of a man. The hips and thighs have female contours. The legs are pressed one against the other, and end in points. The sexual organs are not shown distinctly, and this suggests that they are not those of a man. This figurine never had feet. The vertical groove in the back is deep.

Last updated Wednesday 29 May 2013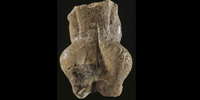 The Venus called La Manche de poignard, or dagger handle, 27 000 BP, is from the Grottes du Pape, Brassempouy . The breasts are cylindrical and pendant, the belly is large and hanging. The depression of the spine in the middle of the back is well shown. Huge protuberances of fat cover the hips and descend a little lower than the place where the buttocks should arise.

Last updated Wednesday 29 May 2013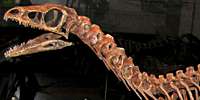 Dinosaurs and other ancient animals. Dinosaurs, or Terrible Lizards, were the dominant terrestrial vertebrates for over 160 million years. Aurornis xui, a chicken-sized creature from Jurassic deposits in China, is every palaeontologist's dream. The single exquisite fossil preserves virtually every bone in its natural position, including the tips of the tail, fingers and toes. Its anatomy demonstrates that it is one of the most bird-like dinosaurs yet discovered: in fact, it looks rather much like Archaeopteryx, but with shorter arms and hands, suggesting it had less developed wings.

Last updated Wednesday 29 May 2013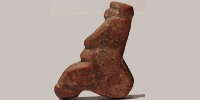 The grotte du Courbet, from which comes the well known Courbet Venus, is also called Caverne Bruniquel, with the abri Montastruc nearby. Another version of the the superb 'swimming reindeer' carving has been added, as well as an engraved bison on a pebble.

Last updated Saturday 26 October 2013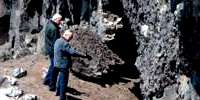 The Paisley Caves are located in the Summer Lake basin near Paisley, about 220 miles southeast of Eugene on the eastern side of the Cascade Range. The series of eight caves are westward-facing, wave-cut shelters on the highest shoreline of pluvial Lake Chewaucan, which rose and fell in periods of greater precipitation during the Pleistocene. One of the caves contains archaeological evidence of the oldest definitively-dated human presence in North America. Several photos of the area by Darrell Mintz have been added.

Last updated Monday 15 April 2013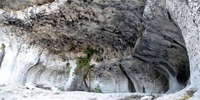 In Jean Auel's Land of Painted Caves, on the last part of the Donier tour, the party followed the Rhône upstream until they came to the point where the Ardèche comes in from the north west. They then followed the Ardèche upstream for four miles until they neared the gorge for which it is famous, and in which is Chauvet Cave, the Most Ancient Sacred Site. They conducted a very successful bison hunt, then continued up the Ardèche to Amelana's Cave, which is situated on the Cirque de la Madeleine. From there they went further up the Ardèche, to Chauvet Cave.

Last updated Thursday 10 October 2013

The Maori of New Zealand have a rich culture, and this is carried through to their skilfully made and decorated tools. Great ingenuity was required to grow the tropical plants they had brought with them from Polynesia, including taro, kumara, tī pore, gourds, and yams; this was especially difficult in the chillier southern parts of the country. The harakeke (flax plant) served as a replacement for coconut fronds and hibiscus fibre in the manufacture of mats, baskets, rope, fishing nets and clothing. The Maori used ingenuity and skill to create tools which were not only durable and fit for the purpose, but were beautiful works of art. They used a wide range of raw materials to fashion the tools they needed, and knew the properties of those materials intimately.

Last updated Sunday 17 November 2013

The Maori created many objects whose main purpose was as works of art, something which is only possible when people are rich, because of the environment in which they live, and their command of the resources within that environment. This page includes Maori Carvings, Musical Instruments, Jewellery and Toys.

Last updated Sunday 17 November 2013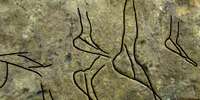 Lalinde / Gönnersdorf figurines and engravings are strictly stylised, overtly female forms with over-sized buttocks, long trunks, small or missing breasts, and no heads. These images have been found at sites such as Gönnersdorf in Germany, in Abri Murat and Gare de Couze in France, Pekárna in the Czech Republic, and Wilczyce in Poland. A photo and tracing of a Gönnersdorf figure from Montastruc / Courbet has been added.

Last updated Friday 08 February 2013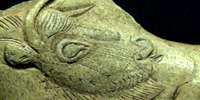 La Madeleine is a rock shelter located in the Vézère valley, in the Dordogne, France. In 1926 the skeleton of a three year old child was discovered, with exquisite shell jewellery, dating from the end of the Magdalenian period. It is a treasure house of art and knowledge about the people of the Magdalenian. Much of this art is on display at the Musée National de Préhistoire, Les Eyzies-de-Tayac. A map of the excavations at La Madeleine has been added.

Last updated Monday 09 December 2013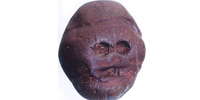 The Makapansgat pebble, or the pebble of many faces, is a 260-gram jasperite cobble with natural chipping and wear patterns that make it look like a crude rendition of a human face. The pebble is interesting in that it was found some distance from any possible natural source, in the context of Australopithecus africanus remains in South Africa. Though it is definitely not a manufactured object, it has been suggested that some australopithecine, or possibly another hominid, might have recognised it as a symbolic face, in possibly the earliest example of symbolic thinking or aesthetic sense in the human heritage, and brought the pebble back to camp, which would make it a candidate for the oldest known manuport at between 2.5 and 2.9 million years ago.

Last updated Saturday 29 December 2012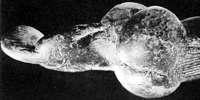 Lespugue Venus - The Venus of Lespugue is a statuette of a nude female figure from the Gravettian period, dated to between 26 000 and 24 000 years ago. It was discovered in 1922 in the Rideaux cave of Lespugue (Haute-Garonne). Approximately 6 inches (150 mm) tall, it is carved from tusk ivory, and was damaged during excavation. Of all the steatopygous (large posterior) Venus figurines discovered from the upper Paleolithic, the Venus of Lespugue, if the reconstruction is sound, appears to display the most exaggerated female secondary sexual characteristics, especially the extremely large, pendulous breasts. The report by de Saint-Périer from 1924 detailing the discovery of the piece has been translated and added.

Last updated Sunday 15 September 2013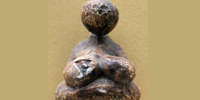 The Gagarino venus which is most well known is an obese woman from the Gagarino site on the Don River. Zamiatinine found a house pit roughly oval in outline about 5.5 metres long and 4.5 metres wide. The wealth of material remains found in this one house pit is seen in the recorded finds of some six hundred flint implements, over a thousand blades, and proportionately large numbers of cores and waste flints. Artefacts of bone as well as seven 'venus' figurines completed the roster of non-lithic material. Further information has come to light on the double venus of Gagarino.

Last updated Wednesday 26 December 2012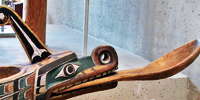 A potlatch is a gift-giving festival and primary economic system practiced by indigenous peoples of the Pacific Northwest Coast of Canada and United States. The main purpose of the potlatch is the re-distribution and reciprocity of wealth. Different events take place during a potlatch, like singing and dancing, sometimes with masks or the real regalia, such as Chilkat blankets, the barter of wealth through gifts, such as dried foods, sugar, flour, or other material things, and sometimes money. Typically the potlatching is practiced more in the winter seasons as historically the warmer months were for procuring wealth for the family, clan, or village, then coming home and sharing that with neighbours and friends.

Last updated Friday 27 September 2013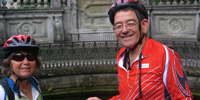 The pages for days 1- 7 of our bicycle trip down the Danube from the source of the Danube to Budapest are now up, from Donaueschingen to Bad Gögging, 380 km.

Last updated Sunday 07 April 2013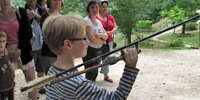 Atlatls, Spear Throwers, and Woomeras - an atlatl or spear-thrower is a tool that uses leverage to achieve greater velocity in dart-throwing. It consists of a shaft with a cup or a spur at the end that supports and propels the butt of the dart. The atlatl is held in one hand, gripped near the end farthest from the cup. The dart is thrown by the action of the upper arm and wrist. The throwing arm together with the atlatl acts as a lever. The atlatl is a low-mass, fast-moving extension of the throwing arm, increasing the length of the lever. This extra length allows the thrower to impart force to the dart over a longer distance, thus imparting more energy and ultimately higher speeds. A traditional atlatl is a long-range weapon and can readily impart to a projectile speeds of over 150 km/h (93 mph).

Last updated Friday 14 December 2012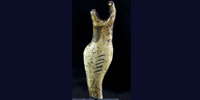 The Venus of El Pendo Cave, Camargo, province of Santander, may be of modern manufacture. It is in the form of a spear straightener or baton de commandement, made of deer antler, variously dated to the Solutrean or the upper Magdalenian, excavated by Abbé Jesus Carballo at El Pendo Cavern. Of interest is the form of the handle, which evokes the feminine form. This 'Venus' was discovered in the Solutrean layer of the El Pendo Cave. It is made of deer antler, and its form evokes that of a woman, with arms raised and with large hips.

Last updated Tuesday 11 December 2012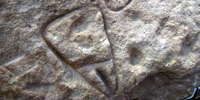 The Vulva in Stone Age Art - The vulva is well represented in Palaeolithic art. It is mostly seen as engravings on stone, bone or ivory. The representation is obviously a well known one that has become abstracted to the point where it is often no more than an oval or circle with a single mark at its centre or at its lower edge. Although many examples are from Europe, and from the upper Palaeolithic, it occurs over a broad time range, and a very large area, including not just Europe, but Australia as well.

Last updated Tuesday 11 December 2012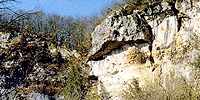 L'Abri des Marseilles, part of Laugerie Basse, contains many important deposits from the Magdalenian. Several important images have been added, as well as the translation of part of a paper by Maury on the shelter.

Last updated Saturday 02 March 2013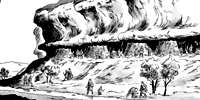 The site of Castel-Merle is also known as Vallon des Roches, and is located near the town of Sergeac on the Vézère River between Lascaux and the shelter of Moustier, near Les Eyzies-de-Tayac . This prehistoric site has the distinction of having its own museum where there are many artefacts from the various excavations of rock shelters, with six necklaces dating from the Aurignacian and Magdalenian (among the oldest in Europe). the Vallon des Roches has a unique geological formation. It consists of high parallel cliffs closer than 100 metres and comprising six shelters spread over 400 metres, giving one of the highest concentrations of prehistoric settlements of Aquitaine. Several photos and text concerning engravings and paintings discovered by Prof. Randall White at Castanet have been added.

Last updated Friday 30 August 2013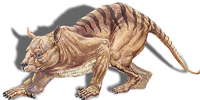 Although most scientists with knowledge of the field think that the Australian megafauna, animals such as the giant kangaroo, the swamp cow and the diprotodon, were hunted to death by the first humans to migrate to Australia, perhaps 50 000 years ago. However some scientists still disagree, and put forward the hypothesis that climate change was to blame. However a crucial question must be asked: if people did hunt megafauna to extinction, how much evidence of killing should we now be able to get from archaeological sites? A new paper by archaeologists Todd Surovell and Brigid Grund, Surovell et al. (2012), suggests the answer to that question is 'very little or none'. Many photos of the megafauna of North America have been added.

Last updated Friday 07 December 2012

The open-air site of Gönnersdorf was discovered in 1968, during the construction of a cellar for a private house. A wonderful inventory of ice age life was unearthed: pulverised red hematite, a fireplace, evidence of habitation constructions, a lithic industry, statuettes of ivory and antler, engraved slate plaquettes, jet beads, perforated animal teeth and a well preserved faunal record. Based on these finds it was evident that Gönnersdorf was a site of huge importance. A photo of a very well executed large wooden sculpture of a Gönnersdorf venus standing outside the Museum of Monrepos has been added.

Last updated Friday 23 November 2012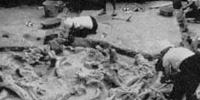 At Mezhirich in 1965, a farmer dug up the lower jawbone of a mammoth while in the process of expanding his cellar. Further excavations revealed the presence of four huts, made up of a total of 149 mammoth bones. These dwellings, dating back some 15 000 years, were determined to have been some of the oldest shelters known to have been constructed by prehistoric man. Mezhirich or Mezhyrich or Межиріч, is a village in central Ukraine near the point where the Rosava River flows into the Ros. Extra photographs of the site and the ivory map plaque have been added.

Last updated Tuesday 25 June 2013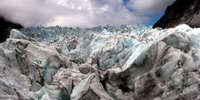 The last great ice age began around 120 000 years ago. One massive ice sheet, more than 3 kilometres thick in places, grew in fits and starts until it covered almost all of Canada and stretched down as far as Manhattan. Then, 20 000 years ago, a great thaw began. Over the following 10 000 years, the average global temperature rose by 3.5° C and most of the ice melted. Rising seas swallowed up low-lying areas such as the English Channel and North Sea, forcing our ancestors to abandon many settlements.

Last updated Tuesday 15 October 2013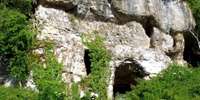 La grotte du Placard is a decorated cave in the commune of Vilhonneur in Charante, 30 km east of Angoulême. It has been extensively researched and has levels dating from the Middle and Upper Paleolithic, especially the Magdalenian and Solutrean. A dozen aviform signs identical to those discovered in the caves of Pech Merle and Cougnac. Similar signs were found in the Cosquer Cave near Marseille, 500 km away. Breuil's drawing of a baton de commandement with a finely carved fox head has been added.

Last updated Tuesday 27 August 2013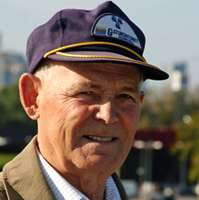 Life along the River Don from the recent past. The story of life in a forest camp near Insterburg, now Chernyakhovsk, and the difficult conditions there has been added.

Last updated Sunday 21 October 2012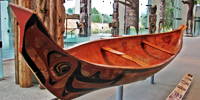 The First Nations people of the Northwest Coast are renowned for their elegantly engineered canoes. Ranging in length from three to twenty metres, canoes were essential for travel, transport, hunting, and trade. Each canoe is made from a single cedar log, carved and steamed into shape. Haida canoes were exquisite craft hewn from the gigantic red cedar that grows on Haida Gwaii and were highly prized by chiefs of other nations throughout the coast. Canoemakers in each village worked on their new craft throughout the autumn at sites where the very best red cedars stood. After an appropriate snowfall that facilitated sledding, the roughed-out canoes were moved from the woods to the nearest beach and towed to the home village, where they were finished over the winter.

Last updated Saturday 21 September 2013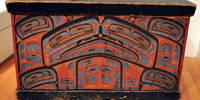 When thinking of the artefacts of the First Nations of the Pacific Northwest Coast most people will think of the massive totem poles, dugout canoes and sculptural masks, but the kerf-bent wooden box is the more ingenious example of a woodworking technology developed through eons of practice. It consists of just two planks of cedar. One is the flat bottom, rabbeted all around to receive the sides. The other is a single plank that has been deeply kerfed in three places, plasticised by controlled steam and bent at right angles to form four sides. The last corner is sewn or pegged together. The result will hold water. These richly decorated boxes range in size from a few inches to several feet. Some have flat sides, some bulge outward. Some have lids, some have sweeping curves cut into their top edges. They stored the food and possessions of everyday life as well as the ceremonial regalia of the winter dances, they were cooking pots and serving dishes, and finally they were coffins. But they were not merely containers as we think of containers, for their intricate motifs also represented the personal crests of the owner. These crests were displayed proudly, for they served to verify rank as well as spiritual power.

Last updated Saturday 21 September 2013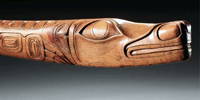 Artefacts of the First Nations of the Pacific North West Coast - the creation of beautiful and practical objects for all tribal communities served as a means of transmitting stories, history, wisdom and property from generation to generation. They had the time and the wealth to create superbly made tools, bowls, and magical objects.

Last updated Saturday 28 September 2013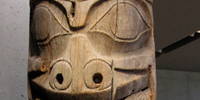 The First Nations of the Pacific North West Coast at one time had the most densely populated areas of indigenous people. The land and waters provided rich natural resources through cedar and salmon, and highly structured cultures developed from relatively dense populations. Within the Pacific Northwest, many different nations developed, each with their own distinct history, culture, and society. The creation of beautiful and practical objects (for all tribal communities) served as a means of transmitting stories, history, wisdom and property from generation to generation. Art provided Indigenous people with a tie to the land by depicting their histories on totem poles the Big (Plank) Houses of the Pacific Northwest coast – the symbols depicted were a constant reminder of their birth places, lineages and nations.

Last updated Thursday 26 September 2013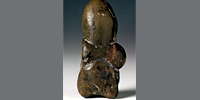 The Trasimeno Venus is a venus figure from the Paleolithic, found in Italy. It is about 3.7 inches high and carved in soapstone. It was found during excavations at Lago Trasimeno and is on display at the Museo Nazionale preistorico Etnografico Luigi Pigorini in Rome. Another image of this venus has been added.

Last updated Tuesday 28 August 2012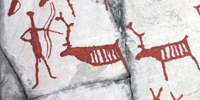 The Rock Drawings of Alta constitute the most important piece of evidence in favour of the existence of human activity in the confines of the Great North during the prehistoric period. Close to the Arctic Circle, they are a valuable illustration of human activity between 6 200 and 2 500 BP in the Northern Hemisphere. They are primordial evidence of the fauna, representing reindeer, elks, bears, dogs and/or wolves, foxes, hares, geese, ducks, swans, cormorants, halibut, salmon and whales, and of the environment. They also depict boating, hunting, trapping and fishing scenes, as well as people taking part in dances and ritual acts.

Last updated Monday 27 August 2012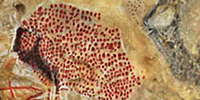 Marsoulas - La Grotte de Marsoulas, near Salies (Haute-Garonne), is formed by layers of limestone raised vertically against other layers which then buttress each other. It is the result a fault. Around 1885, the Abbé Cau-Durban, archaeologist from Ariege, found the floor consisting of carbonaceous ash, animal bones, and worked flint. Patiently he collected many artefacts, the remains of an ice age site. The type of industry and the absence of barbed harpoons led him to believe its relative great age. The cave has since been explored thoroughly, and has revealed paintings and engravings of bison and horses on the walls, as well as artefacts from the ice age, and a huge Triton bailer shell from the sea 300 km away. Another image of an anthropomorphic engraving has been added.

Last updated Friday 22 November 2013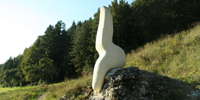 The Petersfels venuses are made of jet, or hard coal, sometimes of reindeer antler, and were found at the Petersfels site, near Engen in Germany. It is one of the most important Palaeolithic sites in Central Europe with an enormous number of important artefacts. It was a settlement towards the end of the last ice age, during the period 15 500-14 000 BP. The main activity here was reindeer hunting in autumn. More photos have been added.

Last updated Wednesday 14 August 2013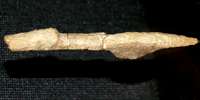 The site of Altenburg in the Stone Age was a particularly favorable place to settle. Excavations have uncovered a settlement of the Magdalenian hunters (about 17 000 BP). The tent-like dwelling was visited repeatedly over a number of summers. The most well known discovery is the "Venus of Nebra", one of three sculptures in ivory approximately 7 cm high. This page has been reworked, with a lot more information and photographs.

Last updated Monday 13 August 2012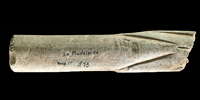 A new venus figurine has been recognised from La Madeleine, a rock shelter located in the Vézère valley, in the Dordogne, France. It was discovered by Capitan and Peyrony at La Madeleine, and was described in 1928 as a dagger blade made of reindeer antler. I thought it was a venus figure when I saw it on display in Le Musée National de Préhistoire, Les Eyzies-de-Tayac in 2008, and it has now been described as such by Jean-Pierre Duhard in Paleo 21, 2009-2010.

Last updated Monday 09 December 2013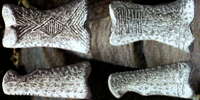 Cuina Turcului is the only rock shelter in the Iron Gates gorges, and is the the oldest site in the gorges (most of the others are mesolithic, rather than late paleolithic) and it is on the true left (northern) bank of the Danube. It was situated at about 8 metres, around 26 feet, above the original water level before the Iron Gates Dams were put in. The earliest dates for human use are at around 12 600 years before the present. A paper on the altars found from the rescue operation has been published, and photos of the finds in this paper have been added.

Last updated Wednesday 07 August 2013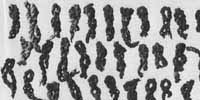 Nets and Skis from ancient times - a very large net from Finland preserved in mud has been added.

Last updated Wednesday 07 August 2013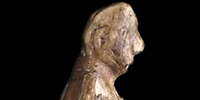 Sculpture of a female figure, from the middle Magdalenian, discovered by Piette. This human bust, carved in the root of an incisor of a horse, shows a great mastery of sculptural technique. The nature, form and volume of material forced the sculptor to enclose the body within narrow limits. The originality of this sculpture is reinforced by the representation of the breasts, elongated and pendant, but not bulky. This secondary sexual characteristic allows us to identify it as a woman. Another photo of the figurine has been addedm from the Collections du Musée d'Archéologie Nationale, catalogue number MAN 47038.

Last updated Tuesday 10 September 2013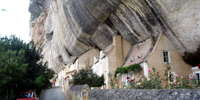 Grotte du Grand Roc is a cave of calcite concretions, with no history of being used by prehistoric people. It is between Laugerie Basse and the Gorge d'Enfer. In 1922, Jean Maury, who was then an archaeologist at Laugerie Basse, noticed a small natural terrace halfway up the great cliff of the Grand Roc. He quickly climbed up to discover a small crack from which came a small spring. Unaware of the origin of this flow, his inquiring mind rapidly imagined that a hidden cavity might reveal the source. After two years of hard work and a last mining foray on April 29, 1924, Jean Maury, his sister and daughter, entered the untouched cave.

Last updated Tuesday 31 July 2012

The remains of a ballista were found in the Roman Fort in Orşova during rescue archaeology in the 1960s before the rising waters of the Danube behind a dam covered the site. Nick Watts has made 'Firefly', a powerful, superb and accurate reconstruction of the Roman ballista found at Orşova. He has also treated it as a scientific endeavour, with careful and accurate measurements of velocity, energy, range and accuracy, something which has never been attempted in modern times.

Last updated Tuesday 24 July 2012

Russian, Ukrainian and Siberian Paleolithic sites - maps showing the main sites. Text and images relating to the Lower Palaeolithic of the Caucasus region have been added.

Last updated Saturday 14 July 2012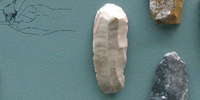 A number of useful and interesting images of ancient tools have been added from the Badisches Landesmuseum, Karlsruhe.

Last updated Wednesday 17 July 2013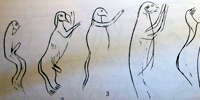 A list of Venus figures, paintings, carvings or engravings which are or may be male has been added to the Venus figures index page. The male Laussel figures have been added to the list.

Last updated Wednesday 11 December 2013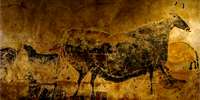 Lascaux Cave is famous for its Palaeolithic cave paintings. The paintings are estimated to be 17 300 years old. They primarily consist of images of large animals, most of which are known from fossil evidence to have lived in the area at the time. Rooms in the cave include The Hall of the Bulls, the Passageway, the Shaft, the Nave, the Apse, and the Chamber of Felines. Lascaux II, a replica of two of the cave halls — the Great Hall of the Bulls and the Painted Gallery — was opened in 1983, 200 metres from the original. Several computer generated images of the layout and profiles of the cave have been added, as well as some historical photographs.

Last updated Wednesday 28 August 2013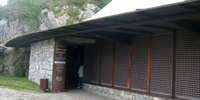 The Cueva de El Castillo, or the Cave of the Castle, is an archaeological site within the complex of the Caves of Monte Castillo, and is located in Puente Viesgo, in the province of Cantabria, Spain. This cave was discovered in 1903 by Hermilio Alcalde del Río, the Spanish archaeologist, who was one of the pioneers in the study of the earliest cave paintings of Cantabria. In the time of the cave painters, the entrance to the cave was not as large as it is today, because it was enlarged by the excavations in the front of the caves. The paintings and other markings span from the Lower Palaeolithic to the Bronze Age, and even into the Middle Ages. The paintings have now been shown by the uranium-thorium method to be much older than originally thought.

Last updated Sunday 17 June 2012
Blombos Cave is on the south coast of South Africa. About 20 square metres of the Middle Stone Age has been excavated to a depth of about 2 metres below the original surface. Dating by the optically stimulated luminescence (OSL) and thermoluminescence (TL) methods has provided occupation dates for each phase: these are about 73 000 BP for the M1 phase, about 80 000 BP for the M2 phase, and between 100 000 and 140 000 BP for the M3 phase. The evidence indicates periods of relatively brief occupation separated by long periods of non-occupation, including a separation between occupation during the Late Stone Age (LSA) and the Middle Stone Age. Bone tools, marine shell beads, and engraved ochre were found in the M1 phase, bone tools in the Upper M2 phase, and considerable quantities of ochre and associated ochre working tools in the M3 phase.

Last updated Friday 15 June 2012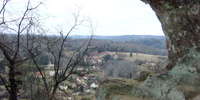 Grotte de Queylou just outside Les Eyzies is a spectacular pre-historic site, which is not generally known. It also in many ways personifies what a pre-historic cave dwelling would be like, with its medieval features of large carved out windows, shelves, benches, and holes for wooden beams. Grotte de Queylou is located on a main trail that goes along the bottom of long cliff face, which contains many prehistoric overhangs, rock shelters, and numerous caves.

Last updated Sunday 27 May 2012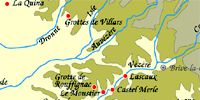 Location maps of archaeological sites and cave paintings. A new base map of archaeological sites in the south of France has been added, with ice age coastlines.

Last updated Friday 25 May 2012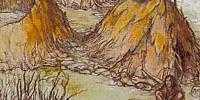 Dolni Vestonice and Pavlov sites - this page has been reorganised, and several maps and photographs of new sites and finds have been added.

Last updated Thursday 28 June 2012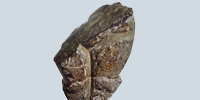 The Linsenberg - Mainz archaeological site occupies a height overlooking the city of Mainz. It is an open air site, and is buried in loess, the archaeological layer lying just above a bed of clay. Around 1920 E. Neeb and O. Schmidtgen collected two fragments of statues made of greenish sandstone, which are kept at the Archaeological Museum in Mainz. Extra text and a drawing of one of the venuses have been added.

Last updated Monday 09 December 2013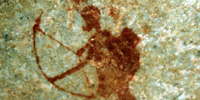 These paintings by the San people of South Africa are on the Sevilla Trail near the Traveller's Rest, a lodge on a farm about 30 km east of Clanwilliam in the Western Cape Province of South Africa, and are taken by Michael Hess. The Bushmen/San were the original inhabitants of Southern Africa and are commonly known as Bushmen or San. They were hunter-gatherers, hunting with bows and arrows, trapping small animals and eating edible roots and berries. They lived in rock shelters, in the open or in crude shelters of twigs and grass or animal skins. They made no pottery, rather using ostrich eggshells or animal parts for storing and holding liquids. For these reasons, animals and nature are central features in the Bushmen's religious tradition, folklore, art and rituals.

Last updated Wednesday 02 May 2012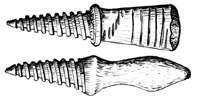 These are the most delightful tools I have ever seen. They are from the Perigordian IV, which is 30 000 BP to 28 000 BP. They are called 'goat skin corks' which have a hand cut screw thread! It would be a great way to get a watertight seal for a wineskin or waterskin. One should never underestimate the ingenuity of the human race. It was a palaeolithic Einstein who came up with that one - and a tour de force for the artisan who actually made it! It looks like a teamwork job to me, somebody to think of it, a group of people to create the tools necessary, and decide on the materials - wood? bone? ivory? and a long process in order to make it, ironing out the inevitable problems as they occurred. It also indicates a large measure of affluence. People who live hand to mouth don't come up with a whimsical invention like this, and don't have the time, resources or energy to see the project through.

Last updated Sunday 15 September 2013
The Gravettian toolmaking culture is named after the type site of La Gravette in the Dordogne region of France where its characteristic tools were first found and studied. It dates from between 28 000 and 22 000 years ago. Artistic achievements of the Gravettian cultural stage include the hundreds of Venus figurines, which are widely distributed in Europe. A good photo and several important drawings of the characteristic fléchettes have been added.

Last updated Tuesday 17 April 2012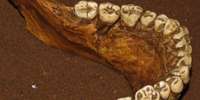 Le Regourdou is one of the most important Neanderthal sites in France. Excavated by Georges Laplace and Eugene Bonifay, the bones of Le Regourdou 1 are the remains of a young Neanderthal adult, of undetermined sex, from the beginning of the last glaciation, about 90 000 years ago. The archeological site of Regourdou is located on the same hilltop as Lascaux, 800 metres from the famous caves.

Last updated Thursday 27 December 2012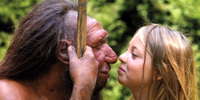 The original Neanderthal skeleton found in 1856 in the Neander Valley in Germany consisted of a skull cap, two femora, three bones from the right arm, two from the left arm, part of the left ilium, fragments of a scapula, and ribs. The workers who recovered this material originally thought it to be the remains of a bear. This discovery is now considered the beginning of paleoanthropology. Photos of the site at the present time have been added.

Last updated Tuesday 30 July 2013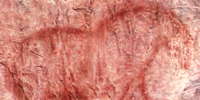 Kapova Cave is a famous Russian Palaeolithic cave. It has painted mammoths, rhinos, horses and a bison on its walls. The cave has two levels, the paintings are mainly in the upper level at some distance from the entrance. The charcoal was dated with the 14C method to be 14 680 ±150 years old. Among the animal bones were cave bear bones. Kapova Cave is a complex natural monument with multiple grottos and halls connected by passages on various levels. The walls of the cave are rich in calcite deposits of all kinds of forms and sizes. An underground river flows out of the cave and forms the Blue Lake at its entrance.

Last updated Monday 09 April 2012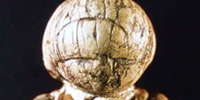 Venus figures from the Kostenki - Borshevo region on the Don River. Kostenki is a very important Paleolithic site. It was a settlement which contained venus figures, dwellings made of mammoth bones, and many flint tools and bone implements. Images of venus figures from Kostenki have been added.

Last updated Friday 06 April 2012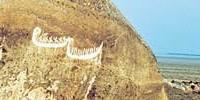 Gobustan on the Caspian Sea, in Azerbaijan.

Last updated Tuesday 25 June 2013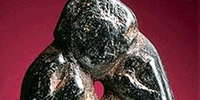 The Nun Venus, or the Flattened Figure is a Balzi Rossi or Grimaldi figurine which has been carved on a flat oval pebble of dark green chlorite and is about 44 mm high. The arms merge into the outer mass of the pebble, and the form brings to mind a female with a quasi-religious and hieratic bearing. The enveloping cape adds an air of mystery. Another photo of this venus has been added.

Last updated Saturday 24 March 2012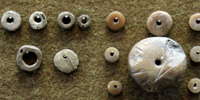 Afontova Gora - Афонтова Гора is an important site which has cultural ties with Mal'ta and Buret', hundreds of kilometres to the south east. It is on a north flowing river, the Yenisei, Енисея. The settlement is dated to 20 000 - 18 000 BP, a very cold part of the last ice age, and the northern ice sheet can not have been far away.

Last updated Thursday 30 May 2013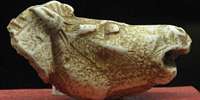 The cave of Mas-d'Azil is a large, 500 metre long tunnel dug by the Arize River through a wall of the Massif Plantaurelin, part of the Ariege Pyrenees. Secondary caves leading off the main tunnel were occupied at various prehistoric and historic times during a period of 20 000 years, and the objects found there gave the name of the cave to a prehistoric culture, the Azilian. A photo showing the small size and delicacy of harpoons found at Mas d'Azil has been added.

Last updated Tuesday 10 September 2013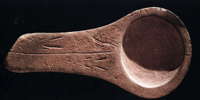 The Lamp of Lascaux - Le Brûloir de Lascaux was found buried in the floor of the Shaft at Lascaux by l'Abbé Glory, and is a superb piece of workmanship. It is from the Magdalenian culture, 17 000 BP. It can be viewed in the National Prehistory Museum in Les Eyzies-de-Tayac. Shaped like a large spoon made of red sandstone, 8 3/4 inches long by 4 3/16 inches wide and 1 1/4 inches thick, the lamp is finely polished and symmetrical. Its shallow oval cup serves as a receptacle for fuel. The upper surface of the handle is decorated with two abstract signs of chevrons fitted into each other, such as are found painted or engraved in various parts of the cave. When the lamp was discovered, it still contained sooty substances grouped in a circle at the bottom of the cup on a magma of fine dust.These particles were tested and determined to be the remains of a juniper wick used for ignition.

Last updated Saturday 04 May 2013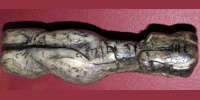 Venuses from Russia and the Ukraine - an extra photo of the Berekhat Ram figurine has been added.

Last updated Tuesday 22 May 2012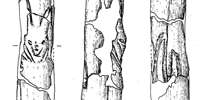 This Venus figure from Las Caldas Cave has the head of an ibex and the legs and genitals of a female human. Some think it is not meant to be a venus, but is part of an atlatl, a spear thrower. Several images of engravings, mostly on bone, have been added, as well as a photo of the entrance.

Last updated Tuesday 11 December 2012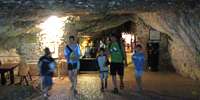 La Grotte de Rouffignac has been known for centuries and was described in 1575 by Francois de Belleforest. It is located in the heart of the Perigord, between Bergerac and Sarlat in the Dordogne region. The site has more than 250 etchings and line drawings dating from the Upper Paleolithic (Magdalenian, more than 13 000 years BP). With a length of over eight kilometres, this cave is one of the largest painted caves in Europe. A photograph of an engraving of a human face has been added to the page.

Last updated Monday 03 December 2012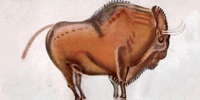 Altamira Cave is 270 metres long and consists of a series of twisting passages and chambers, and is decorated with ice age paintings. The Polychrome Ceiling is the most impressive feature of the cave, depicting a herd of extinct Steppe Bison in different poses, two horses, a large doe, and possibly a wild boar. Around 13 000 years ago a rockfall sealed the cave's entrance, preserving its contents until its eventual discovery. They exploited the natural contours in the cave walls to give some of their subjects a three-dimensional effect, as shown in three masks on the walls.

Last updated Wednesday 26 December 2012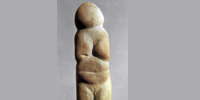 The Chiozza Venus was discovered in 1940 in the clay pit of Chiozza, near Scandiano, Italy. It was found in Holocene alluvial deposits, and it is not possible to objectively determine its age. It may be Palaeolithic. The statue is carved in Chiozza hard brown sandstone. The head is subspherical, and carries no detail. The neck is thick and poorly marked; the torso, square, carries pendant breasts, but they are relatively flat, and the arms are completely lacking. This is a rather crude representation, whose general formation closely preserves the shape of the block of raw material.

Last updated Tuesday 14 February 2012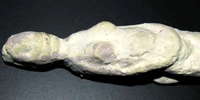 The Venus of Parabita is 90 mm high and 20 mm wide, and is made ​​from a splinter of bone from an aurochs or horse. There are no features on the face, while the chin and neck is crossed by two parallel curved incisions, creating the impression of a collar or hood. From here the two sloping shoulders continue into arms, which become thinner, then thicker, and finally come together under a prominent abdomen, perhaps indicating pregnancy. A second venus is smaller, 61 mm high and 15 mm wide, and has different stylistic features. Extra photos have been added.

Last updated Tuesday 10 December 2013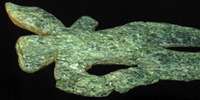 Galgenberg Venus - Fanny - Venus vom Galgenberg is one of the oldest figurines of a woman ever found, and was created around 32 000 BP. It was found during the excavation of a habitation of palaeolithic hunters at Galgenberg near Stratzing (Lower Austria), broken into several pieces. This 72 mm high figurine of a woman weighing 10 grams is made of greenish, very shiny amphibolite slate, the upper body is turned to the side, in a dancing position, and it has a three-dimensional front, flat back, and is believed to have had cultic or religious significance. Extra photos of the site and excavations have been added.

Last updated Sunday 12 February 2012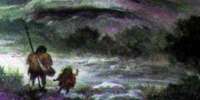 Le Moustier Neanderthal skeletons - Neanderthal man lived in these rock shelters overlooking the small town of Le Moustier in the Dordogne, and gave its name to a characteristic Neanderthal tool set and culture, the Mousterian. Le Moustier is on the right bank of the Vezere at its confluence with the Vimont valley. A good photo of the original Le Moustier 1 skull has been added.

Last updated Monday 19 March 2012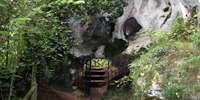 El Buxu Cave was discovered by chance in December 1916 by Cesáreo Cardin, an habitual collaborator in the archaeological digs of Hugo Obermaier and Conde de la Vega del Sella. The entrance is formed by an outer vestibule six metres wide and five metres deep, facing south-west. The original rock-shelter, however, was much larger. This former rock-shelter would have faced south, situated 300 metres above present-day sea level, and 25 metres above the valley floor.

Last updated Friday 09 March 2012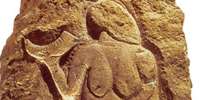 Lausell Venus - The Femme à la Corne. This low relief venus is from Laussel, Dordogne. 44 cm (17.5 inches) high. The body swells out towards the viewer from this convex block of limestone. It formed one of a set, a frieze which included other female figures and a male figure. It probably dates to 27 000 - 22 000 b.p. Other venuses from Laussel have been added, including one which is another version (now in Russia) of the Femme à la Corne, and the venus known as the 'Playing Card' venus.

Last updated Wednesday 08 May 2013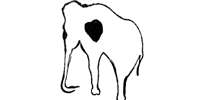 Cueva del Pindal is situated near the town of Pimiango near the border of Cantabria. The cave paintings were discovered in 1908. Most of the cave paintings are located on the right walls of the cave as the visitor enters. Various studies have confirmed the existence of 13 bison, 8 horses, a deer, deer antlers, a mammoth and other unrecognisable figures. There are also abundant red marks such as dots, lines, parallel lines and claviform figures.

Last updated Saturday 30 March 2013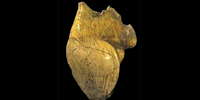 La Poire is a figurine of mammoth ivory of which only the corpulent torso survives, found in 1892 in the 'Grotte du Pape' at Brassempouy. She was originally nicknamed la poire - 'the pear' - on account of her shape. For Piette, the name 'Venus' may have come to mind in this particular instance because of the emphatic treatment of the vulva's labia and the prominent, slightly protruding pubic area, which he tastefully refers to as 'le mont de Vénus' - the mound of Venus (or mons pubis). 'Venus' has since become the collective term used to identify all obese Palaeolithic statuettes of women.

Last updated Saturday 25 May 2013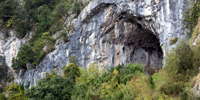 The archaeological cave site of El Mirón is located in the Rio Asón valley of eastern Cantabria, Spain. The cave opening is about 260 metres above sea level, and the cave opening is about 13 metres high, 8-16 metres wide, and 120 metres deep. El Mirón is remarkable for its long occupation history and thus for its long unbroken sequence of history and prehistory of Cantabria, Spain. The site includes human occupations between the Middle Paleolithic (ca 41 000 years ago) to AD 1400. Recent investigations have demonstrated the use of stone boiling to render fat at El Mirón Cave.

Last updated Wednesday 26 December 2012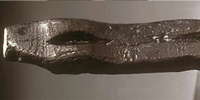 The Kesslerloch Venus has been made from a piece of jet. The breasts have been shown by a V shaped notch in the upper part of the figure. In the same fashion, the legs are separated by a V shaped notch. The back of the figure mostly still shows the original surface. Overall, the whole figure is angular and unfinished. Perhaps this is only a work in progress. Further information has come to light about two engravings (of a bear and a fox) found in the Kesslerloch, which have been shown to be fakes.

Last updated Saturday 10 December 2011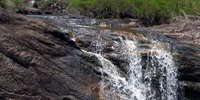 A one hundred kilometre network of walking tracks forms the Gibraltar - Washpool World Heritage Walk. The route links the Gibraltar Range and Washpool National Parks in rugged mountainous country, high above the Clarence Valley on the edge of the Northern Tablelands. Dry eucalypt sclerophyll forests, set amidst a broken collection of ridges and granite tors, surround a mosaic of sub-alpine swamps. In more dense country, lush rainforests safeguard the largest area of coachwood in the world. Within these ancient pockets of wilderness, waterfalls plummet from a lacework of streams and wild rivers.

Last updated Saturday 26 November 2011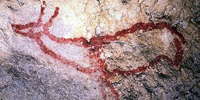 Covalanas cave in Cantabria, Spain, was first discovered to have art work in 1903. It is situated on the South-Western hillside of Pando mountain, near the cave of el Míron. Although the entrance is not huge, access is easy. From the entrance two galleries continue, though only one of them has palaeolithic decoration. In a deep zone of the gallery, and in a space less than 12 metres in length, the largest group of art in the cave is located. It has 22 figures, of which 18 are hinds , a characteristic animal in the Cantabrian decorated caves, as well as a horse, a reindeer and an aurochs. The paintings are between 20 000 and 14 400 years old.

Last updated Tuesday 22 November 2011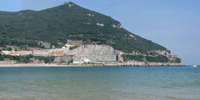 Monte Buciero has around 20 caves and small abris or rock shelters. Human occupation is known in at least seven of these caves. Engravings have been found in two of them - Peña del Perro and Cueva de San Carlos, also known as Cueva del Fortín.

Last updated Friday 09 March 2012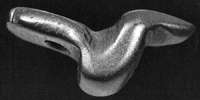 The Venus figures of Neuchâtel - Monruz.

Last updated Tuesday 10 December 2013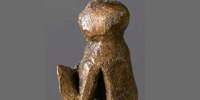 The Venus of Laugerie Basse - the Supplicant. This venus is a tiny, broken, crudely carved statuette of reindeer antler, 44 millimetres long, depicting a faceless human bent forward as though in supplication, with arms raised as if in prayer or adoration.

Last updated Monday 09 December 2013
The Manis Mastodon - A newly analysed mastodon rib bone shows that Native Americans were using bone-pointed weapons to take down big game nearly a thousand years earlier than thought, according to a new study. Images of the rib show a broken bone projectile point still stuck where a hunter drove it in 13 800 years ago. The rib was found near the town of Sequim on Washington's Olympic Peninsula, in the late 1970s.

Last updated Monday 31 October 2011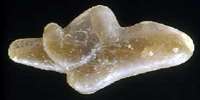 Tursac Venus - The Venus of Tursac is a calcite figure from 25 000 years BP. It was discovered on 5th August 1959 by M. Henri Delporte at Tursac, a village in the Perigord, near Sarlat, in the summer of 1959 at 'l'Abri du Facteur'. It is a treasure, a figurine made ​​from a block of translucent calcite measuring 8 cm high and weighing 57.4 grams. Extra information about its discovery, a plan and coupe and some drawings of tools found in the abri have been added.

Last updated Wednesday 01 February 2012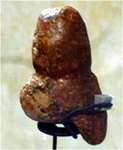 Die Rote von Mauern is a venus statuette in limestone, 27 000 years old, covered with red ochre when found at the Weinberghöhlen caves near Mauern, Bavaria. Lothar Zotz, on 24th August 1948, found the 72 mm tall limestone venus figure on the outer slope between cavities two and three of the Weinberghöhlen. During 1937-38, 1947-49, 1967 and 1974 bone fragments and traces of mammoth, cave bear, woolly rhinoceros, reindeer and 20 other different animals were found at the caves, as well as high quality Blattspitzen or leaf points of Mousterian / Neanderthal origin.

Last updated Saturday 13 July 2013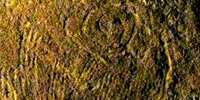 La Grotte de la Vache is important for the complete camp of Magdalenian hunters found, and may be seen almost as it was 12 000 to 15 000 years ago. Weapons, tools, typical game and artworks have been recovered from this small but important site. I have added a panorama taken at the cave, and a shot of Niaux across the valley.

Last updated Sunday 08 April 2012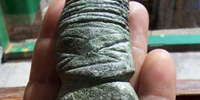 The Venus of Parrano, or Venere di Parrano shows a figure with some sort of woven or wrapped head dress, with slits to denote eyes, eyebrows, and mouth. No nose is shown. The neck is well defined, There are no breasts shown at all, the arms and hands are indicated by shallow carving on the green stone. The abdomen is shown with what appears to be a navel, and there may be a foetus shown below the abdomen. The piece has no provenance, and may not be genuine.

Last updated Sunday 02 October 2011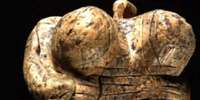 Hohle Fels Venus - The Venus of Hohle Fels is an Upper Paleolithic Venus figurine dated to between 35 000 and 40 000 years ago, belonging to the early Aurignacian, and is the oldest undisputed example of Upper Paleolithic art and figurative prehistoric art in general. Some new photos of the Hohle Fels venus have been added to the file.

Last updated Monday 30 September 2013