L'abri des Marseilles
Note that early scientists did not necessarily distinguish between L'abri des Marseilles and what is now known as Laugerie Basse, but often treated them as a unit.
It is often difficult to tell which abri they are talking about.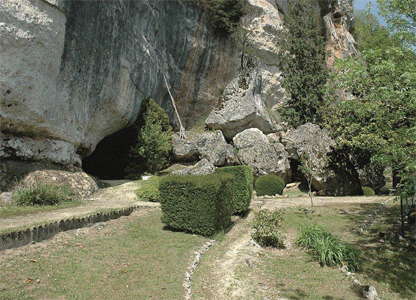 Abri des Marseilles

Photo: http://www.itimedias.fr/pdf/prehistoire.pdf
---
Les Fouilles de M. J.-A. Le Bel
par J. Maury, Membre de la Societé préhistorique Francaise



Maury (1925)
Translation by Don Hitchcock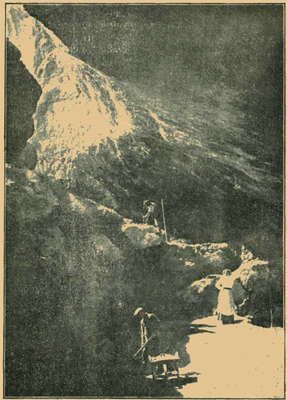 Abri des Marseilles, during excavation.

Photo: Maury (1925)


Laugerie Basse, on the right bank of the Vézère, 1200 metres from the Les Eyzies railway station, forms part of the commune of Les Eyzies-de-Tayac (Dordogne) and the place is famous as much for its wild and picturesque beauty, as the incomparable prehistoric gisement, still unexhausted, despite the excavations of the last sixty years.
The Vézère river flowing at its feet dug a limestone valley, 80 metres deep, with vertical rock faces evident in many places, from le Moustier until the environs of Bugue.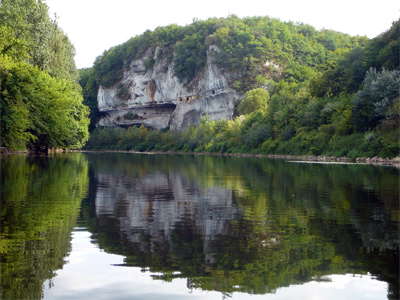 The Vézère River.

Photo: Mariaesther, Panoramio via Google Earth

The work of water on these walls has formed caves and large abris or rock shelters that served as shelters and homes to our early ancestors, thus promoting a concentration of artefacts which was to become very important, if we base our assessment on the thickness of the prehistoric layers and the amount of collected objects.
In his chapter from the Tour de France (Volume VI), 1912, Marcel Baudouin, has called this area the prehistoric capital of France. A felicitous phrase, for indeed, we encounter ancient remains everywhere we look, thanks to the natural rock shelters of the country.
In this prehistoric capital, Laugerie was certainly in a privileged position, our ancestors were attracted by the huge shelters, the many springs gushing from the cliff, the hunting on the top of the plateaus and the fishing at their feet.
The orientation also is excellent, and if the habitation was ideal for the Magdalenian, we can say that it was also so for their descendants, since many collected artefacts indicate an uninterrrupted occupation up to the present day. The cabin replaced the hut, it gave way to the cottage and the latter to the house.
Currently, the house is more comfortable, but it retains its original character, as its roof, or at least part of it, is formed by the rock itself.
History of the excavations.
Two large arched cliffs, several hundred metres long, about 20 metres deep and 15 metres in height, form Laugerie Basse.
One of these arches, forming a traditional abri or rock shelter, particularly drew the attention of scientists and others who since 1862 have come here to excavate.
Messieurs Ed. Lartet and H. Christy, the Marquis de Vibray, L. Landesque, Elie Massenat, L. Delpeyrat, Michel Hardy, Gustave Marty, Emile Riviere and Paul Girod were the main excavators. A quantity of objects of great interest was recovered.
Part of this hoard was disseminated in private collections, and the rest, the more important, is a major attraction in the prehistory section of our Musée d'Archéologie nationale et Domaine national de Saint-Germain-en-Laye. In London, the British Museum also possesses a very important collection.
The Museum of our department administrative centre, Périgueux, is distinguished by the fine collections of the excavations of Louis Landesque and Michel Hardy.
More recently, around 1907, the Swiss commercial archaeologist Otto Hauser (
he sold most of what he found - Don
) , rented Laugerie Basse for three years. The excavations were very fruitful, and most of it was shipped to Germany to be sold.
A native of the area, and returning to live there after a long absence, I learned in 1912 that the Langlade property , including the two large shelters cited above, would be sold or at least re-let to Otto Hauser.
I reported the danger of this to my distinguished friend, M. le commandant Cazenave, Member of the Societé Préhistorique Francaise, who in turn reported it to the Society, and especially to MM. Hue and Baldwin, Council members. Quickly, thanks to them, M. Le Bel (Honorary and acting President of the Societé Préhistorique Francaise) was informed and they decided to rent the Langlade property, with promise of sale, with the intention of recommencing excavations.
Excavations, stratigraphy and discoveries.
The excavations began in the spring of the year 1912. M. Le Bel was willing to entrust us with its direction. This was facilitated for us in the beginning by M. Peyrony, who helped us with his advice, while lending us some of his staff.
We soon saw that the success of a search in the part of the abri under the vault was possible only with the complete demolition of an old barn, a place not excavated by our predecessors. For this, the purchase of the property was required. On the instructions of M. Le Bel, confirming this purchase, the work began.
On digging a trench parallel to an old wall, and perpendicular to the base of the shelter, we found that the untouched portions were more important than we at first supposed.
See
Maury (1914a)
,
Maury (1914b)
At the base, lying on an almost horizontal ground of limestone boulders, was found:
1. A first brown archaeological layer of 10 cm to 25 cm thick.
2. Above that, a sterile layer 20 cm thick.
3. A second archaeological layer of grey earth, with many hearths, especially towards the top, 50 cm thick
4. Finally, a third archaeological layer on average 30 cm thick, brown in front, reddish behind.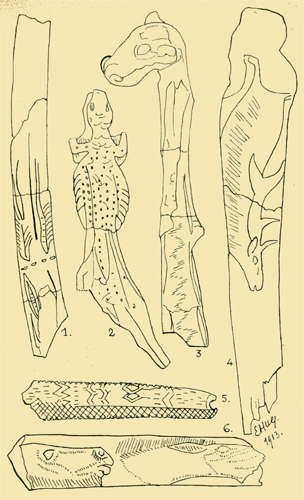 No. 1: Fragment of a semi-cylindrical rod, (baguette demi-ronde), decorated with two stylised engravings of birds and arranged symmetrically.

No. 2: Sculpture in the round representing a lizard. This very interesting piece is sculpted in reindeer antler, and it seems not to have been finished, either because the material selected was not sufficient for the complete sculpture, or the artist broke the piece while making it.

Its discovery we thought at first extraordinary, and, if it had not been made ​​in our presence, we would have thought it, at first sight, a hoax. We did not know that in fact, these reptiles can live in a climate as cold as that currently existing in Lapland and that this climate regime applied to this region to the Magdalenian period. Our astonishment was short lived. The 'Larousse pour tous' indicates that the tiny lizard is common in Paris and its range extends even now to Lapland.

Already in 1862, Lartet and Christy had collected at la Madeleine a ciseau (chisel, possibly used to split bone, or used as a scraper - Don ) adorned with a reptile (lizard genus) (Fig 8, No. 7, RA, P IX, No. 4) Plate 1

No 3: Fragment of a spear thrower with hook which together represent the body of a horse. The very well sculpted head is bent down to form a hook, the front legs are elongated along the body, the hair of the flanks is indicated by a series of small zigzag lines.

No 4: Engraving of a reindeer on a rib. Lacking the room, the artist could not represent the forelegs. The animal is galloping, legs outstretched behind, head up, the antlers stretched along the back of the animal.

No. 5: Bone pendant, very finely ornamented.

No. 6: Fragment of a baguette with horse heads in bas-relief. All these pieces were collected in the second archeological level, except No. 1 which comes from the upper level, and the No. 5 we found under the site of the old furnace/oven and to which we cannot assign an exact place in the coupe.

Simultaneously, while continuing the excavations in this shelter, we undertook further research at the second large shelter, that of 'l'abri Marseilles'

Photo: Maury (1925)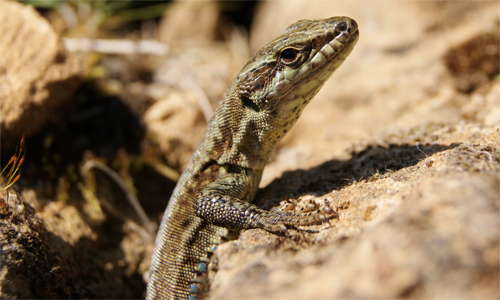 A lizard on a pile of rocks in the Dordogne, quite possibly the same species as in the carving No 2 above.

Photo: Laurine Roussel
Permission: licensed under the Creative Commons Attribution 3.0 Unported License.
Boring a tunnel 11 metres long, below the large blocks from the collapse of the front of the shelter, and strengthened by strong concrete pillars, took us to the northern extremity of the excavation, about 4 metres below the upper level.

Il y a environ 10 000 ans, sous l'abri des Marseilles, un premier éboulement, sans doute brutal, a fait tomber une partie de la voûte sur le sol d'habitat préhistorique. Un autre éboulement se produisit il y a 4 000 ans à la fin du Néolithique, et d'autres ensuite, peut-être aux époques historiques. Sur la gauche on aperçoit le débouché du tunnel de 11 mètres de long, creusé sous les blocs éboulés, pour atteindre la zone à fouiller sous l'abri.

Approximately 10 000 years ago, under the shelter of Marseilles, a first fall of rock crashed down on the area occupied in prehistoric times. Another fall occurred 4 000 years ago at the end of the Neolithic era, and others since, perhaps during historical times.

On the left can be seen the entrance of the tunnel which is 11 metres long, dug under the fallen boulders to reach the zone to be excavated under the shelter.

Photo and French text: Roussot (2000)

A trench having been extended as far as the cliff, we found the existence of several archaeological levels:
1. A lower Magdalenian layer of reddish colour with traces of hearths between 30 to 40 cm thick.
2. A sterile layer 60 cm thick, formed by the erosion of the vault.
3. A middle Magdalenian layer, the same reddish colour as No. 1, with a thickness of 30 cm.
4. Some slabs of rock fallen from the roof.
5. An upper Magdalenian blackish-brown layer, about 30 cm thick.
6. A bench of thick, unbroken limestone slabs detached from the overhang.
7. A Layer characterised by a greyish ash in great abundance, representing the Neolithic.
8. Finally, a huge mass of rock detached from the cliff. These rocks have been used in part, during the middle ages or earlier, to serve as very primitive housing. At their base, in a clayey and stony layer, we found the presence of remains dating to the Neolithic and Gallo-Roman.
The abri extends over a length of at least 50 metres and its wider portion towards the middle, lies 15 metres below the rock which serves as a ceiling.
An abundant spring, previously covered by debris was found. This discovery is all the more interesting, since it proves to us once more, that our ancestors looked for shelters favoured by water, that they were able to find these without difficulty, and that they had choice even in their dwelling places.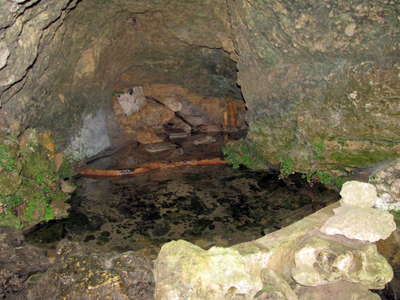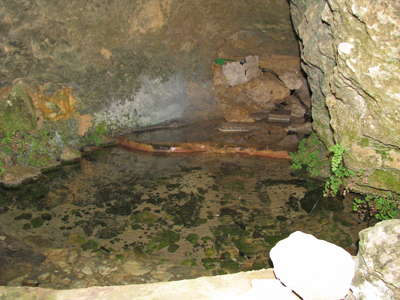 This is the spring in l'abri des Marseilles, which runs year round, and would have been a real bonus for the inhabitants. The water is sweet and good.

The geology of the whole Vézère area, with horizontal, clayey (marl) layers below the limestone close to river level, leads to the formation of an abri because of the moisture which aids in the solution of limestone at the base of the cliffs, and promotes frost shattering of the moist limestone surface during cold periods, considerably deepening the abri.

It also provides a living space protected by an overhanging vault which protects from rain and snow but provides light and air, and providentially provides a place for water percolating down from the plateau above to seep out of the cliff in a spring, conveniently just at the base of the abris.

Photo: Don Hitchcock 2008
A considerable number of artefacts has been recovered, and various Magdalenian levels were identified, results which were consistent with the findings in the nearby classic shelter.
It should be noted that during August and September, we had the pleasure of a visit by M. Adrien de Mortillet, Honorary President of the Societe Préhistorique Française, who came at the invitation of M. Le Bel to make some personal searches. This visit allowed M. Mortillet to recognise the importance of this new site.
In his meticulous excavations, he had the good fortune to collect a very interesting piece (a wood carving of a reindeer in the round representing a reindeer head) of surprising reality and executed by an artist of real talent.
This piece, of which we have a cast, comes from the Magdalenian, although at the time of the visit of our illustrious colleague we had not yet ascertained this fact.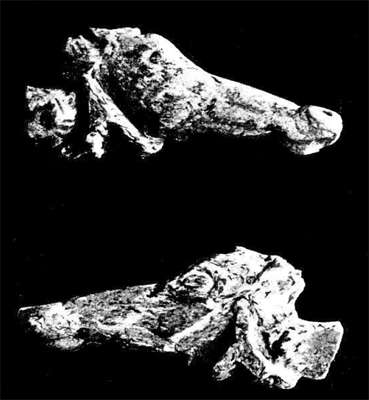 Reindeer head found at Laugerie Basse / l'abri des Marseilles

Photo: de Mortillet (1913)






Facsimile of the reindeer head found at Laugerie Basse / l'abri des Marseilles

Photo: http://www.topgeo.com/reindeers_head_5249.html
It should also be noted that we found an iron hook in the deposits, and M. Mortillet identified it as having been dropped by M. Delpeyrat, who died in 1896, in a previous excavation here.







Hook dropped by M. Léonard Delpeyrat at Laugerie Basse.

Photo: de Mortillet (1913)
(
The background here is that in 1863 Edouard Lartet, an eminent palaeontologist, arrived in Les Eyzies with his English friend and patron Henry Christie. They had come to visit the so-called 'Richard cave' in Les Eyzies but were taken to other sites of the Vézère valley. Laugerie Basse and its prehistoric remains came up to their expectations.

Also in 1863, Marquis Paul de Vibraye started excavating Laugerie Basse, and was the finder (in 1864) of the now famous 'Venus impudique de Laugerie Basse', the first feminine statuette to be found in France. In 1865, Elie Massénat succeeded the first 3 researchers and launched a 20-year long excavation campaign with Léonard Delpeyrat, an inhabitant of the neighbouring hamlet. - Don
)
M. Léonard Delpeyrat was an eccentric troglodyte, yet a patient and insightful excavator, and was well known in the region. Living in a hovel pressed against the rocks of Laugerie Basse, he engaged eagerly in search of antiquities, and we saw his little head with his elongated weasel face, his intelligent eyes , wearing a cotton nightcap, a lamp in hand, crawling through tunnels he dug under his house or nearby.
He seemed to us to possess the striking appearance of a prehistoric man, returned after many thousands of years, scraping the ancestral hearths for booty.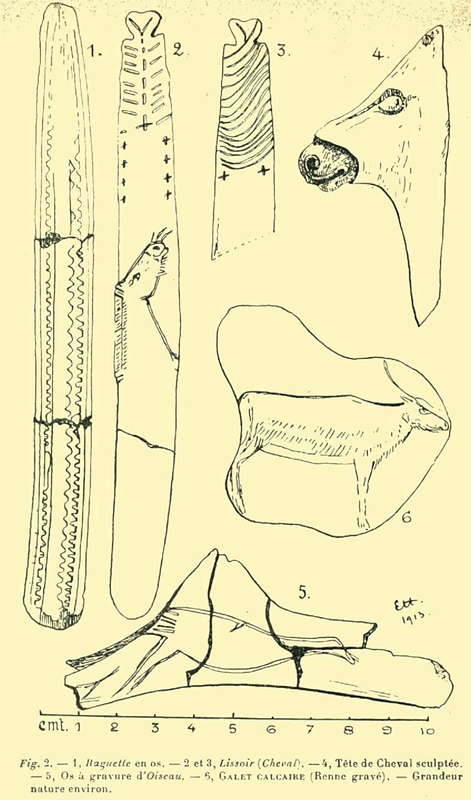 In the following plates, we present some of the very many pieces, found in several excavations, but whose origin is indicated with the description:

1. Bone baguette with beautiful ornamental design very clear and finely engraved.

2. Smoother or polisher in bone, perfectly preserved, with ornamental design at the top, and in the middle an engraved horse head, whose muzzle is curiously adorned with a tuft of hairs.

3. the opposite face of the same smoother showing engraved ornamentation. These two pieces come from the excavation of l'abri des Marseilles and from the second Magdalenian level.

4. Horse head carved in reindeer antler. The artist has cleverly taken advantage of the shape of the antler and brought all his attention to carving the nose. This piece was found in the remains of a layer near the old oven, a layer which had been preserved to this day by a large block of stone that we blew up.

5. Engraving on bones from the second Magdalenian level of the abri des Marseilles excavations and representing a bird of the order of waders.

6. Engraving of a reindeer on a flat limestone pebble from the middle Magdalenian from the excavations called 'de la Grange'. This engraving, with a perfect purity of line, is one of the finest known specimens.

Photo and text: Maury (1925)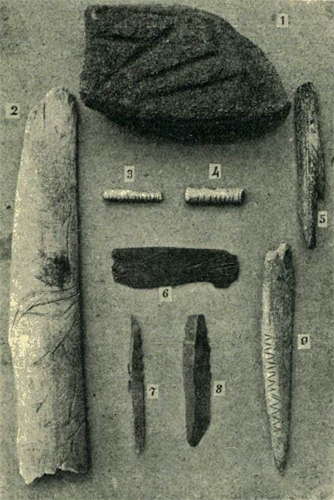 1. Needle polisher in granite, with traces of use in forming bone needles on three sides.

2. Carving in bone representing a horse and a reindeer arranged back to back. The poor condition and age of the material was the cause of the disappearance of the heads of the animals. We must remark, however, on the clean lines of the engraving and the masterfully executed hindquarters of the horse.

3 and 4. Specimens of bird bones with many nicks cut in them, probably used for making jewellery: necklaces, bracelets, etc.

5. Fragment of a baguette with engraving forming ornamentation, whose work is very fine and neat.

6. Engraving on a piece of rib showing a hand holding a trident. It would be foolhardy to give a precise explanation of this engraving, but the opposite side represents a pattern of ornamentation of nine wavy lines, similar to designs on the walls of the caves of Altamira, Hornos de Pena and Gargas, as reported by MM. Cartailhac, Breuil and F. Regnault. We believe this piece could have had a mysterious and magical meaning for our ancestors.

7 and 8. Gray flint blades, the edge has been retouched in a sawtooth. These are the only two examples encountered in a considerable amount of flint.

9. A beautiful bone poinçon or punch, decorated with four rows of notches, including two of parallel lines and two other rows forming many V shapes.

Piece No. 1 of this plate was found in the upper Magdalenian layer of l'abri des Marseilles; pieces 2, 5, 7 and 8 from the middle Magdalenian, and piece No. 9 from the lower Magdalenian. Finally pieces 3, 4 and 6 were found in the Magdalenian level known as 'the old oven'.

Photo and text: Maury (1925)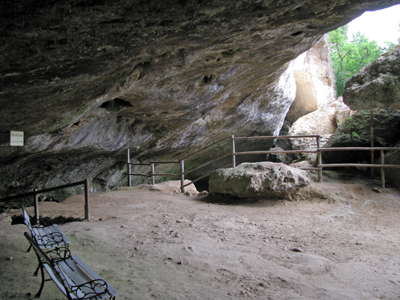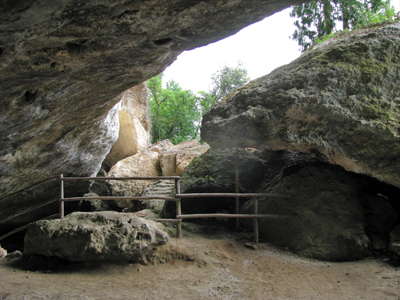 Here we can see the view of the l'abri des Marseilles at the present time from the upper level, the original abri Laugerie Basse. The sweet water spring shown further up this page is on the lower level in the background of these photos, a little further along the abri, in the section which is known as l'abri des Marseilles.

The huge rocks shown here detached from the cliff when a fall of volcanic ash accumulated on the 'eyebrows' above the abri. The next fall of rain soaking into the ash and making it very much heavier was sufficient to bring these rocks crashing down.

Photo: Don Hitchcock 2008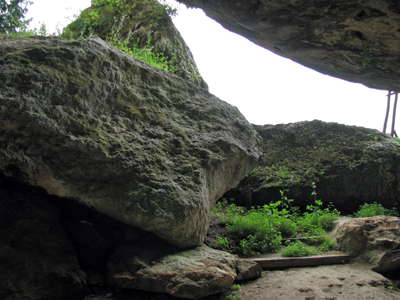 If there was anyone in the abri at the time, it must have been a terrifying experience. It may well be that some survived to tell the tale, if they were sufficiently close to the back wall of the abri.

Not surprisingly, the Magdalenians abandoned the abri after this event.

Photo: Don Hitchcock 2008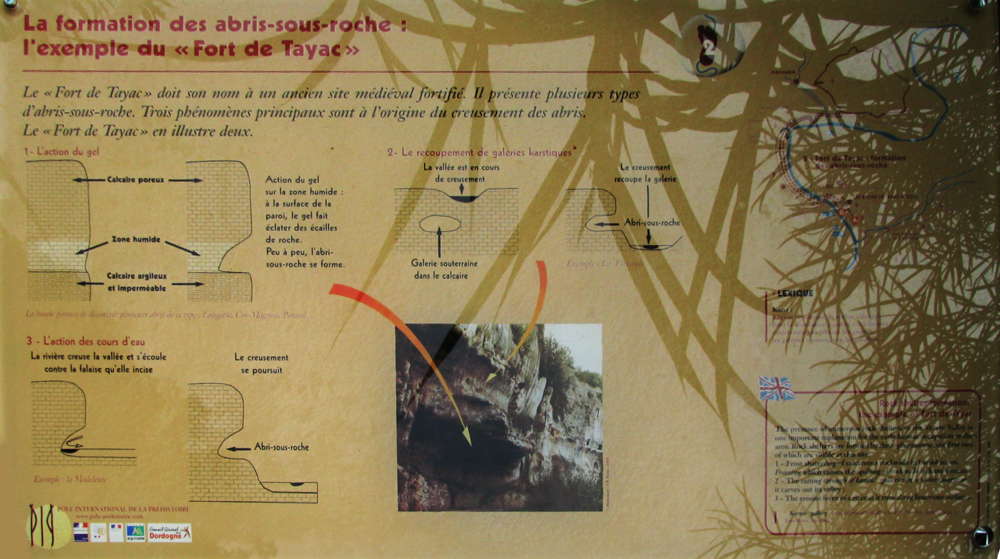 Formation of abris. Laugerie Haute and Laugerie Basse were formed with method 1, frost action.

There is a marly, clayey, impermeable to water limestone layer near the river level at these abris, which stops the percolation of water.

When this water seeps out of the porous limestone and freezes on the surface, frost action breaks off small grains or even large slabs of limestone, and the abri deepens over time.

Photo: Don Hitchcock 2008
Many of the following photos and associated text come from

Roussot (2000)

. My thanks to Anya for this resource.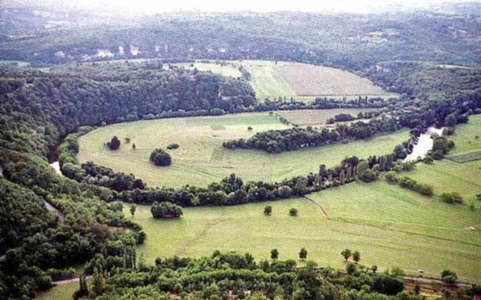 Vue aérienne de la vallée de la Vézère, de l'amont vers l'aval. Les falaises de Laugerie-Haute et Laugerie-Basse sont tout au fond de la vallée. Au premier plan, le cingle de Marsac décrit une boucle ou méandre de deux kilomètres de développement.

Aerial view of the valley of the Vézère, from upstream towards downstream. The cliffs of Laugerie-Haute and Laugerie-Basse, with L'abri des Marseilles between the two, are all at the bottom of the valley, and may be seen in the background. In the foreground, le cingle de Marsac describes a loop or meander of two kilometres in size.

Photo and French text: Roussot (2000)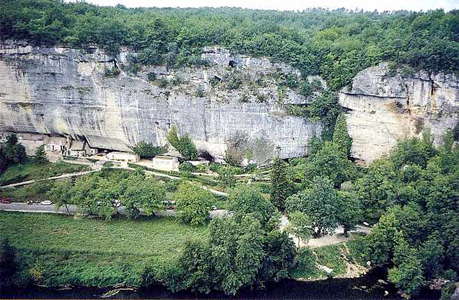 Vue aérienne de la falaise du Grand Roc et de Laugerie Basse, sur la rive droite de la Vézère, visible en bas de la photographie. L'abri des Marseilles est en contrebas de la fracture de la falaise, sur la droite.

Aerial view of the cliff of the Grand Roc and Laugerie Basse, on the right bank of the Vézère, visible at the bottom of the photograph. The shelter of Marseilles is below the break in the cliff, on the right.

Photo and French text: Roussot (2000)


Falaise de Laugerie-Basse entre l'abri classique, au fond, et l'abri des Marseilles, en arrière de la vue. Les rainures horizontales, taillées de main d'homme sur la paroi rocheuse, correspondent à des "larmiers" destinés à empêcher les ruissellements d'eau dans les maisons autrefois adossées à la falaise.

Cliff of Laugerie-Basse between the shelter of Marseilles and the classic abri or shelter of Laugerie-Basse. The horizontal grooves, cut by hand on the rock face, are in the position of former 'drips' and are intended to prevent rainwater trickling down the cliff streaming into the backs of houses formerly leaned against the stone shelter. Presumably lead sheet or something similar was pushed into the grooves, lapping over the roofs of the houses, forming what is called 'flashing'.

Photo and French text: Roussot (2000)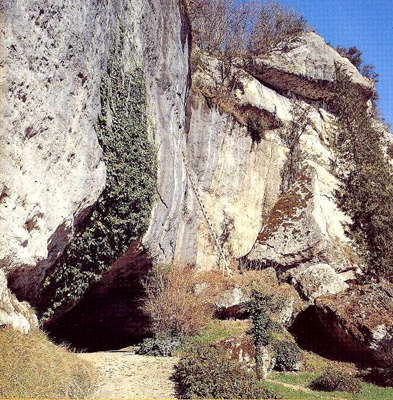 La falaise au niveau de l'abri des Marseilles dont le creux est partiellement masqué par un chaos d'énormes blocs éboulés. Ici, la falaise calcaire est fragilisée par des fissures (diaclases). Au sommet, on remarque une visière rocheuse qui s'éboulera un jour à son tour.

The cliff on the level of the shelter of Marseilles of which the hollow is partially masked by a chaos of enormous tumbled down blocks. Here, the calcareous cliff is weakened by cracks. At the top is a rock overhang which will one day also fall down.

Photo and French text: Roussot (2000)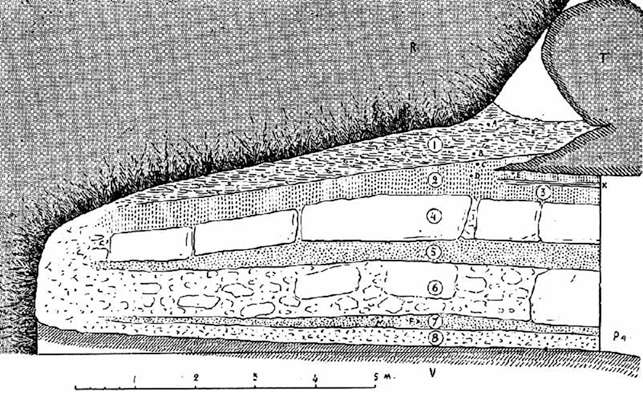 Abri des Marseilles à Laugerie-Basse. Coupe perpendiculaire à l'abri, publiée en 1914 par A. de Mortillet.
couche rougeâtre avec vestiges datant de l'âge du fer aux temps modernes ;
couche de cendres et de charbons avec industrie néolithique ;
couche brunâtre avec industrie magdalénienne ;
banc de grosses et épaisses dalles calcaires effondrées ;
couche formée de plusieurs niveaux, franchement magdalénienne ;
couche de blocs calcaires de toutes dimensions ;
couche magdalénienne avec gravures et sculptures ;
brèche stérile.
Shelter of Marseilles at Laugerie-Basse. A cross section perpendicular to the shelter, published in 1914 by A. de Mortillet:
reddish layer with vestiges dating from the iron age to modern times;
layer of ashes and coals with Neolithic artefacts;
brownish layer with magdalenian artefacts.
layer of grasses and thick broken up limestone flagstones;
layer formed of several levels, clearly magdalenian;
layer of limestone blocks of all sizes;
Magdalenian layer with engravings and sculptures;
sterile base.
Photo and French text:
Roussot (2000)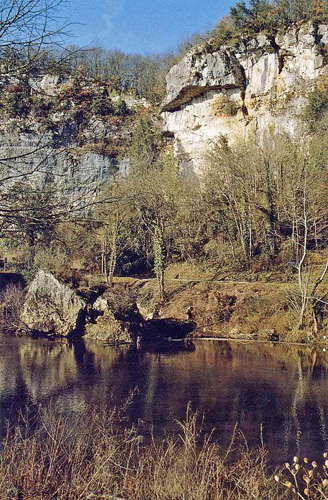 Les rochers détachés de la falaise au niveau de l'abri des Marseilles ont déboulé jusque dans la Vézère.

Some of the rocks which have dropped from the cliff above the shelter of Marseilles have crashed to the ground and then rolled as far as the Vézère river itself, as can be seen in this photograph.

Photo and French text: Roussot (2000)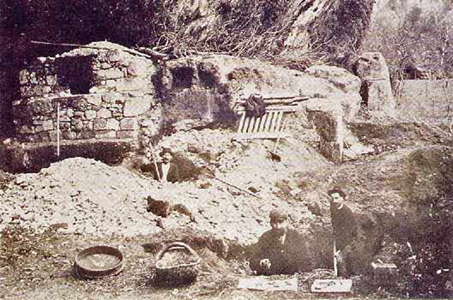 Photographie datant probablement de la fin du siècle dernier, prise entre l'abri classique et l'abri des Marseilles, près d'un ancien four. On y voit de quelle manière anarchique travaillaient les fouilleurs, creusant des trous et des galeries à la recherche des objets.

A photograph probably dating from the end of the 19th century, taken between Laugerie Basse and the shelter of Marseilles, close to an old furnace. This photo shows how anarchistically the diggers worked, digging holes and galleries to find out about the area, without modern disciplines for such research.

Photo and French text: Roussot (2000)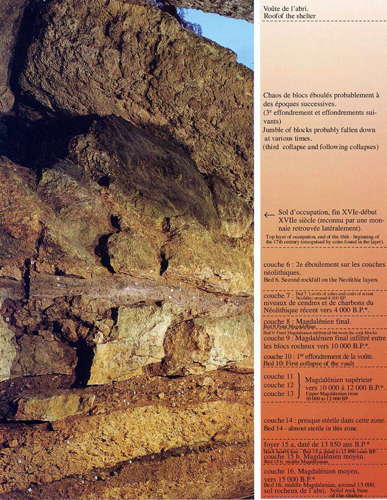 La coupe stratigraphique sous l'abri des Marseilles.

This excellent photograph and text details the ages of the various layers in the stratigraphic cut under l'abri des Marseilles.

Photo and French text: Roussot (2000)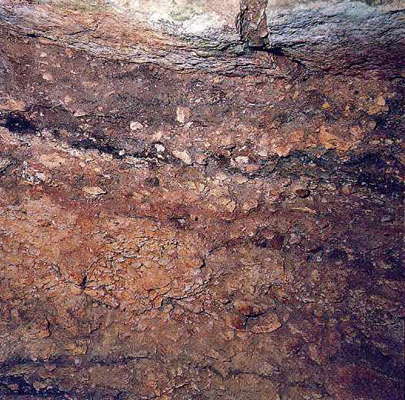 Détail de la coupe stratigraphique sous l'abri des Marseilles. On note la présence de galets de rivière rapportés sous l'abri. De minces niveaux noirs correspondent à des foyers.

Detail of the stratigraphic cut under the shelter of Marseilles. Notable is the presence of river stones under the shelter. Several black layers or lenses seen here correspond to hearths.

Photo and French text: Roussot (2000)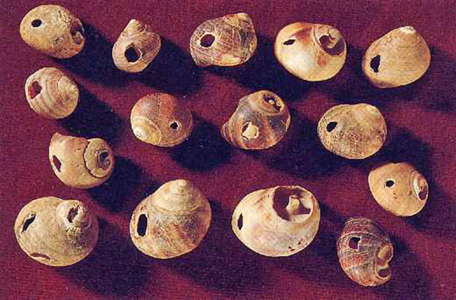 Coquillages perforés, probables éléments de parure. Le premier en haut à gauche est une Purpura lapillus (pourpre petite pierre), les autres sont des Littorina littorea (littorines ou bigorneaux). Ces deux espèces sont d'époque quaternaire et proviennent du littoral atlantique. Musée d'Aquitaine.

Perforated shells, probably used as ornament. The first at top left is a Purpura lapillus, the others are Littorina littorea (winkles). These two species are from the Quaternary and come from the Atlantic littoral, that is, the edge of the sea. Musée d'Aquitaine.

Photo and French text: Roussot (2000)







Poinçons en os et silex taillés du Néolithique final. La pointe foliacée, en bas, provient de la couche cendreuse (couche 7) de l'abri des Marseilles - Dessins de J. Roussot-Larroque).

Bone awl and flints of the final Neolithic era. The foliaceous point, below, comes from the ashy layer (layer 7) of l'abri des Marseilles - Dessins de J. Roussot-Larroque).

Photo and French text: Roussot (2000)



Poignard en silex trouvé sur la terrasse de l'abri classique. Ce type de poignard est caractéristique de la culture néolithique d'Artenac (vers 3.000 ans avant notre ère). Longueur 119 mm. Coll. G. Lagorce.

Flint dagger found on the terrace of the traditional shelter. This type of dagger is characteristic of the Neolithic culture of Artenac (around 3 000 years BP). Length 119 mm. Coll. G Lagorce.

Photo and French text: Roussot (2000)
Longue côte animale décorée d'une vigoureuse gravure de bison dont la tête barbue est d'un style saisissant et dont la ligne dorsale, peu réaliste, ondule le long de l'os. Une autre tête de bison, sans barbe, est gravée sur l'autre face. Il peut s'agir d'un mâle et d'une femelle. Longueur 250 mm. Coll. P. de Vibraye. musée de l'homme.
Long animal bone decorated with a vigorous engraving of a bison whose bearded head is of a gripping style and whose not very realistic dorsal line undulates along the bone. Another bison head, without a beard, is engraved on the other face. The engravings may be of a male and a female. Length 250 mm. Coll. P. de Vibraye. Musée de l'homme.
Photo and French text:
Roussot (2000)
References
Maury J., 1925: Laugerie basse. Les Fouilles de M. J.-A. Le Bel, Publisher Impr. Monnoyer, 12, place des Jacobins, 1925 Length 24 pages
Maury J., 1914a: Fouilles à Laugerie-Basse Bulletin de la Société préhistorique de France, 1914, tome 11, N. 1. pp. 50-56.
Maury J., 1914b: Fouilles de M. A. Le Bel, à Laugerie-Basse Bulletin de la Société préhistorique de France, 1914, tome 11, N. 5. pp. 291-297.
de Mortillet A., 1913: Fouilles de Laugerie-Basse (Dordogne) Bulletin de la Société préhistorique de France, 1913, tome 10, N. 10. pp. 571-574.
Roussot A., 2000: Visiter les Abris de Laugerie-Basse, Editions Sud-Ouest..