Maori Culture Index
The Maori of New Zealand have a rich culture, and this is carried through to their skilfully made and decorated tools and weapons. The ancestors of the Māori were fishers and gardeners, and had domesticated animals such as pigs. After arriving in New Zealand, the Māori had to rapidly adapt their material culture and agricultural practices to suit the climate of their new land - cold and harsh in comparison to the tropical islands they had come from, the Society and Cook Islands. Great ingenuity was required to grow the tropical plants they had brought with them, including taro, kumara, tī pore (or Ti), gourds, and yams; this was especially difficult in the chillier southern parts of the country. The harakeke (flax plant) served as a replacement for pandanus leaves, coconut fronds and fibre, as well as hibiscus bark in the manufacture of mats, baskets, rope, fishing nets and clothing.
The Maori used ingenuity and skill to create tools and weapons which were not only durable and fit for the purpose, but were beautiful works of art. They used a wide range of raw materials to fashion the tools they needed, and knew the properties of those materials intimately.
The Maori created many objects whose main purpose was as works of art, something which is only possible when people are rich, because of the environment in which they live, and their command of the resources within that environment. This page includes Maori Carvings, Musical Instruments, Jewellery, Textiles and Toys.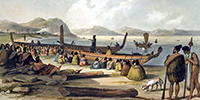 The Maori were adept at making sea going double hulled canoes, as well as smaller craft suitable for rivers and lakes. They were used for transport, war, and fishing.
Back to Archaeological Sites