Maori Carvings, Musical Instruments, Jewellery, Textiles and Toys
The Maori of New Zealand have a rich culture, and this is carried through to their skilfully made and decorated tools and weapons. The ancestors of the Māori were fishers and gardeners, and had domesticated animals such as pigs. After arriving in New Zealand, the Māori had to rapidly adapt their material culture and agricultural practices to suit the climate of their new land - cold and harsh in comparison to the tropical islands they had come from, the Society and Cook Islands. Great ingenuity was required to grow the tropical plants they had brought with them, including taro, kumara, tī pore (or Ti), gourds, and yams; this was especially difficult in the chillier southern parts of the country. The harakeke (flax plant) served as a replacement for pandanus leaves, coconut fronds and fibre, as well as hibiscus bark in the manufacture of mats, baskets, rope, fishing nets and clothing.


Red coloured carved wooden plaque.
Photo: Don Hitchcock 2013

Source: Display, Southland Museum and Art Gallery, Invercargill, NZ






Fragments of the two amo (vertical uprights) which support the whare (house) front.

New Zealand
Oldman Collection
Acc. Nos. (left) D50.441, (right) D50.440

Photo: Don Hitchcock 2013
Text and source: Display, Southland Museum and Art Gallery, Invercargill, NZ












18th Century Stone-Carved Whakawae.

This is the door jamb that holds up the carved lintel from a door porch.

Three tiki figures are carved with paua shell eyes, one male and two female.

Length 110 cm, width 12cm.

Webster Collection No. 905.
Y15655.


Photo: Dunbar et al (2011)








Whakawae (door jamb) of the Pataka Tutangimamae.

This panel was carved in the mid-17th century by Te Ure of Kawerau for the large pataka belonging to Te Rangitaumarewa, which stood at Manukapua in the Kaipara district.

Later Tutangimamae was moved and rebuilt at Otakanini pa near Helensville, by Rukuwai of Ngati Whatua and Kawerau.

When Tareha invaded the Kaipara in 1822, the pataka was dismantled and hidden.

Photo: Don Hitchcock 2015
Source and text: Display, Auckland Museum








Kuwaha Pataka

Lake Rotorua, Te Arawa.

The carved doorway of a pataka (raised storehouse) marks an important symbolic threshold. The carved figure presiding over the doorway represents a deified creator-ancestor of the tribe.

Note also that in tribute to a former master carver, Rua, the figure is shown with just three fingers.

Photo: Don Hitchcock 2015
Source and text: Display, Auckland Museum

Te Ao Hurihuri

Poupou

Te Altanga-ā-Hauiti, Ngāti Porou

When this poupou (house wall panel) was recovered from a swamp at Whangarā in 1885, local Māori stated that it was from the house of Hinematioro, of Te Altanga-ā-Hauiti hapu, at Pourewa Island in Tolaga Bay. Hinematioro, who died about 1823, was a famous high-ranking woman. She was the grandmother of the great East Coast ariki (paramount chief) of the early 19th century, Te Kani-a-Takirau.

This poupou is one of the very few Ngāti Porou stone-tooled carvings.

(note the four digits on each hand, presumably three fingers and a thumb - Don )

Photo: Don Hitchcock 2015
Source and text: Display, Auckland Museum







Tekoteko

The tattoo on the face of the figure of this tekoteko is painted black, which is an unusual feature. The tekoteko has lost its original red paint.

(note the three digits on each hand, a tribute to the legendary carver Rua - Don )

Photo: Don Hitchcock 2015
Source and text: Display, Auckland Museum




This carved vase is the work of Piwiki, a celebrated chief and famous carver of the Huia tribe.

Ngāti Toa people presented the kapu whakairo to Mrs Swainson as a wedding gift. Some time later, she presented the carved vase to the descendants of the Ngāti Toa chiefs Rakahaere and Maui.

Photo: Don Hitchcock 2015
Source and text: Display, Auckland Museum




Whakapakoko

(Rotorua)

This carved image is a representation of the Madonna and Child, made for a Catholic chapel in 1845.

It was the work of the carver Patoromu Tamatea, who had been converted to Christianity.

However, when the carving was offered to the priests they rejected it on the grounds of unsuitability.

Catalog 22

Photo: Don Hitchcock 2015
Source and text: Display, Auckland Museum




Tekoteko

Ngā Raura

Weraroa pā, Waitotara

Carved in the style of Rongowhakaata from Poverty Bay, this tekoteko stood on an important house in Weraroa pā, which was captured by government forces in July 1865 in the course of fighting north of Wanganui.

Photo: Don Hitchcock 2015
Source and text: Display, Auckland Museum

Left to right:

16. The taiaha is a traditional weapon of the Māori. It is a wooden, or sometimes whale bone, close quarters, staff weapon used for short sharp strikes or stabbing thrusts with quick footwork on the part of the wielder.

Ngāti Whātua (Auckland)

Catalog 5681

17. Tokotoko

Ngāti Huia, Ngāti Raukawa (Otaki)

This tokotoko (walking stick) belonged to the Ngāti Huia chief Te Whiwhi-o-Te-Rangi (1805-81) of the Ngāti Raukawa people. Te Whiwhi was a signatory to the Treaty of Waitangi. He was a grandson of Waitohi, sister of the famous Te Rauparaha. With his cousin Tamihana Te Rauparaha, Te Whiwhi was a prime mover in the Māori King Movement.

Catalog 21999
18. Tokotoko

Ngāti Kahungunu (Wairoa)

Sir James Carroll owned this tokotoko (walking stick). He used the tokotoko both as a walking stick and as an orator's staff. Born in Wairoa in 1858, Sir James served as Minister of Native Affairs (1899-1912) and was acting Prime Minister in 1909 and 1911.

Catalog 35442

19. Pūtōrino

Kaitahu, Ngātu Toa (Lyttleton)

This unusually shaped pūtōrino (flute) belonged to Paora Taki, a leader and respected tohunga (priest) at Rapaki. As a young man, Paora participated in fighting against Te Rauparaha.

Catalog 6400

21. Hue

(Whatiwhatihoe, Waipa River, Waikato)

A hue (calabash) believed to have been gifted to John Ogilvie in 1884 by King Tāwhuao.

Catalog 41165

Photo: Don Hitchcock 2015
Source and text: Display, Auckland Museum
Additional text: Wikipedia

Kumete, wooden food vessel.

An intricately carved kumete and pōtae (lid) made in the 19th century for sale.

The carver was Jacob Heberley of Te Ati Awa who carved in the Rotorua style.

Catalog 54898-9

Photo: Don Hitchcock 2015
Source and text: Display, Auckland Museum


Early 19th Century Wooden Maori Teko Teko.

Female tiki figure with hands on stomach.

Note the three fingers on each hand, a tribute to Rua, the master carver who had just three fingers.

Length 48 cm

Y15656.


Photo: Dunbar et al (2011)




Karetao (articulated marionette)

The arms and legs are moved up and down by pulling a string on the back of the body. Note the facial tattoos, and the small figure on the chest of the Karetao.

Karetao are ceremonial marionettes in the form of men. The body, legs, and head are usually carved from a single piece of wood. The arms and, occasionally, the legs are articulated. They are operated by tightening and releasing attached cords. In this manner karetao were made to imitate the haka (fierce rhythmic dance) by the operator to the accompaniment of waiata (chant).

It is thought that karetao were used primarily to instruct young people in tribal history. However, there is one recorded account of a giant karetao being operated by an iwi (tribe) from their fortifed pä (stockaded village) when under seige to taunt and defy the enemy.

New Zealand
Southland Museum and Art Gallery Collection
Acc. No. D45.50

Photo: Don Hitchcock 2013
Source: Display, Southland Museum and Art Gallery, Invercargill, NZ
Additional Text: http://collections.tepapa.govt.nz/objectdetails.aspx?oid=212846






Mauri

Ngaiterangi (Motuhua Island, Bay of Plenty)

Mauri are imbued with the life principle, and may serve as the resting place of a god. Mauri were sometimes placed in a waka (canoe) to ensure the safety and well being of those travelling in it.

Photo: Don Hitchcock 2015
Source and text: Display, Auckland Museum

These objects are known as mauri (in these cases, fish-shaped talismen) that contained spirits favourable to fishing. They were carried on fishing expeditions to ensure a good catch.

(left) Tuatapere, Southland
King Collection
Acc. Nos D46.71-72

(right) Gift of Anonymous Donor
Acc. No. M93

Photo: Don Hitchcock 2013
Text and source: Display, Southland Museum and Art Gallery, Invercargill, NZ

Putatara (shell trumpet)

Ngati Mahuta (Kawhia, Waikato)

When Maori gained access to items from the Pacific Islands as a result of the European shipping trade, they found that the large tropical Pacific triton shells such as this one made better trumpets than the small native shell.

This Putatara (shell trumpet) was given to Alfred Hughes by King Tawhiao at Kawhia.

Photo: Don Hitchcock 2015
Source and text: Display, Auckland Museum



Note the intricate carving of the mouthpiece, typical for this type of instrument.

Photo: Don Hitchcock 2015
Source: Display, Auckland Museum

Two types of bone flute.

Whio (the upper three) and Koauau (the lower one)

(Note that these flutes are all made of bone, possibly the traditional albatross bone, and are not constructed as detailed below - Don )

The Koauau was only owned and played by someone of high status, such as a tribal chief. The surface was usually elaborately carved. When not in use it was often worn suspended from the owner's neck.

New Zealand
Anonymous Donor
Acc. No. 83.2113

Pahia, Southland
Sorenson Collection
Acc. Nos. D.46.1894, D46.1896

New Zealand
Acc. No. D.43.171

Photo: Don Hitchcock 2013
Text and source: Display, Southland Museum and Art Gallery, Invercargill, NZ

The Whio

Text below from: http://nzetc.victoria.ac.nz/tm/scholarly/tei-BesGame-t1-body-d9-d1-d3.html
© Victoria University of Wellington

The whio was made of matai wood. A piece of suitable wood was shaped, split into two pieces, and each piece carefully hollowed out. The two pieces were then placed together again and carefully lashed with the tough aerial roots of the kiekie, care being taken to make the two pieces fit closely. The whio was made hollow from one end to the other, and three holes were bored on the upper side, with one on the lower side. The player blows into one end of the whio and presses the tips of three fingers, the toi nui, toi roa and toipoto of his left hand, on the three holes, while the thumb (koromatau) of the same hand covers the single hole on the underside of the whio. Then sounds the whio, while by lifting his fingers the player changes the sound, alters the note. Should the note be deemed not sufficiently clear and distinct, then the thumb is removed from the lower hole so as to leave it open.

This instrument is called a whio because the sound it emits is like unto the whio (whistle) made by human lips.

When a man manufactured a whio (whistle) it was for the purpose of attracting some woman he desired. If he played that whio well, then the woman could not resist him. These sort of amusements were indulged in at night and, in some cases, a man ignorant of playing a whio would arrange with an adept a deception in this manner. In the dark or dimly lighted house he would seat himself near the adept and pretend to perform upon the whio, whereas it would be the adept who played. If successful, and the man gained the woman he desired, then would he reward the true player with a present, such as a garment, or weapon, or a present of food. During the above performance should the fire happen to flare up and light the house, the adept would pass the whio to his companion who would mouth it and handle it for a while until the fire light died down again, when he would return it to his friend. Hence it so happened that such a deceitful person might so charm the woman he admired that he would gain her and marry her. Then, after they were so married, his wife would, some time or another, ask him to play on his flute, whereupon he would decline, saying that he was tired of it. Such would be his deceitful action, but what could be done, he had got the woman!

Mr. White is also responsible for the following:—There was another kind of whio, an inferior kind, made by persons not expert enough to make the better sort. It was used by beginners, persons learning to play, although an expert player alone could make it sound well. This instrument was made from a piece of tutu (Coriaria ruscifolid) the pith of which was removed by means of using a piece of wood as a borer. The outside was then dressed smooth and holes bored as in the one made of matai. These whio made of tupakihi (tutu) were used by children. The following song is one that was much favoured by flute players:

'Tenei te tangata te hihira atu nei
Te hoki atu koe i waho na i te roro
Me kore te kakea i te wehi o te tapu
He koro i tu mai note whakatakere
Rokohanga mai au ka taiaroatia.'

Another whio was made of human bone which was made like a wooden one, but the bone one had no hole on the underside, it merely had the three holes on the upper side. It was blown from one end.

Some tribes made flutes from the arm and leg bones of their own dead. We have seen that, when a woman was in labour, a tohunga or her grandfather played upon such a flute until the child was born. A tohunga (priest) would also play such a flute when a child was ill, or when the child was in any pain or distress, according to Mr. White, as when cutting its teeth. Also when the child cried without any apparent cause. The idea in the native mind was that such flutes being made of bones of departed ancestors acted as a medium between the living and the gods (from whom man is descended).

As a rule, when flutes were made of human bone, the bones so used were those of enemies. After the slaughter of Marion Du Fresne and his companions, the natives utilised some of their bones where-from to fashion flutes and other objects. Here end Mr. White's notes.

The first kind of whio or whistle described by Mr. White, a wooden instrument made in two pieces, with three stops on the upper side and one underneath, is one that has never been seen by the writer. It would appear that Mr. White also applied the name of whio to the koauau.

Although no specimen of the above described instrument has, to the writer's knowledge, been preserved in our museums, yet I am inclined to believe that Mr. White was perfectly correct in his description. That reliable and versatile writer W. B., states that such an instrument was made and used by the Maori in former times. He described it as about 2 ft. 6 in. in length, and 1¼ in. in diameter. It was made in two pieces and no mention is made of increased width of the central part, as in the pu torino. The two halves having been hollowed out they were then carefully fitted together and firmly and neatly lashed with sennit in the middle and at each end. Decorative designs were carved on the surfaces not covered by the lashings. An interesting method was employed where-by the inner surface of the tube was rendered even and smooth. A round plait cord of fibre was made that could just be drawn through the tube, and, the end having been reeved through it, one end of the cord was secured to a post or sapling, while the other end was passed round another such, hauled taut, and so made fast. Wet sand was then rubbed on the surface of the cord, and the operator, gripping the tube, drew it rapidly to and fro on the cord, giving the tube a half turn at each thrust.

Matai was the favoured wood for the manufacture of these pipes, owing to its sonority. The pipe was open at both ends and was sounded by means of blowing across the end thereof, not by blowing directly into the orifice. It seems to have had three stops, two on the upper side, and one underneath, but possibly had four. Now, experts had a very singular way of manipulating this pu. Such a person assumed a sitting position when playing it, and gripped the pipe between his knees so that its lower end reached his feet. Holding it in this position enabled him to occasionally stop the orifice of the outer or lower end of the pipe with a foot. By this means it is said that an expert could make the instrument speak me te reo tangata—like the human voice; few, however, are said to have acquired such proficiency.

This pipe recalls the one described by Mr. White, as explained above. Of the one just described, W.B. remarks that Ngati-Maru of Taranaki claim that its use was peculiar to the members of that tribe, but this may be doubted, such claims are often made by people who do little travelling. Observe the remark of Du Clesmeur, quoted above, concerning instruments seen by him in 1772: 'They have also a species of flute made in two pieces, bound well together, into which they blow at the thick end. The smaller end and the three little holes are closed with the fingers, and serve to vary the tones a little.' These remarks assuredly do not describe the pu torino, the three small stops settles that. This instrument was seen in the Bay of Islands district, a far cry from Taranaki.

The 22 in. pipe or flute described by Sir W. Buller represents another form, inasmuch as one end was plugged, and the instrument was blown from the side. This plugged end reappears in Mr. White's rehu and in the longer specimen shown in Fig. 63 (p. 228) (No. 197 in the Dominion Museum). The Tahitian nose flute had one end plugged. W.B. applies the name of koauau to the instrument having one end closed.

Text above from: http://nzetc.victoria.ac.nz/tm/scholarly/tei-BesGame-t1-body-d9-d1-d3.html
© Victoria University of Wellington
This video by Sean Folsom gives some idea of the sounds that the flutes could make:
And here you can see the beginnings of the construction of an albatross bone flute using traditional methods:

Heru (combs) made from bone

(Note the human head (?) carved in outline on the bone (whalebone?) comb on the right, and possible colouring to show a face - Don )

Greenhills, Southland
Gift of Anonymous Donor
Acc. No. D39.326

Birdlings Flat, Canterbury
Sorenson Collection
Acc. No. B81.42-43

Photo: Don Hitchcock 2013
Source: Display, Southland Museum and Art Gallery, Invercargill, NZ


Combs

a, wooden, after Hamilton (46, pl. 52); b, whalebone (Oldman coll., no. 39).

The Maori followed the Polynesian custom of the men wearing their hair long and tying it in a large topknot. Feathers were stuck into the topknot by their quills, the tail feathers of the huia, black with white tips, being regarded as the most valuable. Feathers of the albatross (toroa), longtailed cuckoo (koekoea), and heron (kotuku) were also valued.

Combs (heru) were also stuck in the hair for decoration. Small combs (heru mapara) were made of separate wooden teeth lashed together with flax fibre (Fig. 79a). A more valuable comb was made of whalebone (heru iwi) in one piece with a small human head carved on one side (Fig. 79b).

Like other valuable ornaments, the whalebone comb was handed on in succession and a tradition states that the well-known ancestor, Ruatapu, was severely reprimanded by his father for wearing the family whalebone comb which was reserved for his elder brother. A detailed Rarotongan version of the Ruatapu story does not mention any whalebone comb and it is not present in central Polynesia where the story was laid. The form is peculiar to New Zealand and as it was not present in the Chatham Islands, it was probably a late development in New Zealand. Though the Maori story of its presence in the Hawaiki of Ruatapu is an interpolation, the story shows the great value attached to whalebone combs as family heirlooms.



Photo and Text: http://nzetc.victoria.ac.nz/tm/scholarly/tei-BucTheC-t1-g1-t2-body1-d13-d3.html
© Victoria University of Wellington

Comb

Heru (ornamental comb)
1800-1850, Artist unknown

This large heru (ornamental comb) is made from whale bone and paua shell. It has ten teeth and a carved manaia (stylised beaked figure) head with an inlaid pāua (large New Zealand abalone with blue-green inner shell) shell eye. It has an aged off-white patina and has sustained damage, as evidenced by a large triangular chip along the upper curved basal edge.

Māori men traditionally kept long hair that was oiled and sometimes braided, and dressed upon their heads in elaborate topknots. These were augmented with heru and bird feathers, particularly feathers from the now extinct huia (native New Zealand bird: Heteralocha acutirostris).

Dimensions: Width 105mm, height 294 mm, depth 4 mm

Oldman Collection. Gift of the New Zealand Government, 1992

Photo and Text: http://www.googleartproject.com/collection/te-papa/artwork/heru-ornamental-comb-unknown/357206/


Reposted in full from the excellent Barbaraanne's Hair Comb Blog:

According to our author-scholar Kajetan Fiedorowicz, the best Maori comb ever offered on Ebay sold on Oct. 9, 2011, for $2,576.00. It was a 17th-Century whale-bone Heru comb. The dealer listed it as 'Old African? Large 'oxbone' comb; elegant!' with a starting price of $9.95.

In Maori culture, men wore their hair long with a top knot, and women wore their hair short. A Heru is the ornament, stuck in the top knot, which decorated the heads of top-ranking men. They were a symbol of mana, or status and prestige. Many of the combs had faces, which were decorated with paua-shell eyes. (Search Patoromu Tamatea on the blog.)

In 1200, Rua-tupu, the second son of Chief Uenuku, wore a Heru without permission. These combs could only be worn by the elder sons. His father belittled him. To get revenge, Rua-tupu took children of tribal noblemen into his canoe, traveled far into the ocean, and sank the boat. It is an incident in Maori history called 'Te huri-pure-i-ata.' His older brother, Kahutia-te-rangi survived with the help of a whale, and his name changed to Paikea, or whale rider. The myth says Paikea had the help of the goddess Moa-kura-manu.

What I think this comb depicts is Kahutia-te-rangi (the small carving on the left) riding the whale. Think of the age, look at the condition, marvel at the orange patina on the whale bone. Absorb the simplicity of design, which expresses the profound mythology of Maori culture. The comb is a revelation. Kajetan hoped it went to a museum where it belongs. We will never know.

However, we have the picture. Our community will recognize this comb's significance, history, and have yet another example that design reaches its greatest heights in simple forms.

Photo and Text: http://barbaraanneshaircombblog.com/2011/10/10/ebayebay-whale-bone-maori-heru-comb/


Whalebone combs.

Note this quite different design for combs than those showing the whale rider. They are highly carved, symmetrical, with an open fretwork design.

Photo: Don Hitchcock 2015
Source: Display, Auckland Museum



Whales were not hunted by the maori, but they made use of the meat and bones from whales washed up on their beaches.

This is a humpback whale breaching.

In the Southern Hemisphere there are six humpback whale stocks, as defined by their Antarctic summer feeding areas. They are frequent visitors to the coastal waters of New Zealand when they undertake seasonal long distance migrations between summer feeding grounds in high latitudes (Antarctica) and winter calving and breeding grounds in tropical or near tropical waters. They travel mainly along the east coast and Cook Strait during winter and return along the west coast during spring.

Photo: White Rich guy Facepalm
Permission: GNU Free Documentation License, Version 1.2
Text: Adapted from http://www.doc.govt.nz/conservation/native-animals/marine-mammals/whales/humpback-whales/facts/




Rei-puta (jewellery) with rare spiral decoration carved from whale tooth ivory.

Ocean Beach, Stewart Island
Willa Collection
Acc. No. 86.292
Photo: Don Hitchcock 2013
Text and source: Display, Southland Museum and Art Gallery, Invercargill, NZ





Early ornaments of pierced tio (oyster) and papa (fan shell)

Pahia, Southland
Acc. Nos. D46.1918, D46.1921

New Zealand
Gift of Anonymous Donor
Acc. No. M110

Photo: Don Hitchcock 2013
Text and source: Display, Southland Museum and Art Gallery, Invercargill, NZ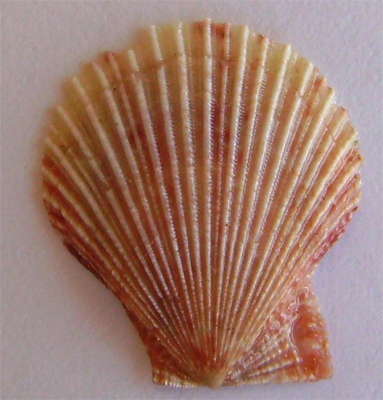 Chlamys zelandiae (New Zealand fan shell) dredged from the east coast of Northland , New Zealand.

It is a bivalve mollusc of the family Pectinidae, and was used by the Maori for jewellery, as in the photo above.

Photo: Graham Bould
Permission: Public Domain
Text: Adapted from Wikipedia




Jewellery

Photo: Don Hitchcock 2013
Source: Display, Southland Museum and Art Gallery, Invercargill, NZ





Pendants such as hei-tiki were suspended around the neck from a string held together with bone toggles.

Tumbledown Bay, Canterbury
Sorenson Collection
Acc. No. D46.1915

Invercargill, Southland
Gift of Mr John Thompson Jnr.
Acc. No. D39.260

Birdlings Flat, Canterbury
Sorenson Collection
Acc. No. D46.1890

Southland
King Collection
Acc. No. D46.667

Photo: Don Hitchcock 2013
Text and source: Display, Southland Museum and Art Gallery, Invercargill, NZ




Wandering Albatross (Diomedea exulans ) in flight, East of the Tasman Peninsula, Tasmania, Australia.

Bird bones were often used by the Maori, since they are hollow, and adapt well to the making of jewellery and flutes. The albatross is especially useful because of the large size of the bones.

Photo: JJ Harrison (jjharrison89@facebook.com)
Permission: Creative Commons Attribution-Share Alike 3.0 Unported license.


(top image)
Necklace made from fish vertebrae.

New Zealand
Gift of Anonymous Donor
Acc. No. M115



(bottom image)
Rei (necklace) of Dentalium reels

New Zealand
Gift of Anonymous Donor
Acc. No. D.S.39.486

In Maori Art, Hamilton (1896) in the section: 'Ornaments and Personal Decorations,' quotes Elsdon Best as saying: 'Others were made of the hollow tube-like shells of a species of Dentalium called hangaroa, through which threads of flax fibre were passed, a band being formed of these.' Hamilton adds that they 'were also strung on a belt, called tu-hangaroa.'

(Note that Dentalium shells are sometimes found washed up on beaches - Don )



Photo: Don Hitchcock 2013
Text and source: Display, Southland Museum and Art Gallery, Invercargill, NZ
Additional text: Dawson (1952)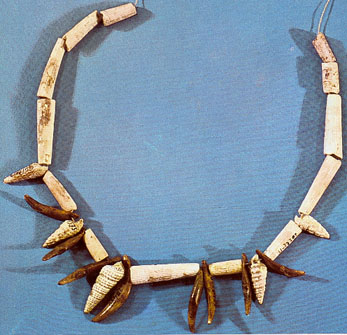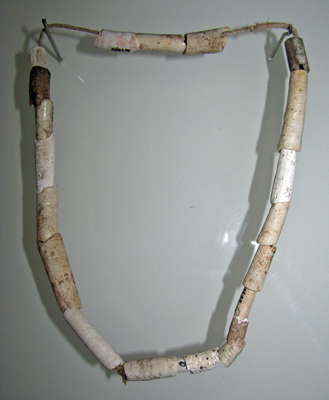 Dentalium shells are (and were) highly prized around the world. They are extraordinarily hard to collect from the seabeds in which they grow, but the effort was made in order to have large quantities of shells in good condition. Where fossil shells were available, they were extracted from the limestone in which they were found.

These fossil shells made up into necklaces are from the Czech Republic.

(left) Necklace made of fossil Dentalium badense shells and teeth of the arctic fox, Dolní Věstonice.

Photo: Jelinek (1975)



(right) Necklace of fossil Dentalium badense shells. These would have come from the large deposits of Jurassic Limestone which form the peaks just behind the Dolni Vestonice / Pavlov deposits.

Photo: Don Hitchcock 2008
Source: Apparently originals, display, Dolní Věstonice Museum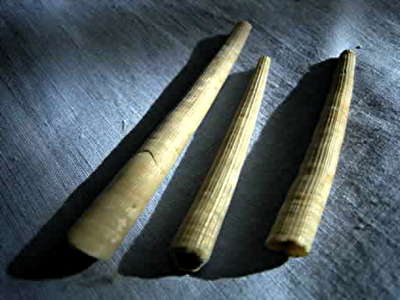 Dentalium badense fossil shells.

Their modern descendants are still highly prized as jewellery, and are commonly used by Native North American artists. They are often referred to as tusk shells or tooth shells, and are used in indigenous jewellery and personal decoration in Western Canada and the United States.

Photo: http://www.oocities.org/fossil_sharks_from_transylvania/Other_fossils_html/Dentalium_badense.htm




Dentalium decussatum fossil shells from Gault, near Brienne, France.

Photo: Schmidt, Rolf (Collection Manager)
© Museum Victoria
Source: Museum Victoria, Australia
Photographer: Darren Hastie

Rei (necklace) of Dentalium shells.

(Note that the creation of these rings or beads required skill of the highest order, and on very valuable material, and there may well have been a lot of waste, making the successful rings even more valuable.

Note also that before making the rings, most of the Dentalium shells shown here have been grooved very finely around the circumference, a delicate and time consuming process. The grooves, where present, are originally longitudinal. From the text below, it seems likely that these particular Dentalium shells are fossil examples, possibly Dentalium nanum - Don )

Haldane, Southland
Gift of Anonymous Donor
Acc. No. M111

Photo: Don Hitchcock 2013
Text and source: Display, Southland Museum and Art Gallery, Invercargill, NZ







A Dentalium Shell Necklace 'Workshop'

Necklaces of Dentalium shell, both fossil and recent, have occasionally been found on Moa-hunter sites in New Zealand. The big fossil ones are usually cut into rings. In the first season's dig at their site on the Coromandel Peninsula, the Auckland University Archaeological Society recovered a necklace of tubular sections of Dentalium in situ. Last January, while with the Society, I was fortunate in finding a site where such necklaces had been manufactured.

While passing it about half an hour before sundown I bent down to pick up some moa-bone and saw a number of these bead sections in the sand. At first I thought I had found another necklace, but soon realised that I had discovered a 'floor' where necklaces had been made. There were many hundreds of the tubes, including the non-perforated, curved ends of the shells. Two of us filled a 'twenty' cigarette packet with the beads in the short period before dark and on subsequent visits to the place several match-boxes were filled.

The shell was provisionally identified as Dentalium nanum Hutton; this identification has been confirmed by Dr. A. W. B. Powell. Associated were fragments of moa-bone and obsidian flakes and knives.



Photo and text: Scarlett (1958)




(top)

Rei (necklace) of European Trade beads.

Pahia, Southland
Gift of Mrs K. Loverty

(bottom)

Rei (necklace) made from pierced shells

New Zealand
Gift of Anonymous Donor
Acc. No. M148

Photo: Don Hitchcock 2013
Text and source: Display, Southland Museum and Art Gallery, Invercargill, NZ





Rei (necklace) of imitation human teeth made from shells.

Southland
Gill Collection
Acc. No. B79.571

Photo: Don Hitchcock 2013
Text and source: Display, Southland Museum and Art Gallery, Invercargill, NZ





Rei (necklace) made of imitation whale teeth, possibly made from moa bone.

Fortrose, Southland
Gibb Collection
Acc. No. B81.161

Photo: Don Hitchcock 2013
Text and source: Display, Southland Museum and Art Gallery, Invercargill, NZ





Mako (shark) tooth ear pendants.

(left) Gift of Anonymous Donor
Acc. No. 85.240

(right) Gift of Anonymous Donor
Acc. No. M149, D36.207, M161

Photo: Don Hitchcock 2013
Text and source: Display, Southland Museum and Art Gallery, Invercargill, NZ


The Shortfin Mako shark (Isurus oxyrinchus) is a fairly large species of shark. An average adult specimen will measure around 3.2 m (10 ft) in length and weigh from 60–135 kg (130–300 lb). Females are larger than males. The largest 'mako' taken (not verified between the two species) on hook-and-line was 505.8 kg (1 115 lb). Larger specimens are known, with a few large, mature females exceeding a length of 3.8 m (12 ft) and a weight of 570 kg (1 300 lb). The longest verified length for a Shortfin Mako caught off France in September 1973, was 4.45 m (14.6 ft). A specimen caught off of Italy, and examined in an Italian fish market in 1881, was reported to weigh an extraordinary 1 000 kg (2 200 lb) at a length of 4 m (13 ft). Growth rates appear to be somewhat more accelerated in the Shortfin Mako than they are in other species in the lamnid family.

The Shortfin Mako is cylindrical in shape, with a vertically-elongated tail that assists its highly hydrodynamic lifestyle. This species' colour is brilliant metallic blue dorsally and white ventrally, although coloration varies as the shark ages and increases in size. The line of demarcation between blue and white on the body is distinct. The underside of the snout and the area around the mouth are white. Larger specimens tend to possess darker colour that extends onto parts of the body that are white in smaller individuals. The juvenile mako differs in that it has a clear blackish stain on the tip of the snout. The Longfin mako shark very much resembles the Shortfin, but has larger pectoral fins, dark rather than pale coloration around the mouth and larger eyes. The presence of only one lateral keel on the tail and the lack of lateral cusps on the teeth distinguish the makos from the closely related porbeagle sharks of the genus Lamna.

The shortfin mako inhabits offshore temperate and tropical seas worldwide. The closely related longfin mako shark, Isurus paucus, is found in the Gulf Stream or warmer offshore waters. It is a pelagic species that can be found from the surface down to depths of 150 m (490 ft), normally far from land though occasionally closer to shore, around islands or inlets. One of only four known endothermic sharks, it is seldom found in waters colder than 16 °C (61 °F).

(Endothermic means that the shark is capable of maintaining its body at a warmer temperature than its surroundings, mostly by use of heat generated by its internal body functions such as the heat generated by its muscles, instead of being 'cold blooded', as most if not all bony fishes are, with the notable exception of tuna - Don )

Photo: Mark Conlin, SWFSC Large Pelagics Program
Permission: Public Domain
Text: Wikipedia

This is a map of sea temperatures around New Zealand on 3rd February 2013. Ocean temperatures around NZ peak at this time.

From the map we can see that so far as sea temperatures are concerned, the Mako shark would have no difficulty visiting the shores of NZ in summer, from the whole of the coast of the North Island, to half way down the east coast of the South Island, and most of the way down the west coast.

Catching Sharks

Sharks were an important part of the Māori diet. Fishing expeditions used to bring in thousands of sharks, which were dried on racks as long as 400 metres. The stench was tremendous – some European explorers remarked that fishing villages could be smelt up to 13 kilometres away.

Each year, the northern Te Rarawa tribe set aside two days for shark fishing. The first day was close to the full moon in January; the second was two weeks later. People catching sharks outside of these days were stripped of their property.

In order to catch the fierce mako shark, Māori would first catch a ray or skate to use as bait. Once a mako took the bait, a lasso was placed around its tail so as not to damage its precious teeth. The shark was then made to tow the canoe until it was exhausted.

Small species, such as school sharks, were usually taken. Large numbers would swim into harbours at high tide, where they were intercepted and caught with hooks before they could escape. Observing one shark-fishing expedition in 1855, the European naturalist R. H. Matthews counted 1,000 people in a fleet of 50 canoes, catching about 7,000 sharks.

Photo: http://www.surf-forecast.com/breaks/Ocean-Beach_1/seatemp
Text: Gerard Hutching. 'Sharks and rays - Māori and sharks', Te Ara - the Encyclopedia of New Zealand, updated 13-Jul-12 URL: http://www.TeAra.govt.nz/en/sharks-and-rays/page-2




Kapeu (long pendants) made from bone.

Southland
Kingsland Collection
Acc. No. D39.112

Native Is., Stewart Is.
Gift of Elizabeth Bellamy
Acc. No. D42.16

New Zealand
Gift of Anonymous Donor
Acc. No. M163

Photo: Don Hitchcock 2013
Text and source: Display, Southland Museum and Art Gallery, Invercargill, NZ



Treasure Boxes.

Photo: Don Hitchcock 2013
Source: Display, Southland Museum and Art Gallery, Invercargill, NZ
These are Māori treasure boxes known as waka huia, 'canoe-shaped' treasure boxes.

Treasure boxes were made to carry the precious personal ornaments of a high-ranking person, such as feathers worn in the hair (sometimes of the huia bird, see below), decorative combs, and particularly prized pounamu (nephrite) ear and neck ornaments. A chief's person, his ornaments and clothing included, were considered to be highly tapu – they had a sacred or divine quality, which could cause misfortune or death if not properly managed. For this reason, ornaments were stored in decorated boxes, suspended from the ceiling rafters inside houses, out of easy reach.

Text: Adapted from http://www.britishmuseum.org/explore/highlights/highlight_objects/aoa/m/maori_treasure_box_papahou.aspx


Late 18th Century Stone-Carved Oval Waka Huia Lidded Box.

With spiral carving all over the underneath with two tiki bodies as handles each end, male and female. Lid has two tiki figures and partially carved in whakarare style carving.

Length 42 cm, width 12 cm
Y15654.

Photo: Dunbar et al (2011)

Turikatuku

Ngāti Tūwharetoa (Lake Rotoaira, Taupō)

The famous chief Hongi Hika presented Turikatuku, an elaborately carved papahou, or treasure box, to Ngāti Tūwharetoa at Lake Rotoaira. In 1866 Hari Tauteka gave it to Sir George Grey. The lid and bottom of the base feature a pitau design, while the sides are carved with figures.

Photo: Don Hitchcock 2015
Source and text: Display, Auckland Museum Additional text: http://tekakano.aucklandmuseum.com/objectdetail.asp?database=maori&objectid=143

Turikatuku

The handle at each end is formed by two openwork figures lying side on. At one end of the lid is a slight ridge, through which a hole has been made. The surface of the papahou has a low polish.

Dimensions: 902 x 160 x 93 mm

Catalog: 25203

Photo: Don Hitchcock 2015
Source and text: Display, Auckland Museum Additional text: http://tekakano.aucklandmuseum.com/objectdetail.asp?database=maori&objectid=143


Treasure Box, waka huia, displayed in New Zealand's Supreme Court

Photo: http://www.scoop.co.nz/stories/HL1001/S00169.htm


This wooden case is known as a wakahuia, a treasure or feather box.

Precious feathers and other valuable jewellery were kept in them, and the boxes were suspended from the roof beams.
Some feather boxes are treasures in their own right.

Photo: Don Hitchcock 2015
Source: Display, Auckland Museum

Wakahuia

Tūhourangi, Ngāti Tarāwhai

(Te Wairoa, Tarawera, Rotorua)

This wakahuia (treasure box) was recovered from the whare or house of Tūhoto Ariki, the famous tohunga of the Tūhourangi and Ngāti Tarawhai people of the Te Arawa tribe. The old tohunga (priest) was buried in his whare by ash falls during the 1886 Tarawera eruption.

Catalog 82

Photo: Don Hitchcock 2015
Source and text: Display, Auckland Museum

Huia, Heteralocha acutirostris

Now extinct because of hunting by wealthy collectors and museums around the world.

(left) Watercolour by Johannes G. Keulemans, ca 1900.
Permission: Public Domain

(right) Taxidermy exhibit of a pair of Heteralocha acutirostris at Museum für Naturkunde, Germany

Photo: Haplochromis
Permission: GNU Free Documentation License, Version 1.2
The Huia had black plumage with a green metallic tinge and distinctive rounded bright orange wattles at the gape. In both sexes, the eyes were brown; the beak was ivory white, greyish at the base; the legs and feet were long and bluish grey while the claws were light brown. Huia had twelve long glossy black tail feathers, each tipped for 2.5–3 cm (1–1.2 in) with a broad band of white. Immature Huia had small pale wattles, duller plumage flecked with brown, and a reddish-buff tinge to the white tips of the tail feathers. The beak of the young female was only slightly curved. Māori referred to certain Huia as huia-ariki, 'chiefly Huia'. The huia-ariki had brownish plumage streaked with grey, and the feathers on the neck and head were darker. This variant may have been a partial albino, or perhaps such birds were simply of great age. Several true albino Huia were recorded.

Although sexual dimorphism in bill shape is found in other birds, such as the riflebirds, sicklebills and other wood-excavating birds including some species of woodpecker, it was most pronounced in the Huia. The beak of the male was short at approximately 60 mm (2.3 in) and slightly arched downwards and robust, very similar to that of the closely related Saddleback, while the female's beak was finer, longer at around 104 mm (4 in), and decurved (curved downward) like that of a hummingbird or honeyeater. The difference was not only in the bone; the rhamphotheca grew way past the end of the bony maxilla and mandible to produce a pliable implement able to deeply penetrate holes made by wood-boring beetle larvae. The skulls and mandibles of the Huia and Saddleback are very similar, the latter essentially miniatures of the former.

There are two possible explanations for the evolution of this sexual difference in bill shape. The most widely supported is that it allowed birds of different sexes to utilise different food sources. This divergence may have arisen because of a lack of competitors in these foraging niches in the North Island forest ecosystems. The other idea is that the ivory-coloured bill, which contrasted sharply with the bird's black plumage, may have been used to attract a mate. In animals that use sexually dimorphic physical traits to attract a mate, the dimorphic feature is often brightly coloured or contrasts with the rest of the body, as with the Huia. It has been suggested that as the female was the main provider of food for the chicks by regurgitation, this sex evolved the longer bill to obtain the protein-rich invertebrate diet required for the chicks.

Another, less obvious aspect of the Huia's sexual dimorphism was the minor size difference between the sexes. Males were 45 cm (18 in) long, while females were larger at 48 cm (19 in). Additionally, the tail of the male was about 20 cm (7.8 in) in length and the wingspan was between 21 and 22 cm (8.2–8.6 in), while the female's tail was 19.5 to 20 cm (7.6–7.8 in) and the female's wingspan was 20 to 20.5 cm (7.8–8 in).

Habitat destruction and the predations of introduced species were problems faced by all New Zealand birds, but in addition the Huia faced massive pressure from hunting. Due to its pronounced sexual dimorphism and its beauty, Huia were sought after as mounted specimens by wealthy collectors in Europe[42] and by museums all over the world. These individuals and institutions were willing to pay large sums of money for good specimens, and the overseas demand created a strong financial incentive for hunters in New Zealand. This hunting was initially by naturalists. Austrian taxidermist Andreas Reischek took 212 pairs as specimens for the natural history museum in Vienna over a period of 10 years, while New Zealand ornithologist Walter Buller collected 18 on just one of several expeditions to the Rimutaka Ranges in 1883. Others keen to profit soon joined in. Buller records that also in 1883, a party of 11 Māori obtained 646 Huia skins from the forest between the Manawatu Gorge and Akitio. Several thousand Huia were exported overseas as part of this trade. Infrastructure development within lowland forest did not help the situation: hundreds of Huia were shot around road and rail construction camps.

Text above: Wikipedia


Tukukino, an old fighting chief of the Ngāti Tamaterā people of the Hauraki district, North Island, New Zealand, circa 1880. He is pictured wearing a pōhoi ear ornament made from the skin of the huia, an ornament often worn by high-born chiefs in the years before the bird became extinct. Tukukino was famous for his determined opposition to the opening up of the Ohinemuri area for goldmining. Lindauer painted this portrait in 1878.

Photo: Painting by Gottfried Lindauer (1839–1926)
Permission: Public Domain

Rei pounamu (greenstone jewellery) worn on the chest.

Locations:
Greenhills, Pahia, Southland, West Coast, Birdlings Flat, Canterbury

Donors:
Michael Forrest (B73.1), Mrs E. Fosbender (B62.33), John Kennedy (B75.27), Sorenson Collection (B81.30, B81.31, B81.35, D46.1329, D46.1329, D46.1417) and Gift of Anonymous Donor (2001.955, M126)

Photo: Don Hitchcock 2013
Text and source: Display, Southland Museum and Art Gallery, Invercargill, NZ

Rei pounamu (greenstone jewellery) worn on the chest.

(left to right)
Southland
Gift of John Kennedy
Acc. No. B75.27

New Zealand
Gift of an Anonymous Donor
Acc. No. M122

New Zealand
Gift of Anonymous Donor
Acc. No. D46.1430

Photo: Don Hitchcock 2013
Text and source: Display, Southland Museum and Art Gallery, Invercargill, NZ

The hei-tiki is an ornamental pendant of the Māori which is worn around the neck. Hei-tiki are usually made of pounamu, greenstone, and are considered a taonga (treasure). They are commonly referred to as tiki, a term that actually refers to large human figures carved in wood, and, also, the small wooden carvings used to mark sacred places. Tourist versions are commonly found throughout New Zealand - these can be made from jade, other types of stone, plastic, or other materials.

One theory of the origin of the hei-tiki suggests a connection with Tiki, the first man in Māori legend. According to Horatio Gordon Robley, there are two main ideas behind the symbolism of hei-tiki: they are either memorials to ancestors, or represent the goddess of childbirth, Hineteiwaiwa. The rationale behind the first idea is that they were often buried when their kaitiaki (guardian) died and would be later retrieved and placed somewhere special to be brought out in times of tangihanga (mourning and associated activities). Because of the connection with Hineteiwaiwa, hei-tiki were often given to a woman by her husband's family if she was having trouble conceiving.

The most valuable hei-tiki are carved from pounamu which is either nephrite or bowenite (Māori: tangiwai). Pounamu is esteemed highly by Māori for its beauty, toughness and great hardness; it is used not only for ornaments such as hei-tiki and ear pendants, but also for carving tools, adzes, and weapons. Named varieties include translucent green kahurangi, whitish inanga, semi-transparent kawakawa, and tangiwai or bowenite.

Photo: Don Hitchcock 2013
Source: Display, Southland Museum and Art Gallery, Invercargill, NZ
Text: Wikipedia


Traditionally there were several types of hei-tiki which varied widely in form. Modern-day hei-tiki however, may be divided into two types. The first type is rather delicate, with a head/body ratio of approximately 30/70, with small details included, such as ears, elbows, and knees. The head is on a tilt, and one hand is placed on the thigh, and the other on the chest. The eyes are relatively small. The second type is generally heavier than the first. It has a 40/60 head/body ratio, both hands are on the thighs, and the eyes are proportionately larger.

From the size and style of traditional examples of hei-tiki it is likely that the stone was first cut in the form of a small adze. The tilted head of the pitau variety of hei-tiki derives from the properties of the stone - its hardness and great value make it important to minimise the amount of the stone that has to be removed. Creating a hei-tiki with traditional methods is a long, arduous process during which the stone is smoothed by abrasive rubbing; finally, using sticks and water, it is slowly shaped and the holes bored out. After laborious and lengthy polishing, the completed pendant is suspended by a plaited cord and secured by a loop and toggle.

Photo: Don Hitchcock 2013
Source: Display, Southland Museum and Art Gallery, Invercargill, NZ
Text: Wikipedia

13: Houriki - Hei tiki, greenstone pendant

Ngāti Whakaue, Hokianga, Far North

In 1825, Ngahuruhuru, a Ngati Tunohopu rangatira of Rotorua, presented Houriki to some Ngapuhi people from the Hokianga. The hei tiki is a symbol of mourning for Te Arawa people killed on Mokoia Island during the Ngapuhi invasion of May 1823. In 1927 Houriki was deposited in the Auckland Museum by Mr George Graham and later returned to him in 1946. Houriki then became part of the Miett Collection and was purchased by the Auckland Museum at auction in 1989.

This light green pounamu hei tiki has both arms on its thighs and its head to the right shoulder. A gold link has been attached to the suspension hole and the surface is worn and polished.

Dimensions: 100 x 54 mm

Catalog: 1117

14: Te Parakore - Kuru, Ear pendant

Ngai Te Rangi, Tauranga, Western Bay of Plenty

Tama a Hua came to Aotearoa as a baby in the Kurahaupo canoe. As an adult, he found a block of pounamu during the course of his travels through the South Island. After his sister, Taupea, removed the tapu from the block, Tama a Hua created several taonga, including a toki named Tamapinaki, a mere named Te Kaoreore, and the kuru Te Parakore. Before his return to Hawaiki, Tama a Hua gave Te Parakore to his son, Raumati. Raumati then travelled to Tauranga, where his mother was from. It was during this time that he was involved in the burning of the Te Arawa canoe at Maketu, which led to war with Te Arawa.

Hatupatu of Ngati Whakaue captured Raumati at Maunganui. Rather than be killed by a common weapon, Raumati presented his own weapon, Te Kaoreore, to Hatupatu so that he could be slain with dignity. Tamapinaki and Te Parakore were also taken from Raumati. Te Parakore came into the possession of Mr George Graham and in 1918 was gifted by him to the Auckland Museum.

Te Parakore is almost round, with a cratered suspension hole. There is a short diagonal groove on one side. The stone is light green pounamu and has a polished surface.

Dimensions: 83 x 15 mm

Catalog: 6130

15: Hineata

Te Arawa (Rotorua)

The eyes of Hineata are emphasised by red sealing wax, which became available after European contact in the late 18th century.

Catalog: 30161.2

16: Whakaruruhau

Ngāti Maru (Thames)

Clearly depicting a female ancestress, this hei tiki bears the name Whakaruruhau. It belonged to Turuhira Rapana of Thames.

Dimensions 120 x 70 mm

Whakaruruhau has her head to the right shoulder and both arms to thighs. Sealing wax has been used in her eyes. The stone she has been carved from is medium green in colour, and is worn and polished.

Catalog 13839

17. Tamainupo

Ngāto Takinga (Kāwhia, Raglan)

Tamainupo, a well known tribal heirloom of the Ngāti Takinga people of Kāwhia, is a rare example of an early bone tiki with finely detailed surface decoration derived from wood carving patterns.

Tamainupo is made from whalebone and has both (three fingered) hands resting on the chest, with the head to one side. Tamainupo is entirely carved in rauponga designs and has a cratered suspension hole above the right eye.

Dimensions: 128 x 55 mm

Catalog: 5502

18. Te Maiwa

Ngāto Awa (Whakātane)

Te Maiwa bears the name of an ancestor of the Apanui family of the Ngāti Awa tribe. Apanui Hamaiwaho presented the meeting house Hotunui, now on display in the museum, to the Ngāti Maru tribe as a wedding gift on the marriage of his daughter Mereana Mokomoko to Hoterini Taipari in 1878.

Te Maiwa has visible ears and chin and has both hands to thighs. A cratered suspension hole has been made over the left eye and the stone used to create the hei tiki is light to medium green and polished.

Dimensions: 80 x 30 mm

Catalog: 13907

19. Taringa-I-Motukia

Te Arawa, Ngāti Uenukukopako (Owhata, Rotorua)

Taringa-i-Motukia, a Te Arawa pendant, belonged to Matuha who lived at Owhata on the shores of Lake Rotorua. Both points of this kuru are rounded, one of which has a cratered suspension hole. The stone itself is light to medium green with black flecks, and has a polished surface.

Dimensions: 80 x 16 mm

Catalog: 34314

20. Whakairi Pīpīwharauroa

Te Arawa (Rotorua)

Whakairi Pīpīwharauroa has been in the possession of Te Arawa for many generations. Pīpīwharauroa means shining cuckoo.

Whakairi Pipiwharauroa's head leans to the right shoulder, with one hand to the chest and the other resting on a thigh. The suspension hole is at the top of the head above the left eye. The stone used to create Whakairi Pipiwharauroa has a milky light green colouring.

Dimensions: 121 x 56 mm

Catalog: 6046 (not 604 as in the museum case label - Don )

21. Te Aporotanga

Ngāti Rangiwewehi, Ngāti Tūhourangi, Ngāti Tūwharetoa (Rotorua, Taupō)

The arm of Te Aporotanga, a Te Arawa tribal heirloom, was lost during the chase after Te Kooti in the 1870s. Ihakara Kahuao, a member of the elite Te Arawa Flying Column, was wearing Te Aporotanga when one of Te Kooti's men struck him with a sword. The hei tiki deflected the blow and saved Ihakara's life.

Te Aporotanga has light green colouring with white speckles, and both red sealing wax and shell has been used in her eyes. Te Aporotanga has visible ears and chin, and a small ridge on her forehead. Her right arm has broken away.

Dimensions: 130 x 70 mm

Catalog: 14003



Photo: Don Hitchcock 2015
Source and text: Display, Auckland Museum

Additional text:
http://tekakano.aucklandmuseum.com/objectdetail.asp?database=maori&objectid=306
http://tekakano.aucklandmuseum.com/objectdetail.asp?database=maori&objectid=307
http://tekakano.aucklandmuseum.com/objectdetail.asp?database=maori&objectid=308
http://tekakano.aucklandmuseum.com/objectdetail.asp?database=maori&objectid=91
http://tekakano.aucklandmuseum.com/objectdetail.asp?database=maori&objectid=92
http://tekakano.aucklandmuseum.com/objectdetail.asp?database=maori&objectid=170
http://tekakano.aucklandmuseum.com/objectdetail.asp?database=maori&objectid=309
http://tekakano.aucklandmuseum.com/objectdetail.asp?database=maori&objectid=96






Hinepare, a woman of the Ngāti Kahungunu tribe, wearing a hei-tiki. She has a Pounamu earring on the right ear, a shark tooth earring on her left ear, and two Huia feathers in her hair. She has a tattoo on her chin.

(These adornments, as well as the superbly made and finished dress, indicate that the woman is of very high rank - Don )

Photo: Lindauer, Bohumír Gottfried, 1839-1926, painting ca 1890
Permission: Public Domain
Source: Alexander Turnbull Library, Reference number G-516






Note the way that the eyes are carved on these hei-tiki.

They were probably carved by rotating a hollow tube on the jade with an abrasive such as sand, and water. Some, as in the example on the left, have had this groove inlaid with Pāua, the Māori name given to three species of large edible sea snails, marine gastropod molluscs which belong to the family Haliotidae, known in the United States and Australia as abalone, and in the United Kingdom as ormer shells.

Photo: Don Hitchcock 2013
Source: Display, Southland Museum and Art Gallery, Invercargill, NZ
Additional text from Wikipedia

Tiki.

In pre-European times the wearing of ornaments was important in personal grooming, and as an expression of status. Ornaments included ear and breast pendants, necklaces, bracelets and anklets.

Pendants were made of ivory, bone, shell and pounamu (jade) as well as delicate feathers and other organic materials which have not survived. Prized ornaments were kept in finely carved waka huia (feather boxes).

Personal ornaments worn by Māori have always been dictated by fashion, and by available raw materials. In the late 18th century, whale ivory pendants called rei puta (rei meaning 'whale ivory' and puta 'hole') were much in evidence.

Today, the hei tiki (hei meaning suspend around the neck, and tiki meaning man) made of pounamu or jade, is the best known traditional ormament.

Photo: Don Hitchcock 2015
Source and text: Display, Auckland Museum

Jade pendant.

Note that two previous holes for suspension of the piece have worn away with prolonged use.

Photo: Don Hitchcock 2015
Source: Display, Auckland Museum

Panel of mostly tiki pendants.

Photo: Don Hitchcock 2015
Source: Display, Auckland Museum

Rei Puta are made of sperm whale teeth, and were popular in the late 18th century, but later fell out of favour.

Some of them have had to have another hole drilled for a suspension cord when the first has worn away or broken.

Photo: Don Hitchcock 2015
Source: Display, Auckland Museum

Ornaments mostly of jade but including two bone pendants.

Photo: Don Hitchcock 2015
Source: Display, Auckland Museum

Ornaments mostly of jade.

The piece to the right of the number '5' is a pendant made of the rare variety of pounamu jade known as pipiwharauroa, after the speckled breast of the shining cuckoo.

Photo: Don Hitchcock 2015
Source: Display, Auckland Museum

Ornaments of jade, many in the 'hockey stick' format, a form called kapeu.

Photo: Don Hitchcock 2015
Source: Display, Auckland Museum


Various greenstone pendants.

Photo: Don Hitchcock 2013
Source: Display, Southland Museum and Art Gallery, Invercargill, NZ








Rei-puta (neck pendant) in the shape of a sperm whale tooth, made of serpentine.

Fortrose, Southland
Gift of Ray McPherson
Acc. No. B65.63

Photo: Don Hitchcock 2013
Source: Display, Southland Museum and Art Gallery, Invercargill, NZ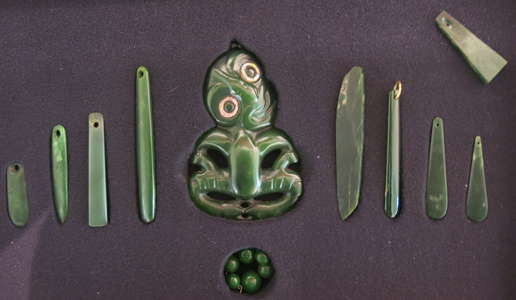 Greenstone pendants

Photo: Don Hitchcock 2013
Source: Display, Southland Museum and Art Gallery, Invercargill, NZ



A Kiwi Feather Cloak with muka kaupapapa (base) of double pair twining. Shaping evident. Small area of fringing at each top edge corner. Remnants of muka tie cords also visible. Kiwi feathers form a band below top edge and down both sides.

Kiwi feathers are also across the front surface in diagonal rows. A band of white feathers sits at the bottom third followed by a band of red feathers (kaka) and then another wide band of white with green triangles. A few pink and blue feathers are also evident. Length 900 mm, width 1400 mm

Photo and text: http://www.webbs.co.nz/auction/maori-artifacts-oceanic-arts-and-decorative-arts-0?page-select2=yes&number_on_page=24






Potaka ta (spinning tops) were spun with a whip made of strips of flax tied to a short handle. The toys were made from hard woods or occasionally stone.

New Zealand
Acc. No. D44.567

Photo: Don Hitchcock 2013
Text and source: Display, Southland Museum and Art Gallery, Invercargill, NZ

References
Dawson, E., 1952: Excavations of Maori burials at Long Beach, Otago The Journal of the Polynesian Society Volume 61 1952 > Volume 61, No. 3 + 4 pp. 283 - 291
Hamilton, A., 1892: Notes on Maori Necklaces Trans. N.Z. Inst. Vol. XXV, pp. 491–493.
Hamilton, A., 1896: The Art Workmanship of the Maori Race in New Zealand Maori Art part 4, Dunedin, 439 pp.
Jelinek, J., 1975: The Pictorial Encyclopedia of the Evolution of Man, Hamlyn (1975), 552 pp.
Scarlett, R., 1958: A Dentalium Shell Necklace 'Workshop' The Journal of the Polynesian Society Volume 67, 1958, No. 1 > Notes and queries, pp. 73-77
Back to Archaeological Sites
Back to Maori Culture Index